This is a super simple yet yummy recipe I got from a friend who had invited us for lunch when we had just moved here. She had made a lot of dishes and this was my absolute favourite. What's better, it uses only 4 main ingredients, not counting salt and oil! She also told me that this is an adaption of a Sri Lankan recipe.
If you love brinjal (also known as aubergine, kathrikka, ennagayi, in various languages), then this is a sure shot winner recipe.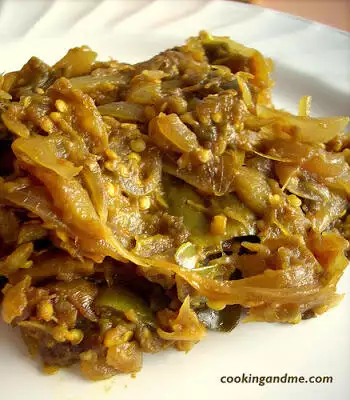 Ingredients:
Brinjal – 1 cup, chopped
Onions – 1 big, chopped
Red chilli powder – 1 tsp
Turmeric powder – 1/4 tsp
Gingelly oil (nallennai/sesame oil/til oil) – 3 tbsp
Curry leaves – 10
Salt – to taste
How I Made It:
1. Heat oil and add the chopped brinjals. Note that you have to use gingelly oil for this dish. Anything else will spoil the taste completely.
2. Fry till the pieces start breaking up and become a bit soft. At this stage, add the onions, turmeric powder, chilli powder, and curry leaves.
3. Let it cook for a good 20-25 minutes till the onions are fried and blended in with the brinjal. Add salt, mix well and fry for another 5 mins.
4. Remove from fire if you see that the curry is separating from the oil. That's when you know its done.
Serve with rice and some gravy.
You may also be interested in Kannadiga Brinjal Palya.