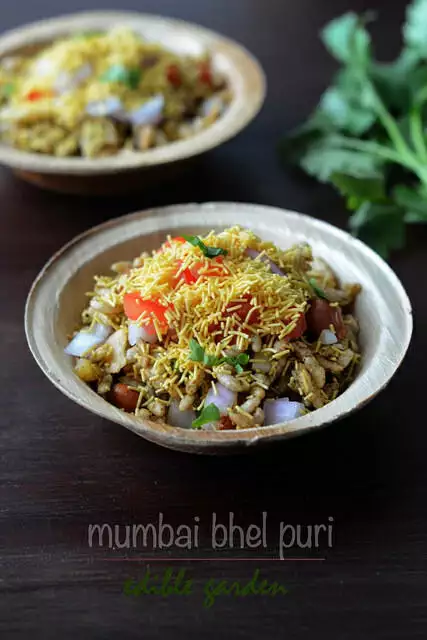 Bhel puri (or bhel poori, bhelpuri) is no doubt the most common chaat on the streets of Mumbai alongside the popular pav bhaji. In fact, I first had my taste of Bhel Puri in Chennai Marina Beach where a vendor mixed it up and put them in newspaper cones for curious 8-year-old me. While it was probably not as authentic as the Bhel Puri you find in Mumbai, I was hooked! How can a simple fistful of ingredients and sauces create something so delicious, I wondered. Well, I guess I now know that there's nothing very simple about the flavours incorporated into the chaat chutneys and the quick mix of ingredients that make up this delicious snack – Bhel Poori.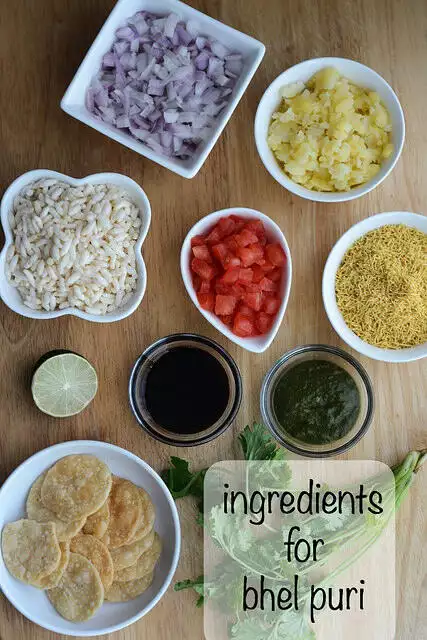 For the longest time, I have been wanting to make my own papdi to make papdi chaat at home (my favourite). It just never happened so one day I picked up a packet of papdi from the Indian store in Singapore. It tasted very average and even a bit stale. Duly distressed, I decided to use them up in bhel poori instead, choosing to use less papads and more sev (which were delicious, in spite of being store-bought) and lots of crunchy onions and such. The idea worked! This bhel poori not only masked the average quality of the papad, but was also wolfed down in no time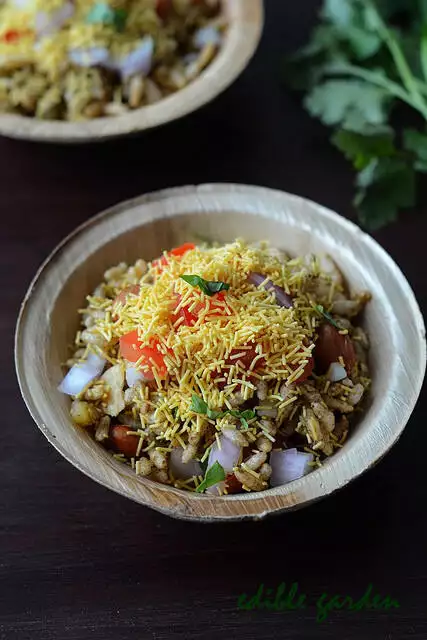 On another note, making chaat at home is really not necessary (in my opinion) if you get good chaat where you live. Singapore is a bit tricky that way. I keep getting referred to Kailash Parbat for chaat in Singapore but my experience there has been above average at best. I get a good chaat fix during my whirlwind work trips to Mumbai and Delhi and that makes it harder to settle on average chaat in Singapore.
Also, I always make pav bhaji at home and rarely order it outside anymore. I even took a stab at how to make pav at home but have since only made it once or so. It's way quicker to buy it outside and focus on making delicious bhaji at home. You may also want to try these ragda patties and Mumbai vada pav recipes.
Before you start assembling bhel puri, you need to have the following ingredients cooked and ready:
boiled potatoes
green chutney for chaat
date tamarind sweet chutney
BHEL PURI RECIPE
Preparation time: 15 minutes
Serves 4-6
INGREDIENTS:
1 cup of puffed rice
1/4 cup of finely chopped, deseeded ripe tomatos
1/2 cup of finely chopped onions
1/4 cup of boiled, roughly mashed potatoes
1 tsp of grated ginger
1 cup of crushed chaat papdi (papad)
1.5 cups of nylon sev
3-4 tbsp of green chutney
2-3 tbsp of red chutney
1/2 tsp of black salt (or to taste)
1/2 tsp of garam masala or chaat masala
1/4 cup of roasted peanuts (salted or unsalted)
1/4 cup of chopped coriander leaves
1 tbsp of lemon juice (more or less to taste)
INSTRUCTIONS:
Prepare the chutneys first. You can do this a few days before and store them in the refrigerator too.
For green chutney, grind together mint leaves, coriander leaves, cumin seeds, chaat masala, lemon juice, and rest of ingredients to a smooth paste with water. You can find detailed recipe for green chutney here.
Here are the detailed instructions for sweet date tamarind chutney.
Once you have the chutneys ready and have boiled the potatoes, putting together the bhel puri is a breeze.
To assemble the bhel puri:
Reserve half a cup of sev and add all other ingredients to a wide bowl.
Give it a good mix and taste test to see if the sour vs sweet vs spicy is good and suits your taste. Adjust the ingredients (add more sweet chutney, salt, etc) to make it perfect.
You can serve in paper cones or simple bowls with generous amounts of sev and coriander leaves for garnish.
Step by Step Pictures to Make Bhel Poori at Home:
1. Set aside 1/2 cup sev and add all other ingredients to a wide bowl.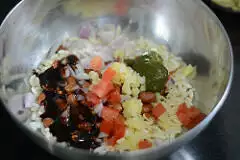 2. Using a wide spoon or spatula, mix thoroughly until all ingredients are combined fully. The most important step is right after this – taste testing! Adjust ingredients according to how spicy, sour, sweet you want your bhel puri to be.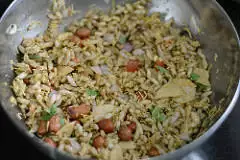 3. Finally, add the reserved sev and garnish with chopped coriander leaves. I love sev so I use a generous hand when garnishing my bhel puri.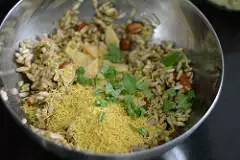 Serve immediately, otherwise the bhel puri will get soggy. If making for a large group, mix the ingredients in batches to ensure freshness and crispness of the sev and puffed rice.
Note: you can also use crushed golgappa (puri used for pani poori) instead of papad for a slightly different texture in your bhel puri.
For Bhel Puri recipe in Hindi, Marathi, Urdu, Tamil, Telugu, etc, please use the Google translate button in the sidebar.