Beetroot Pachadi recipe, a Kerala Onam sadya recipe
that's made with grated beetroots, yogurt, coconut, and spices. It's a delicious recipe, almost like a raita, and one of my favourite easy recipes to add one more side dish to lunch on a busy day. While
vendakka pachadi
is probably the more popular pachadi recipe made during Onam, my personal favourite is a gorgeously deep pink beetroot pachadi, any day.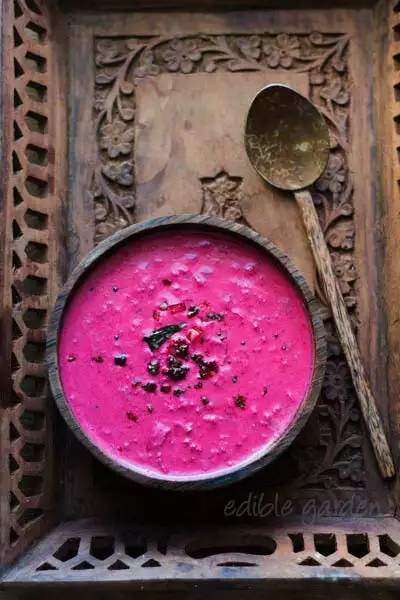 In a lot of Kerala recipes, coconut, cumin seeds, green chillies or red chilli powder, and shallots (cheriya ulli) form the base. This is true for thoran recipes, pachadi like the one I am going to share today, and even some curries like raw mango curry, etc. One of the striking things about Kerala cuisine is the lack of garam masala and the addition of more than, say, 3 spices in one dish. Of course, I love my garam masala and all the delicious curries that get its unique flavour but this is comfort food not to mention so easy to make on a busy or lazy day. In my case, usually the latter.
Probably the most time-consuming part of this recipe is to peel and grate the beetroot. If you use a food processor, that'll make it super quick too but otherwise, I recommend peeling and washing the beets and letting them drain a bit before grating. If the beetroots are damp, they can slip and make it a bit harder to grate. A silly yet hopefully useful tip you appreciate from the archives of my infinite wisdom (sorry, bad joke!).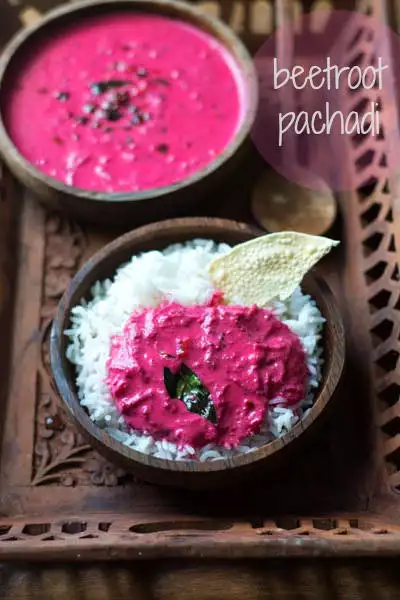 I am still posting recipes made and photographed during our Sydney days and the ones with beetroots are possibly my favourite. We picked up beets regularly from the fresh organic market near our place and they are easily the best-tasting vegetables I've been lucky enough to cook with. This beetroot leaves dal will give show just how gorgeous fresh vegetables can be.
Some more easy Kerala recipes I'd highly recommend:
Pulissery recipe
Parippu vada
Beetroot carrot thoran
Cabbage thoran (most popular and TH's favourite)
KERALA-STYLE BEETROOT PACHADI RECIPE
Preparation time: 10 minutes
Cooking time: 10 minutes
Serves 4
INGREDIENTS:
1.5 cups of peeled and grated beetroot, packed
2 tsp of oil
1/4 cup of grated coconut
1 green chilli (or 1/4 tsp red chilli powder)
5 shallots (ulli, chinna vengaayam)
1/2 tsp of cumin seeds
A few curry leaves
1/4 tsp of black mustard seeds
2 cups of thick plain yogurt
INSTRUCTIONS:
For the coconut paste:
Grind the coconut with the green chilli, 2 shallots, and cumin seeds with some water to make a smooth paste. Set aside.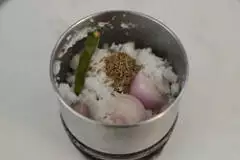 To make the pachadi:
Heat 1 tsp oil in a pan and add the grated beetroot along with some salt. Saute on low heat until the beets soften and are cooked (about 3-4 mins).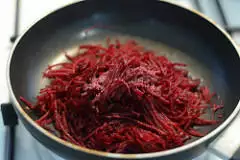 Add the ground coconut paste to the beets and mix well.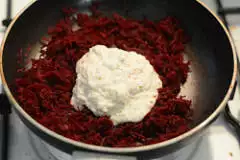 Mix well and after ensuring that the beets are completely cooked, remove and set aside to cool a bit.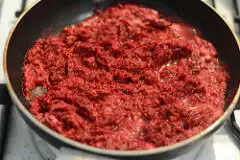 Then, mix it in with the yogurt and add 1 more cup of water to get a thick yet pourable consistency.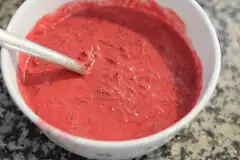 For tempering the pachadi:
Rinse out the same pan and heat the remaining 1 tsp of oil. Add the mustard seeds and meanwhile, slice up the remaining 3 shallots. Add these and the curry leaves to the hot oil and let the shallots turn golden brown.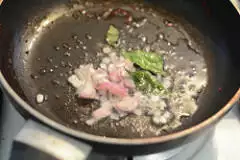 Add the tempering to the beetroot curd mixture and add more salt if needed.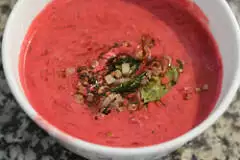 Mix well and your beetroot pachadi is ready! Serve with warm rice and any mezhukkupuratti or side dish of your choice.