Beans Aloo Sabzi or stir-fry
is one of my favourites to go with rice and a coconut-based kuzhambu or curry. Adding potato (aka aloo) to a vegetable side dish makes it more hearty and gives it body, and while my recipe has equal amounts of beans and aloo, you can adjust the proportions the way you wish, add another vegetable, pretty much take it your way and work with it.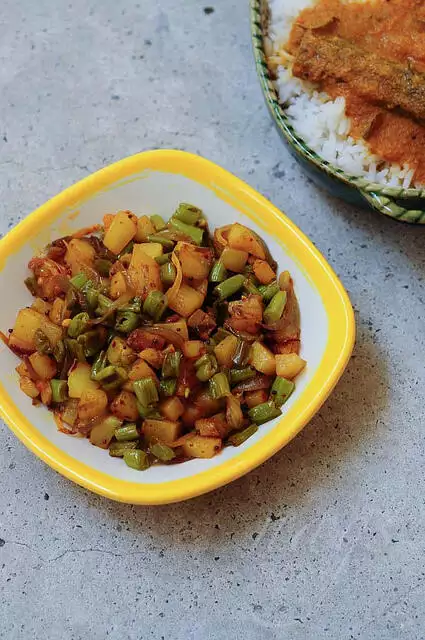 One important thing I learnt from Amma's method of cooking is this – don't cook a vegetable in water unless you have to. Potatoes, for example. It's easy to just pressure cook it or par-boil it before making a roasted side dish with it but this changes the flavour of the potato significantly. It does take longer to cook if you add it raw to a pan and start stir-frying it but if you regulate the temperature correctly and have some patience, you will be rewarded for it. I rarely pressure cook potatoes unless I need to mash them or I am making something like a potato korma or potato masala for puri. Same story for beans. Don't boil it in water and waste all its nutrients before making a curry with it (steaming is fine though).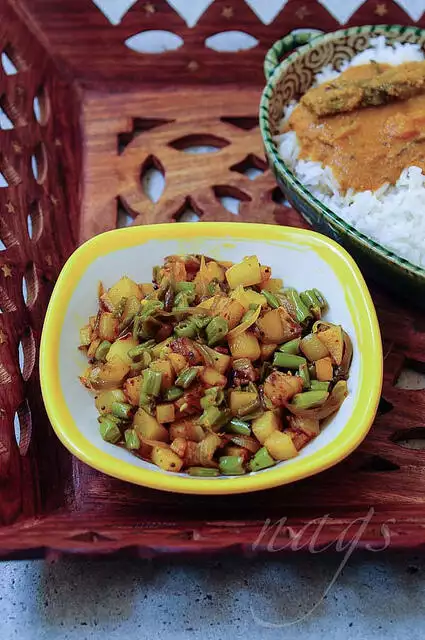 On that preachy note, let's take a look at how to make Aloo Beans Sabji, shall we?
ALOO BEANS SABJI (POTATO BEANS STIR-FRY RECIPE)
Preparation time: 15 minutes
Cooking time: 20 minutes
Serves 4
Ingredients:
1 large potato, peeled, washed and cut into small cubes
15-20 beans, stringed, washed, and cut into same-sized small pieces as the potato
1 onion, sliced
1 tbsp of oil
1/4 tsp of mustard seeds
1/4 tsp of urad dal
2-3 of cloves of garlic, chopped
1/2 tsp of turmeric powder
1 tbsp of sambar powder
A few of curry leaves or a small bunch of coriander leaves, for garnish
How to Make Aloo Beans Sabji:
1. Heat oil and add the mustard seeds. When they pop, add the cumin and urad dal and let them sizzle and turn brown. Then add the chopped garlic and saute until fragrant.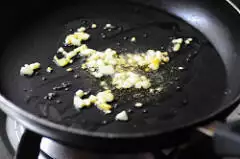 2. Add the onions and saute until it begins to brown.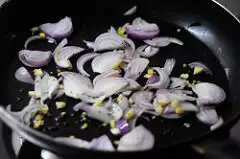 3. Add the cubed potato and beans.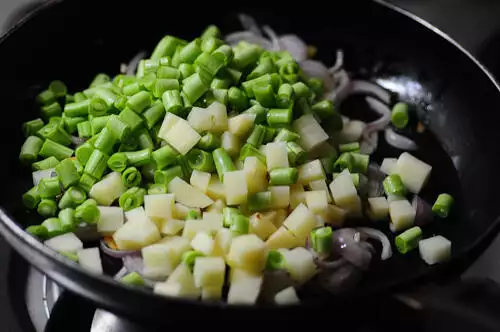 Stir stir stir.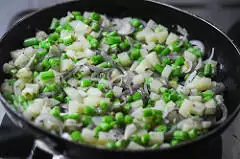 4. Keeping flame very low, cook covered for 5-7 mins, opening every 2 mins and giving it a mix, just to make sure the bottom is not burning. The potato will begin to brown and the beans should be soft by now. If not, cook longer until done.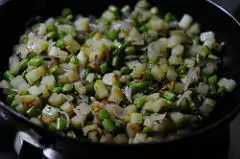 5. Once the vegetables are cooked, add the turmeric powder and sambar powder along with salt. Give it a good mix, the sabji will turn dry and fragrant in about 2 mins.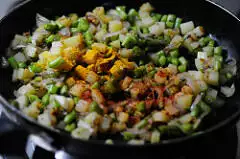 Don't cook for too long, otherwise the masala will start to burn. Add curry leaves or coriander leaves at this point and remove from fire.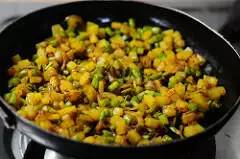 Serve hot with rice and any coconut based gravy or kuzhambu like Tomato Saaru.