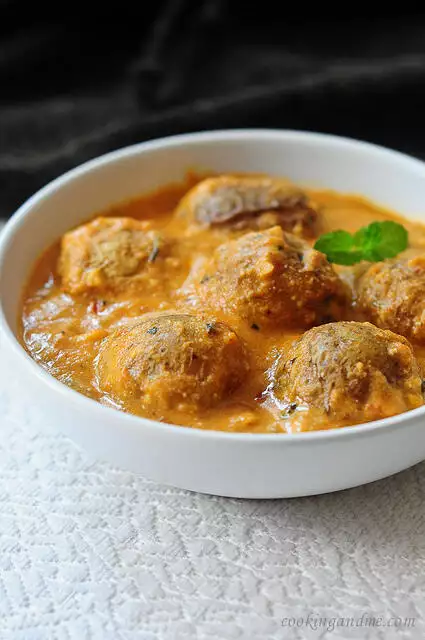 Earlier last week, I was telling myself how inefficient and wasteful I am being. I almost always turn online if I want a recipe but love to buy cookbooks and stack them up in the kitchen shelf. In my new kitchen, all the books are out and neatly arranged so I really have no excuse for not using them more.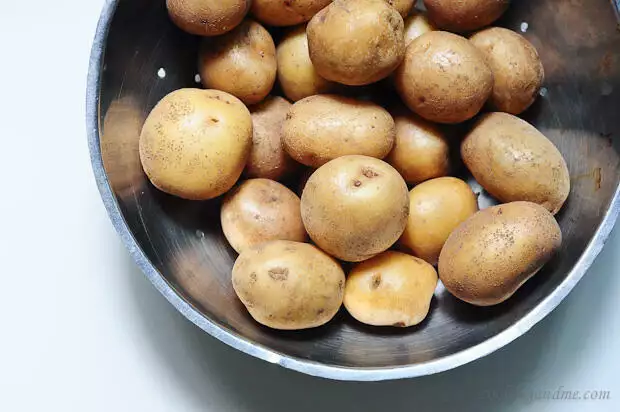 Pin
So armed with about 15 baby potatoes, I turned to one of those small Tarla Dalal booklets, simply and efficiently called "Potatoes". There were some really great looking recipes in there but I had to zero in on Banarasi Dum Aloo because that's what I had all the ingredients for.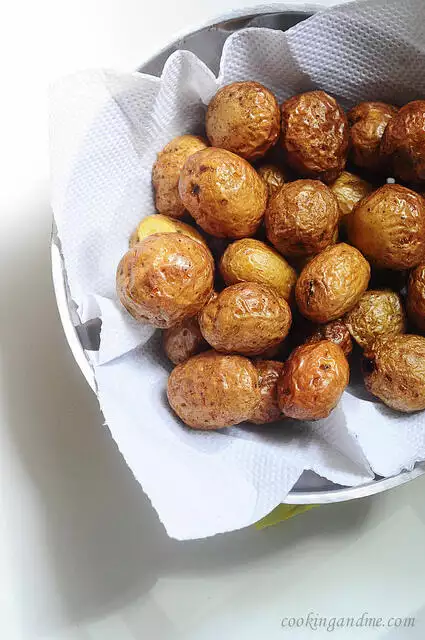 Since this is a cuisine I am not familiar with at all, I decided to not meddle with the original recipe and follow it to the T. This meant frying up the entire batch of baby potatoes but all I did was gulp once before going head and doing it.
Banarasi Dum Aloo
Serves 2-3 as a side
Total cooking time: 45 mins
Source: Tarla Dalal's Potatoes
Ingredients:
12 to 15 baby potatoes
oil for deep-frying
1/2 tsp powdered cardamom (about 8 pods)
1 tbsp dried fenugreek leaves (kasuri methi)
3 tbsp cream (or 1/4 cup plain curd)
A small bunch chopped coriander for garnish
2 tsp butter
Salt to taste
For the gravy:
2 cups roughly chopped tomatoes (2 large ripe tomatoes)
1 tsp ginger garlic paste
3-4 dry red chillies (use dry Kashmiri red chillies for added colour)
2 tbsp broken cashew nuts
1 tsp cumin seeds (jeera)
1 tsp fennel seeds (saunf)
2 1/2 cups water
How to Make Dum Aloo:
1. Wash and dry the baby potatoes. Pierce each potato all around with a fork and deep fry in hot oil, with the skin on, till the potatoes are cooked and golden brown. Drain on absorbent paper and keep aside.
2. Combine all the ingredients together under the "gravy list". I know this sounds weird but trust me on this. Dunk all the ingredients together along with the water and cook on a low flame for around 15 mins or until the tomatoes have turned mushy and soft. Cool and blend to a smooth paste. If you have one of those soup blenders like me, just go ahead and whip it up hot. Saves a lot of time.
3. Heat the butter in a pan and add the powdered cardamom and gravy paste and allow it to come to a boil. Simmer till the oil separates form the gravy. This will take about 12-15 mins. Keep the fire on simmer throughout and be prepared for a slight mess if you don't use a deep pan. The tomato gravy will bubble up all over your stovetop.
4. When the gravy is ready, add the potatoes, kasuri methi, and salt and simmer for another 3-4 mins. Finally, add the cream and coriander and serve hot with jeera pulao or rotis.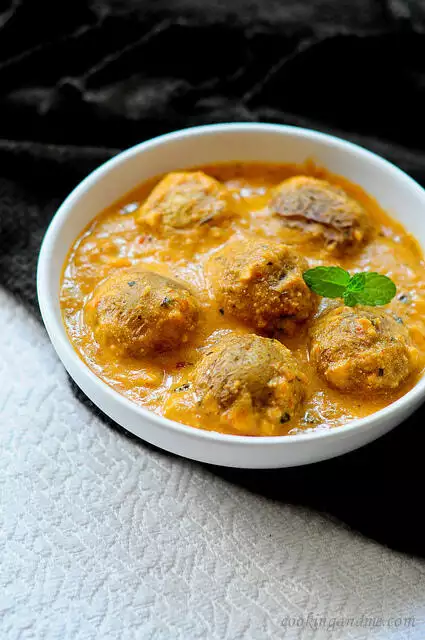 Notes:
– I like to use powdered cardamom because its not pleasant to bite into the pods when you are eating.
– The original recipe also called for 1 tbsp honey but I omitted this because we were not in a mood for a sweet-ish dish. I think this is meant to be hot and sweet so add that in if you want to get more of an authentic Banarasi Dum Aloo.
– You can boil and add the potatoes to the gravy if you want a healthier version. Adding cubed, fried regular potatoes will also taste brilliant, I am sure.
– Banarasi Dum Aloo does not use dahi or curd as normal dum aloo does so use cream if you have it. Substitute with curd as a last option.
– The gravy gets thick on sitting for a while so if you are reheating leftovers, add a little bit of curd of water before heating it up. Don't add more cashews than what's mentioned, it will make the gravy even thicker.
– As you can clearly see, I was out of coriander leaves 🙂