Banana Mango Milkshake is a delicious and filling breakfast option if you are a lazy cook in the mornings or just want something quick and healthy. I have made a vegan version with coconut milk and a regular milkshake with cow's milk and love both. Take your pick!
This mango season has been very kind to us. Usually, the mangoes we buy in Singapore are average at best and I am nostalgic about the hot Kerala summers and mango memories at this time of the year. But this year, I got amazing mangoes at Mustafa and bought them by the kilo. They are definitely more expensive but oh-so-totally worth it if you are mango lover like it. Use them up in a simple mango lassi, a milkshake like below, a mango cake, or even a more pretty dessert like a layered eggless mango cheesecake.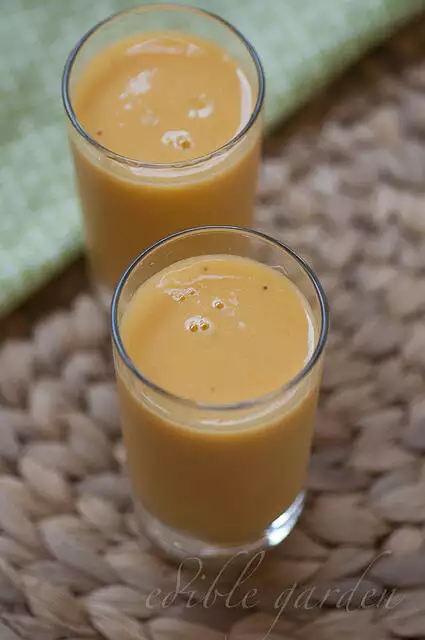 I generally don't make fruit milkshakes or smoothies unless I have excess amounts of fruits I need to use up. But this mango banana milkshake was really a wonderful weekend breakfast for TH and I. I got the idea to use coconut milk in my milkshake to make it vegan, from Dassana of Veg Recipes of India. I experimented with a bit of coconut milk and didn't mind the taste so went with it on day one. On day two, I just used fresh cow's milk and it was delicious.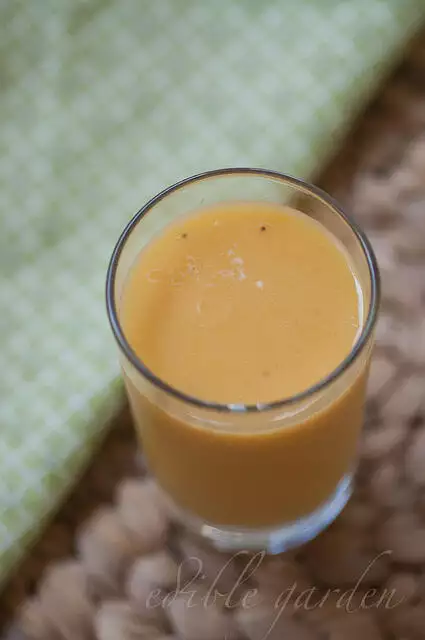 I have read and heard about how banana and cow's milk is not a great combination and that it often creates lethargy. I have had my fair share of banana milkshakes (in the form of Sharjah Shakes) and never faced an issue but let's not argue with ayurveda, ok? Try this milkshake with coconut milk and stick to it if you like the taste. Otherwise, just use regular milk, whatever works best for you.
BANANA MANGO MILKSHAKE RECIPE
Preparation time: 5 minutes
Serves 2
Ingredients:
1 ripe banana
1 ripe mango
1 cup of light coconut milk or regular milk
2-3 drops of vanilla essence (optional)
1 cup of cold water, more or less
How to Make Banana Mango Milkshake:
1. Peel and chop both the fruits. I refrigerated them overnight to keep them chilly.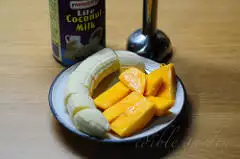 2. Throw all ingredients into whichever blender you own. I use my stick blender for fruit milkshakes and smoothies and it does a good enough job.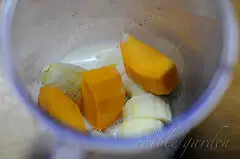 3. Blend away until smooth and of pouring consistency. If too thick, add more coconut milk/milk or water.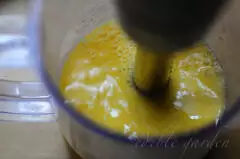 That's it. Pour into glasses and serve chilled. You can refrigerate this for about an hour but I highly recommend consuming fresh fruit milkshakes immediately. Add a splash of honey or some sugar if your fruits are not sweet enough.