I have made these Baked Garlic Potato Wedges many times, each time with some variation or the other, and it has always come out super well. It's a pity these baked potato wedges took this long to show up here but the main reason is, this is a recipe I always use to show off how awesome I am (works each time like a charm) so it's almost always made when I have someone visiting.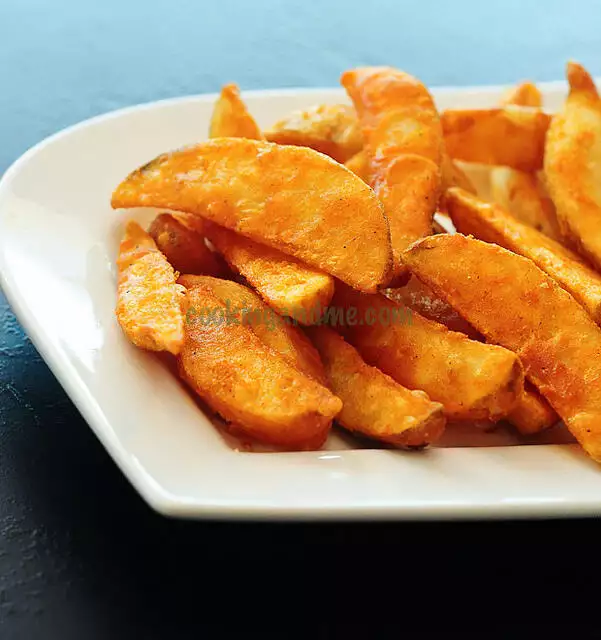 Finally, I decided enough is enough and managed two quick photos on the side table before I served them. I should say that my skills of cutting potato into wedges have greatly improved since the first time, purely out of practice. I had plans to make a video of how to get perfect potato wedges but that will have to wait for another time.
Meanwhile, make bake these! It's garlicky potato wedges that are tastier than the fried ones, uses minimum oil, is crunchy on the outside and super soft on the inside, its pure deliciousness!
There's a reason why they are the most popular recipe on The Purple Foodie.
For more potato recipes, check out:
Aloo gobi
Baby potato biryani
Bombay potatoes
Baked Garlic Potato Wedges
Serves 2
Ingredients:
2 large russet potatoes (or whatever type of potato you have locally)
8 small garlic cloves, freshly crushed
6 tbsp olive oil
3 tbsp cornstarch/cornflour
1 1/2 tsp sea salt (or regular salt)
1 1/2 tsp freshly ground black pepper
½ tsp paprika or Kashmiri red chilli powder
½ tsp garlic powder (optional)
How to Make Baked Potato Wedges
0. Warm the olive oil (either in a microwave or in a small pan over the stove) and add the crushed garlic pieces. Let the olive warm up and the yummy juices of the garlic seep into it. Dont heat the oil too much, just nicely warm it. Set this oil aside to infuse well until you need it. Pre-heat oven to 200C /  390F. 
1. Bring a saucepan with 4 cups water to a boil. Scrub the potatoes clean (don't peel) and insert into the boiling water. Simmer and let the potatoes par-boil. It usually takes me 10-12 mins. When a knife is inserted it should go in without effort but make sure the potatoes don't become cooked soft or mushy. Remove from water and let it cool on a plate.
2. Cut the cooled potatoes into wedges. I cut each lengthwise into half. Then each piece gets cut into further halves and each of that half into 3 more wedges. Sorry for making you do math when all you want is some baked garlic wedges but that makes 12 wedges in all, per potato.
3. Transfer the potato wedges into a large bowl. Pour in the infused olive oil (remove the crushed garlic pieces), and add all other ingredients into the bowl. Mix gently until well combines. It's important to make sure that the corn flour coats all the pieces well. I usually do this step by hand, rubbing all the ingredients gently into the potato pieces. Crack some pepper on top again if you'd like once you are done mixing.
4. Lay the pieces on a baking tray (you can either use a baking sheet like Silpat, parchment paper, or aluminum foil to line the baking tray) without overlapping. If your baking tray is small, bake in two batches but make sure that you line the potato wedges in a single layer.
5. Bake in the pre-heated oven for 30-40 mins until the wedges are golden brown and crisp on the outside. It may be a good idea to turn the baking tray around once during baking so that all the pieces get uniform heat, more or less. My oven has uneven heat in some corners and I am positive yours does too.
6. Once baked, serve hot with ketchup, mayonnaise, chilly sauce or Sriracha.
.
Note:
– I have tried many variations in this recipe like adding minced garlic directly into the potato wedges mixture, using regular oil instead of olive oil, cutting potatoes into wedges first and then par-boiling, etc. The quantities and ingredients above gave me the best result so I stick to that now. I have a small bottle of powdered garlic that I have bought specifically to make these baked garlic potato wedges. It really adds to the flavour.