Badam Kheer
will always remind me of having guests over. Well, not really guests but people from your extended family who always arrived with laughter, love, and gifts. I am guessing some of the other stuff they brought along was not really visible to my 10-year old eyes but I loved it when my parents entertained, and they did a lot of it while I was growing up. Amma loved to cook for others and she always made a festival of it, planning and preparing a couple of days in advance and well into the actual day.
Badam Kheer or Badam Milk was a standard welcome drink in her menu list when we had people over for lunch. The guests would start trickling in by 11am and it was my duty to pour glassfuls of chilled and fragrant badam kheer for those who have barely taken a seat in the hallway.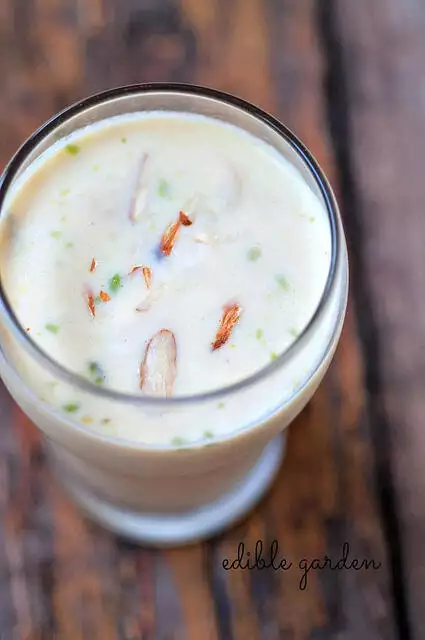 The reason why badam milk works as a great welcome drink is because it can be made the previous day and chilled overnight in the refrigerator, giving the flavours a chance to mingle and talk. It's also non-fussy and you can focus on the starts and appetizers while your eager 10-year old takes care of serving it. My mom really knows how to plan a party!
For more drink ideas, check out apple milkshake with almonds, banana mango milkshake, watermelon melon milkshake, and dates banana shake.
BADAM KHEER OR BADAM MILK RECIPE
Preparation time: 2 hours
Cooking time: 15 minutes
Makes ~6 glasses
Ingredients:
12 almonds
1 litre of milk (use full cream milk for best results)
1 pinch of saffron (optional)
1/2 tsp of Everest milk masala or 1/4 tsp powdered cardamom powder
1/2 cup of sugar (adjust to taste)
How to Make Badam Kheer:
1. Soak the almonds in warm water for 1-2 hours. Remove skin by rubbing between your fingertips.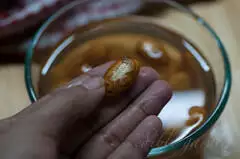 Also soak the saffron in 2 tbsp cold milk (if using).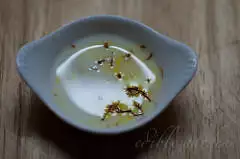 2. Grind the almonds with 1/2 cup milk to a smooth paste.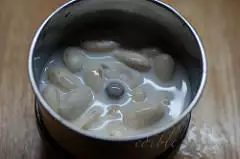 The paste should be fine and smooth when you rub between your fingertips.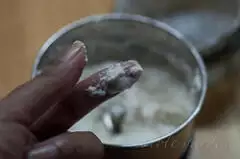 3. Cook this badam paste in a sauce pan on low heat until it starts to bubble. Let it simmer for 3-4 mins more. Then, add the remaining milk and let it come to boil. Continue to simmer.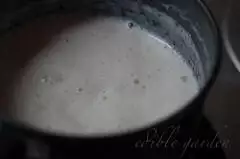 4. When the raw smell leaves the kheer (about 8-10 mins), add the sugar. The amount of sugar really depends on personal taste but amma always made badam kheer a bit on the sweeter side.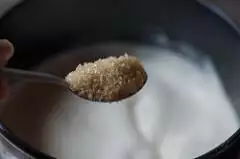 5. Simmer for another 5 mins and then add the milk masala (or powdered cardamom) and soaked saffron. At this point, if you feel the badam milk is too thick, you can add more milk. Go with your preference.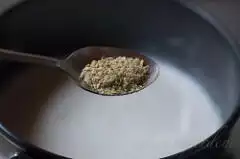 6. Stir through once and as it begins to boil again, remove from fire.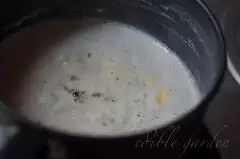 Badam Kheer can be served warm or chilled but we prefer it chilled and that's the way it's always served in our home.
The milk masala has some pistachio bits which gives the badam milk a nice colour (it also has saffron but the flavour is not as deep as I'd like). You can add some slivered almonds or pistachios for texture if you don't have milk masala in hand.