Apples and cinnamon
are a match made in heaven and while I am not a huge fan of cinnamon playing the major role in any dish, it does bring out the subtle flavours of apple and its inherent sweetness. I have been wanting to make some
sweet cinnamon rolls
for the longest time and even had a never-ending long list of bookmarks just for sweet bread rolls. Typical to my nature, I overlooked all those bookmarks and adapted this from an entirely new recipe. I had to use up all those freshly picked Aussie Apples from my
apple picking trip to Bilpin
.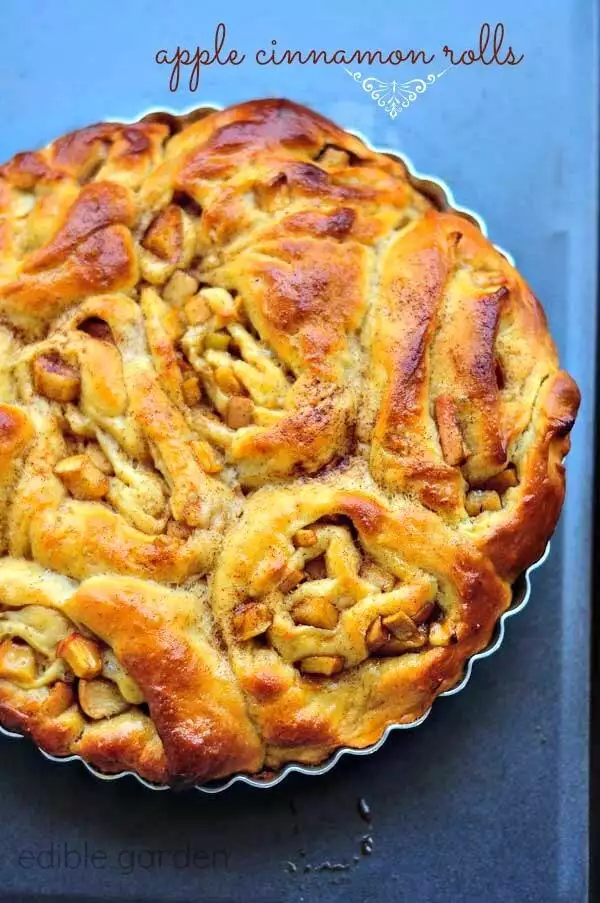 While making breads, I often find that the amount of flour mentioned in many recipes is too little for my dough. I have even ended up adding more than double the amount of flour mentioned in the original recipe which really baffles me. Even if you factor in flour type and humidity and what not, it still shouldn't be that different. But anyway, this is just a word of caution for those who are trying this recipe – start from the lowest quantity of flour I have mentioned and add more only if your dough needs it.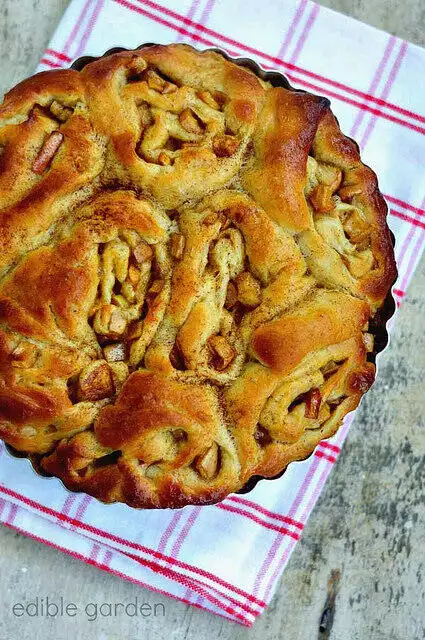 The good news is that these apple cinnamon rolls are really fail-proof. i ended up messing up the filling and it was way too watery and I just wrapped everything up into a gloopy muddle of rolls and they still emerged golden, fragrant, and fluffy from the oven.
I love making bread rolls in a round pan because of the shape they bake up in but you can use a loaf tin, square pan, pretty much anything you want, just ensure it's the right size to fit your rolls comfortably and allowing enough rising space before baking.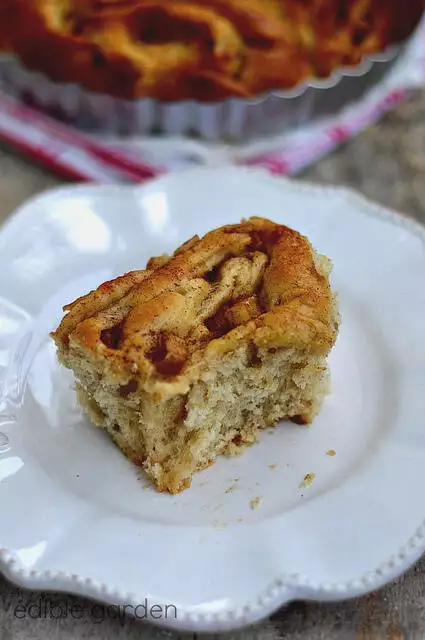 These rolls would go fabulous with some caramel sauce but I didn't want to add any more sugar or fat than necessary so this is pretty much a low-fat albeit less 'interesting' version of apple cinnamon rolls.
Also check out one of my most popular recipes, the eggless garlic rolls, the adapted eggless pesto rolls, and this amazing eggless garlic cheese pull apart bread recipe.
APPLE CINNAMON ROLLS RECIPE
Preparation time: 1 hour
Cooking time: 20 minutes
Makes 8 rolls
Dough recipe adapted from: Gimme Some Oven
INGREDIENTS:
2.5 cups of flour
1 tsp of instant yeast
1/4 tsp of salt
2 tbsp of sugar (I used raw sugar)
1/2 cup of milk (any kind)
1/2 of a beaten egg
2 tbsp of butter, at room temperature
2 cups of small cubes of apple (no need to peel)
1/4 cup of brown sugar
1 tsp of cinnamon powder
INSTRUCTIONS:
0. Pre-heat oven to 350F/180C. Grease a pie or loaf pan with some melted butter and set aside.
1. Add 2 cups of the flour, salt, sugar, and yeast to the bowl of your stand mixer (see below for kneading by hand) and with the dough hook on, mix gently on low speed until combined.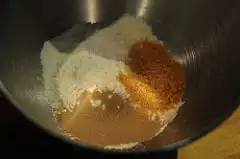 2. In a microwave safe bowl, heat the milk and butter together until warm. When you insert a finger in this mixture, you should be able to withstand the heat. Add this and half an egg to the flour mixture and run the stand mixer on low speed until the dough comes together.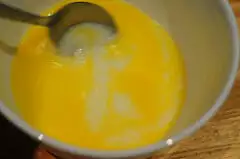 3. If the dough is very sticky and seems too moist, add more flour as needed. I needed the entire 2.5 cups but you may not. Transfer this dough to a floured surface and gently knead in with your palm until it's not super sticky anymore.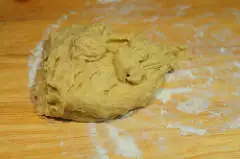 4. Transfer to a lightly oiled bowl, cover with cling wrap or a plate, and set aside in a warm place to rise for 30-40 mins.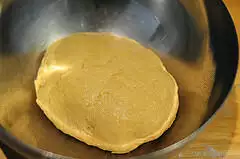 5. Meanwhile, heat a pan and add the chopped apples. On low heat, cook until they turn slightly soft, taking care not to cook the apples to a mush. I added the cinnamon and brown sugar at this stage but realised it made the filling extremely watery. A better option would be to layer it on the dough before rolling so ignore my slightly irrelevant pictures below and follow the procedure I am explaining. As I always say, just learn from my mistakes 🙂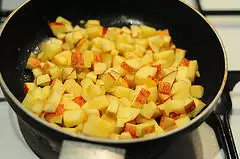 6. Once the dough has been rested for 30-40 mins, lightly punch it down and roll into a long oval. Mix the brown sugar and cinnamon in a bowl and layer it all over the dough evenly (as mentioned, I added it to the apples so ignore the below picture in terms of how the filling looks).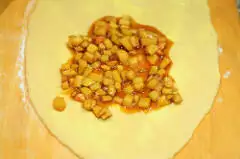 7. Layer the cooked apples evenly over the brown sugar-cinnamon mixture. In my picture below you can see what happens when the filling is too watery – I made quite a mess when rolling.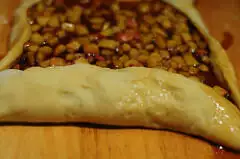 8. Roll the dough with the filling inside and cut into 8 pieces. Lay it on the greased pan cut side down. Mine look all wonky due to the watery filling!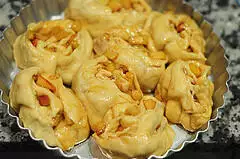 9. Lightly cover with cling wrap and set aside for another 30-40 mins until the dough has puffed up again like below.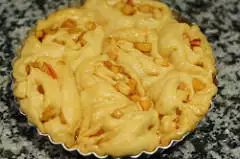 10. Bake in the pre-heated oven for about 20 mins or until the top turns a lovely golden brown. I find that breads usually brown too much on top in my oven so I loosely cover the pan with aluminium foil while baking. Try this if you have the same issue.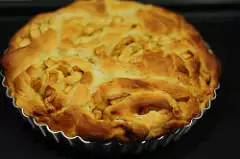 Yum! The rolls will be super fragrant and comes out of the oven looking gorgeous. I brushed some melted butter on the hot rolls as soon as they came out of the oven.
Best eaten warm and on the same day but these apple cinnamon rolls lasted 2 days in an air tight container at room temperature for me. Note that Sydney is not very hot or humid so if you live in a warm place, refrigerating and then re-heating in the oven or microwave just before serving is a better option.
NOTES:
If you want to knead the dough by hand, follow the same procedure as above. It will be a bit annoying since the dough is quite sticky and you will need to knead (heh) for about 10 mins or so to get the right consistency
Adding some caramel sauce over the rolls would be a great move, so go for it if you feel so inclined
These also make great breakfast rolls, that's what I did with my leftovers
I don't like a very heavy cinnamon flavour but if you do, increase the amount of cinnamon by another 1/2 tsp or so
You can use any type of apples in this recipe although granny smith would probably work best
The Feburary theme in the We Knead to Bake group started by Aparna was to bake anything we like so these apple cinnamon rolls are my contribution