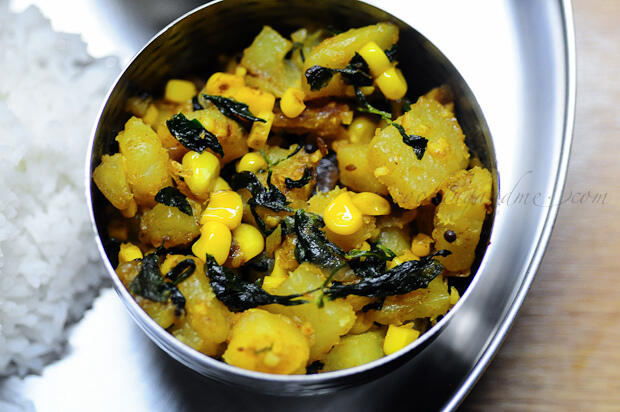 I had some methi leaves left over after making Methi Pulao and decided to try Aloo Methi with it. I also had one fresh corn cob and decided to throw that in too. Nothing like bringing together some fresh vegetable wilting away in the fridge, eh?
I love making dry curries with aloo, especially using Russet potatoes. They cook very fast and turn almost creamy when they are done which tastes fantastic with both rotis and rice. Throw in some methi leaves for the bitterness and corn for the sweetness and you have a winner. I really resent Kerala not taking up to methi leaves more, imagine all the methi I could have eaten if I'd started young!
Other methi (fenugreek leaves) recipes you may wish to try – methi matar malai, methi thepla, methi pakoda, methi yogurt curry, methi sambar, methi dal, and this spiced methi paratha.
Aloo Methi-Methi Aloo Recipe
Preparation time: 10 minutes
Cooking time: 20 minutes
Serves 4
Ingredients for Aloo Methi:
2 large potatoes
1 cup of packed methi leaves, picked off the stems and washed
6-8 shallots (chinna vengaayam, ulli)
1 tbsp of oil
1/4 tsp of black mustard seeds
1/2 tsp of crushed cumin seed (jeera)
1-2 tsp of coriander powder
1/2 tsp of turmeric powder
2 tsp of red chilli powder (adjust to taste)
1/4 tsp of hing (asafoetida, perungaayam)
1 tsp of salt
1/3 cup of shaved or canned corn (optional)
How to make Aloo Methi:
1. Peel and cut the potatoes into bite-sized cubes. Shave the corn off the cob if using fresh corn (or if using at all). Slice the shallots or use an onion instead to make things quicker.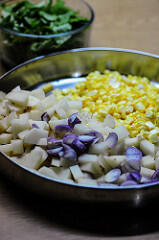 2. Heat the oil in a pan and add the mustard seeds.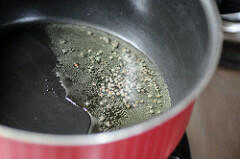 3. When they start to pop, add the shallots, potatoes and corn. Stir well.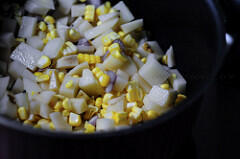 4. After 3-4 mins, add the methi leaves. Mix again and let it cook for another 2-3 mins, stirring occasionally.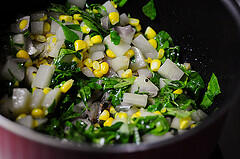 5. Then add the cumin, coriander, chilli, and turmeric along with the hing. Mix well to combine. Cook on low heat for another 5-6 mins at which time the potatoes will turn soft.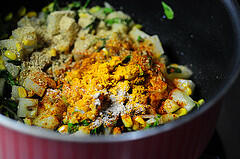 6. Add salt. Mix and continue to cook until the potatoes are cooked through.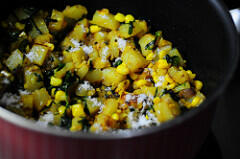 Serve hot with rice and rasam or rotis. I especially like dry sabzis with roti and curd, there's just something nice about that.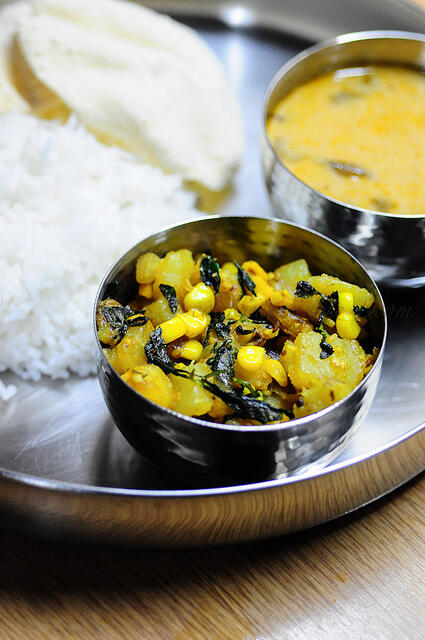 This particular night, we had hot
aloo methi
with
coconut milk rasam
, rice and microwaved appalam.