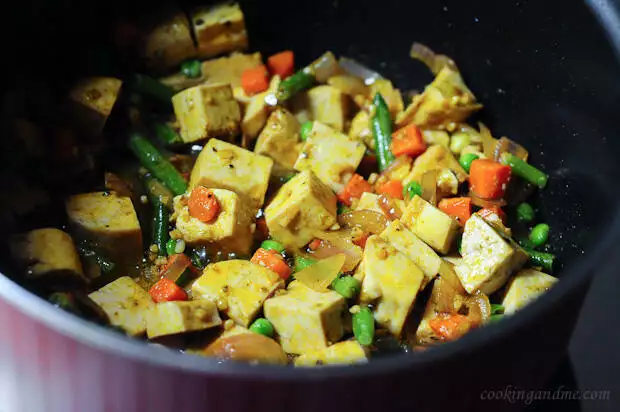 A quick and easy fried rice recipe with tofu, vegetables, and egg.
This is a very ad-hoc recipe that I concocted one night. I had some tofu in hand that needed to be used up and I was in no mood to cook a rice or roti, then a side-dish, etc.
This post actually has 3 recipes, in a way. You can stop at two other stages on the way to making the tofu vegetable fried rice or go all the way and make it a one-pot meal.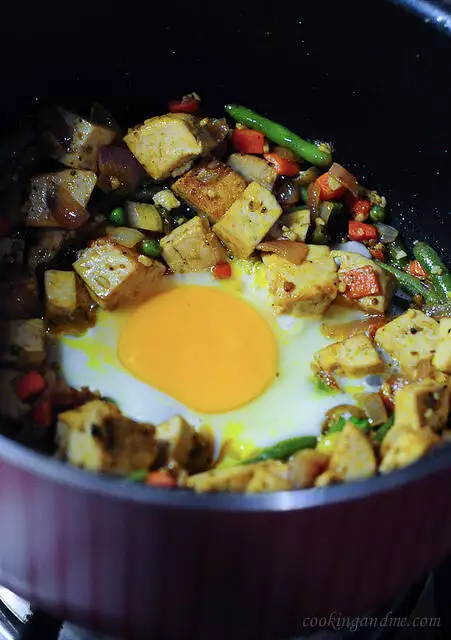 3-Way Tofu, Egg, and Vegetable Fried Rice
Serves 2-3
Ingredients and measurements are approximate
Ingredients for basic tofu + veg base:
1 block firm tofu
1 cup mixed vegetables, chopped (I used carrot, French beans, corn, peas)
1 onion, sliced
1 tbsp soya sauce
1 tsp green chilli sauce
(I use Ching's Secret for both soya sauce and chilli sauce)
1 tbsp freshly cracked black pepper
1/2 tsp minced ginger
1/2 tsp minced garlic
3 tbsp oil
Salt to taste
Additional optional ingredients:
2 eggs
2 cups cooked rice
Instructions:
1. Heat oil (make sure its not smoking hot, just barely glistening on top) and add the ginger and garlic. Saute for 30 seconds until fragrant. Add the sliced onion and saute until cooked and soft.
2. Increase the flame/heat and add the soya sauce and chilli sauce. Saute for a minute. Lower flame and add cubed tofu. Fry until the tofu has browned on most sides.
3. Add the vegetables and some salt (be careful with salt since soya sauce is already salty) and mix well. Cook partially closed until the vegetables are cooked. Add pepper.
You can stop at this stage and serve this with noodles or rice.
Another step further would be to make space in the centre of your pan and crack in two eggs side by side. Don't disturb it until the whites are partially cooked. Then slowly scramble it into the tofu and vegetable mixture.
If you want a one-pot meal, mix in 2 cups of cooked rice. You may want to increase the amount of salt and pepper in this case. The rice will be mild and perfect for a wholesome weeknight dinner.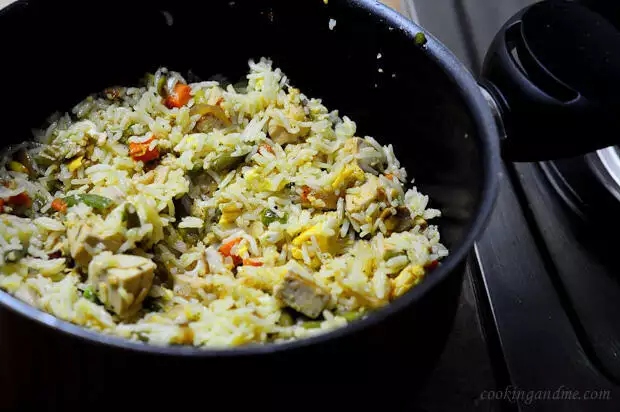 Of course you can garnish with coriander leaves or spring onions if you have any in hand. Serve tofu and egg fried rice hot.