Chettinad cuisine is fabulously adapted to cook meat and fish and this Chettinad fish fry recipe is no exception. Learn how to make Chettinad-style fish fry using simple masala and fresh fish steaks.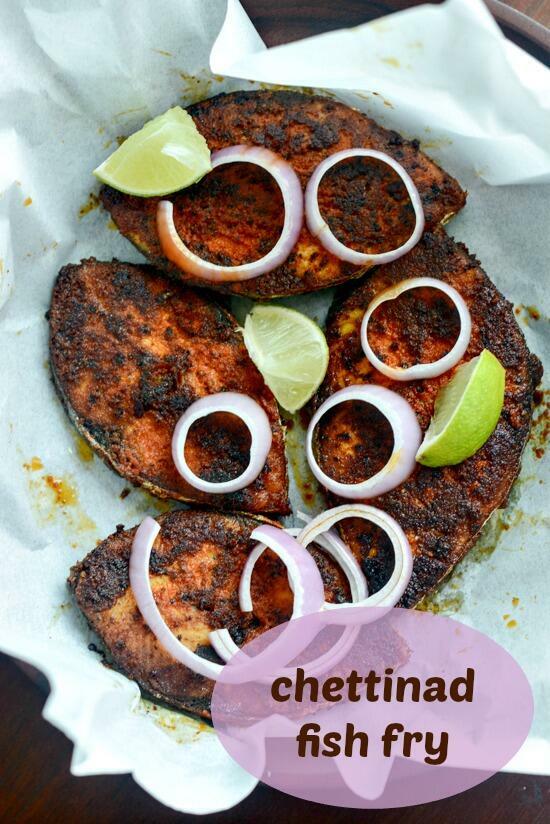 Growing up in Kerala, fish was almost a staple. Although we didn't buy it every day like most families do, fish was still served at least 1-2 times a week. It was always a treat no matter which way Amma decides to prepare it. Kerala fish fry is as popular as any other and while I usually default to fish fry made Kerala-style, I tried out this Chettinad fish fry recipe for some friends who I had over for lunch many weeks ago.
The key difference in this Chettinad fish fry recipe when compared to Kerala fish fry is the use of garam masala in the former. While roasting and making your own garam masala is obviously a better option, I just use a good store bought garam masala powder (usually Kitchen King masala) to get the flavours going.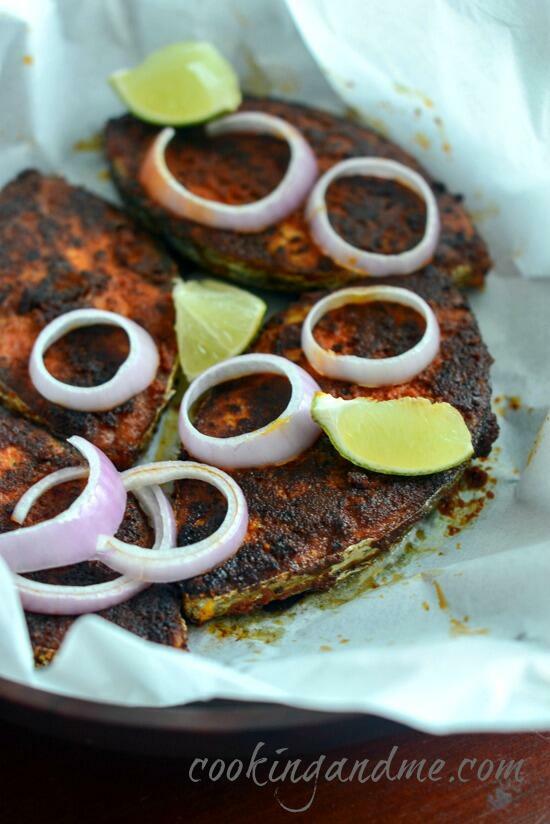 Now, if you have fish-eating friends, a simple fish fry is the easiest way to add a nice extra dish to your lunch or dinner table. It's easy to prepare, it's well-liked, and nothing really beats a good curry with steamed rice and fish fry, am I right? Truly comfort food for those who grew up on it.
I always serve fried fish with raw onions and lemon wedges like they do in Andhra and it works fabulously with this Chettinad fish fry too.
Here are some of my favourite fish recipes you may wish to try:
Bengali fish fry
Easy fish curry with coconut milk
Kerala red fish curry
Nethili meen fry (fried anchovies)
Indian-style baked salmon

Chettinad Fish Fry Recipe
Chettinad fish fry recipe, a delicious spicy fish fry recipe from the Chettinad region that goes great with rice and curry.
Ingredients
4 fish steaks, thinly sliced
Oil for shallow-frying
For marinade:
½ tsp red chilli powder (adjust to taste)
¼ tsp black pepper powder
¼ tsp turmeric powder
1 tsp garam masala powder
1 tbsp shallots or pearl onions, ground to a paste
½ tsp freshly crushed ginger garlic paste
Salt to taste
Instructions
Clean the fish steaks and let the excess water drain. You can also use a Kitchen towel to mop up the excess water (check notes on why this is important)
In a bowl, mix all the ingredients to prepare the marinade.
The marinade should be a thick paste so the moisture from the shallots and ginger garlic should be enough but if not, add a few drops of water
Coat the fish pieces generously on all sides with the fish fry marinade
Let the marinated fish pieces sit in the fridge, covered, for at least 30 minutes or overnight
When ready to fry, heat enough oil to shallow fry the fish
Gently drop each fish piece into the hot oil and keep the heat medium high
Fry both sides until dark brown and the fish is cooked through (check notes for a few tips)
Serve hot with raw onions and lemon wedges
Recipe Notes and FAQs
1. Why does the marinade on my fried fish not stick when frying?
Ans: This used to a real problem for me during my early days of frying fish and there are three things to ensure the coating or  marinade sticks to the fish pieces. One, the fish needs to be almost fry when you marinate it and two, the marinade needs to be a thick paste and not watery. The third and important thing to keep in mind is oil temperature. If you keep it too low, which is something I used to do, the coating will cook first and fall off, leaving the fish half done. Maintain a medium high heat at all times
2. What types of fish are good for making Chettinad fish fry?
I usually use King fish steaks since they are readily available cut and cleaned in Singapore. You can use any firm-fleshed large fish that is available in steak pieces. Even salmon works well in this recipe although it's not a traditional Chettinad fish fry recipe in that case.
3. What oil should I use?
I love using a mix of coconut oil and regular olive oil when I make fish fry but you can use any cooking oil you prefer.
4. Why is my fish fry not crunchy?
The texture of fried fish is one of personal choice and I usually prefer my fish well done, soft on the inside, and the masala coating to be crisp. To get this, I usually place the fish pieces in the pan and cook covered for about 2-3 minutes before opening and letting it fry in the pan for a bit. Flip and repeat. If you want very crunchy fried fish, you can either try deep-frying or cook on medium-heat by turning more frequently to ensure the fish doesn't burn. Thin fish slices are usually best to get this result. Adding a teaspoon of oil to the marinade also helps crisp up the fish upon frying.
5. What can I replace shallots with?
Shallots are an integral part of Chettinad cooking but if you really can't find them, you can either omit them or add some red onion paste in its stead. The flavour won't be the same though.
6. How long can I store marinated fish?
I typically marinate the fish and refrigerate overnight to use the next day. You can also freeze marinated fish for 1-2 weeks which is what my Mom does since she buys fish in large batches. Make sure to thaw the pieces before adding to the hot oil.
7. How long can I store fried fish?
Ideally, don't keep fried fish for too long because it really loses its texture. That said, I often keep fish fried in the afternoon until dinner. Just keep in an airtight container at room temperature. Reheating is usually not a good idea, just serve at room temperature. If you need to keep for more than a day, refrigerate and lightly heat up on a dry pan before serving.
If you have any more questions or tips to share, do leave a comment below.
For Chettinad fish fry recipe in Tamil, Hindi, Malayalam, Telugu, Kannada, etc please use the Google translate button in the sidebar.