Vegetable jalfrezi – Learn how to make vegetable jalfrezi,
a semi-dry Indian recipe with a mix of vegetables cooked in a tomato-based gravy. I love
paneer jalfrezi
and make it often mainly based on Sanjeev Kapoor's vegetable jalfrezi recipe but last weekend, I was out of paneer and opted for this vegetable version with my own adaptations. Can I just say it was delicious? A healthy mix of vegetables cooked with minimum spices to bring out the flavour of the individual vegetables, that's really my favourite style of cooking. Restaurants tend to make vegetable jalfrezi and paneer jalfrezi really greasy and oily and some even add cream to it which baffles me. A simple jalfrezi recipe made at home with as many vegetables as possible thrown in is should be kept healthy and simple, in my opinion.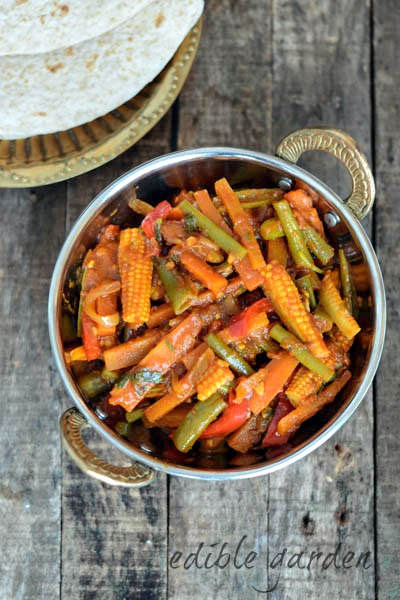 The secret to getting a good deep colour for your jalfrezi is to use tomato paste instead of fresh pureed tomato. I use tomato paste from a can or from tubes which are much easier to use. Since these are really concentrated, a teaspoon or two at the most is usually sufficient. As for the vegetables, you can go for any you like. I used carrots, beans, baby corn, bell pepper, and onions this time around. You can even make vegetable jalfrezi with paneer if you have a few cubes of it lying around but not enough to make an entire dish with the paneer.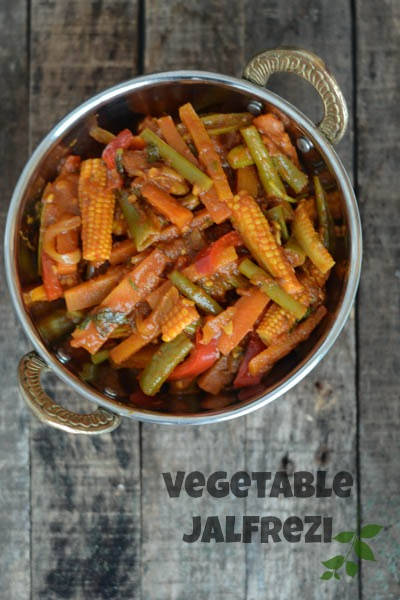 Jalfrezi is a good option to use as a filling for kathi rolls too. Take a tortilla wrap, add some filling inside, roll it up, and you are good to go! Kathi rolls make very easy evening snacks if you have the filling ready. However, I serve jalfrezi as a side dish so we feel we are actually eating some vegetables instead of just a dal and a paneer side dish. Since it's semi-dry, it's good to complement it with some dal or at least raita. While chapatis go really well with vegetable jalfrezi, I opted to make a simple peas pulao last weekend to keep things simple.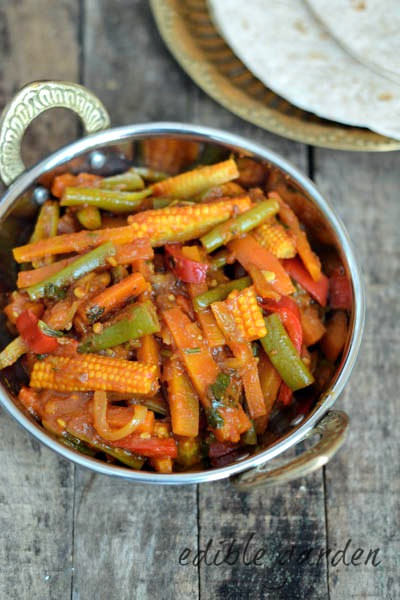 Here's a tip if you'd like to get your jalfrezi on the table in a jiffy – keep all ingredients prepared and ready. Probably the more time-consuming activity in preparing this recipe is the chopping of the vegetables. Try to keep them long and evenly thick for uniform cooking.
Similar recipes you may enjoy:
Paneer jalfrezi
Paneer mushroom masala
Paneer korma
VEGETABLE JALFREZI RECIPE
Preparation time: 15 minutes
Cooking time: 20 minutes
Serves 4
INGREDIENTS:
4-5 cups of cut vegetables (carrot, baby corn, capsicum, beans, cauliflower, etc)
1/2 cup of onions, sliced
1/2 tsp of cumin seeds
2 tbsp of oil
1 tsp of coriander powder
1/2 tsp of red chilli powder (adjust to taste)
1/4 tsp of turmeric powder
1.5 to 2 tbsp of tomato paste
1/2 tsp of garam masala
1 tsp of kasuri methi (dried fenugreek leaves)
4 tbsp of chopped fresh coriander leaves (cilantro)
1 tsp of ginger garlic paste
A pinch of sugar
INSTRUCTIONS:
Prepare your vegetables first by washing, peeling, and chopping them.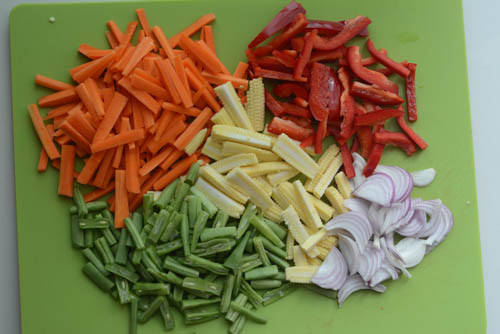 Heat oil in a pan and add the cumin seeds. When they sizzle and turn a darker brown, add the sliced onions.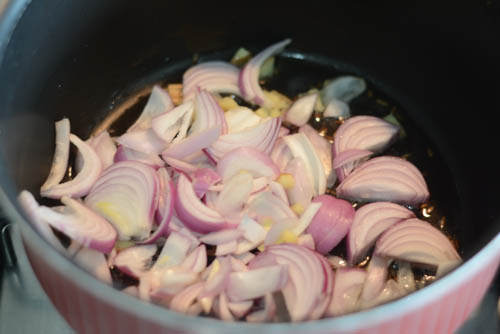 Saute until the onions turn soft and a light golden brown. Add the ginger garlic paste and saute for another 30 seconds. Then add the coriander powder, chilli powder, and turmeric. Fry for 20 seconds taking care not to burn the spices. Turning the heat lower at this stage helps, especially if you are a beginner cook.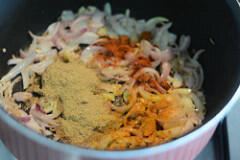 Now add the tomato paste and mix well.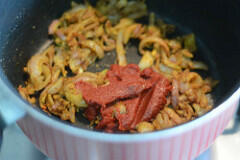 Now add the chopped vegetables and give everything a good mix.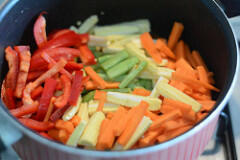 Top up with 1-1.5 cups of water and bring to boil. Lower flame and cook covered until the vegetables are cooked.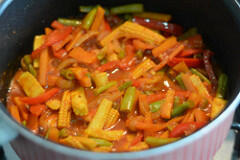 Take care not to overcook them to a mush, the vegetables should still hold their shape. By the time the vegetables are done, the water would have mostly been cooked up. If you find the gravy still very watery, cook a bit longer leaving the pan open.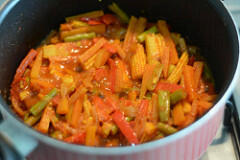 When the vegetables are cooked and the dish has the desired consistency, add salt, sugar, kasuri methi, and garam masala. Mix well and turn off the heat.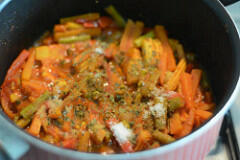 Finally garnish with chopped coriander leaves.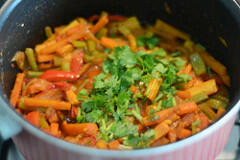 Paneer jalfrezi should be served hot with chapatis or pulao. A simple peas pulao or jeera pulao would be a great combination. Refrigerate leftovers for up to two days. This can be rolled up in a roti or wrap or even sandwiched between bread. Enjoy, do send me a picture at if you try this recipe. Details are in my Facebook Page.
For vegetable jalfrezi recipe in Urdu, Hindi, Tamil, etc, please use the Google translate button in the sidebar.