Learn how to make a
South Indian style kuzhambu or kulambu
with
Karunai Kizhangu
, strangely called Yam Ordinary in English. This spicy kuzhambu has a tamarind base and tomatoes, coconut, and lots of garlic to give it tang and flavour.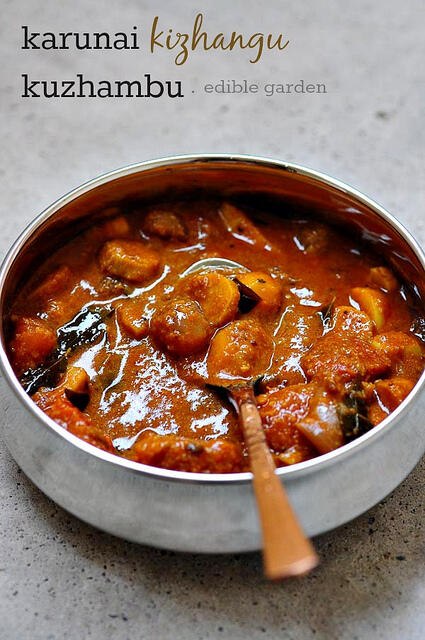 Karunai Kizhangu (known as yam ordinary in English, and sometimes elephant yam) is one of those vegetables from my childhood associated with lots of memories. It is not easily available in Kottayam and so whenever anyone visited from Tamil Nadu or someone from the family went there, karunai kizhangu was among one of the vegetables usually brought back. It has a very similar texture to yam or senai kizhangu but a different flavour. It tends to irritate the throat similar to yam and so cooking it in a tamarind based kuzhambu is the best option.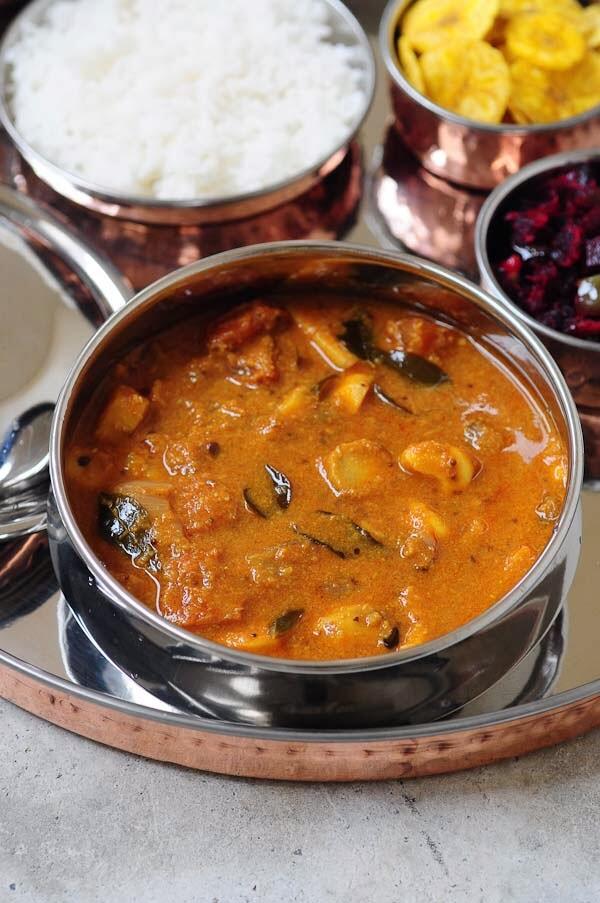 My mom and grandmom make a different puli kuzhambu with karunai kizhangu but I chose to cook it in a very easy kuzhambu. I made this back in March when we were in Singapore (and where karunai kizhangu is available almost year round at Mustafa Centre) and my uncle was visiting. A true South Indian lunch on a Sunday since I was making him all sorts of short-cut dishes over weeknights during his 2-week visit.
This is one of the easiest kulambu recipe I have ever made and it has a wonderful flavour. Although it lacks the depth of colour that the traditional Reddiar nalla pulusu has, I still love it and cook it often with regular yam or even just tomatoes and onion.
If you are looking for a good South Indian kulambu recipe, I recommend Ullipaya Pulusu, Kara Kuzhambu, Paruppu Urundai Kuzhambu, or this Poricha Kuzhambu. Or, just browse all kuzhambu recipes in the site and pick your favourite.
KARUNAI KIZHANGU KUZHAMBU RECIPE
Preparation time: 15 minutes
Cooking time: 20 minutes
Serves 4
Recipe adapted from: Prema's Cook
INGREDIENTS:
3 tbsp of nallennai (gingelly oil)
1/2 tsp of black mustard seeds
1/2 tsp of fennel seeds (saunf)
A few fenugreek seeds (menthayam/uluva)
A pinch of hing (asafoetida/perungayam)
1/4 cup of shallots, peeled
1/2 cup of tomatoes, chopped
1 cup of karunai kizhangu, peeled and cubed
A few curry leaves
1 heaping tbsp of sambar powder
2 tbsp of coriander powder
1/4 tsp of turmeric powder
1/2 cup of thick tamarind extract
1/4 cup of grated coconut
1/4 cup of peeled garlic cloves
INSTRUCTIONS:
Here's a picture of karunai kizhangu, the star ingredient in the recipe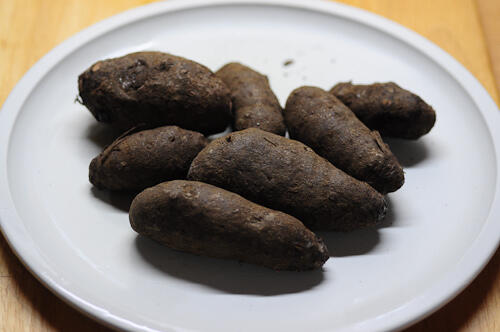 1. Since you will be quickly adding them in one by one, I recommend keeping all ingredients prepared and ready.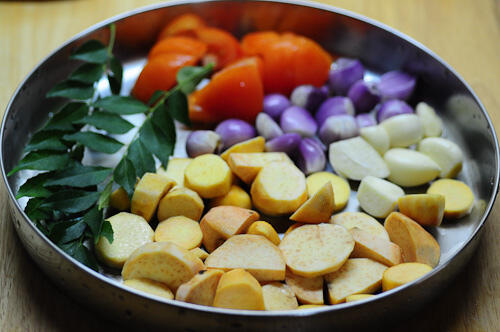 2. Heat oil and add the mustard seeds. When they pop, add the fennel seeds, fenugreek seeds, and hing. Fry for 10 seconds taking care not to burn any of the spices. Keep flame low.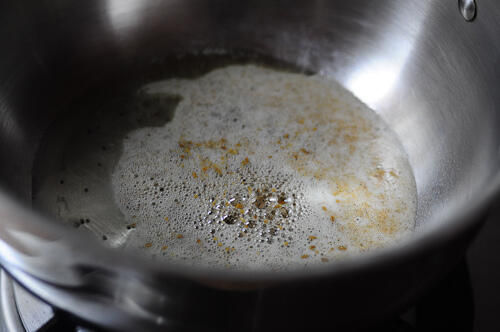 3. Add the tomatoes, garlic, curry leaves, karunai kizhangu, and shallots to this and give it a good saute for 30 seconds.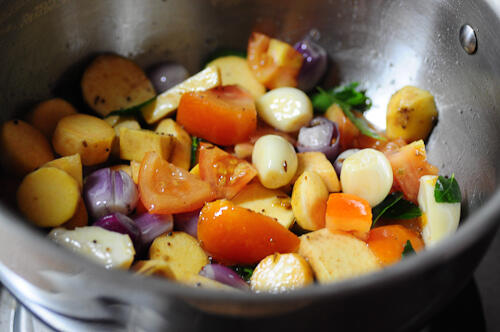 4. Now add the tamarind extract, turmeric, coriander, sambar powder, and some salt.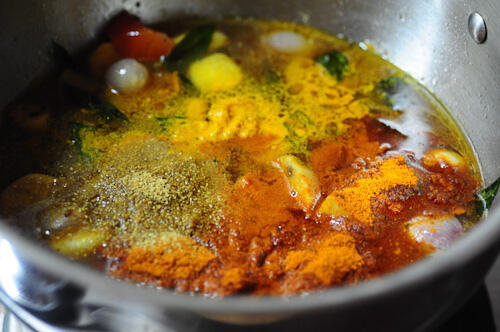 5. Top up with another 1-1.5 cups water and bring to boil.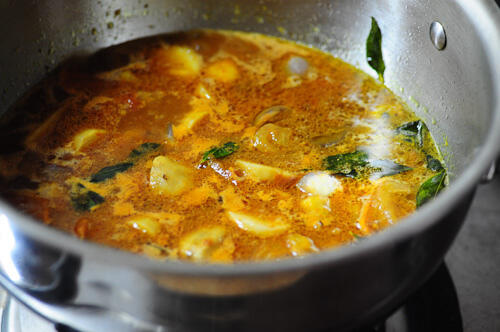 7. Cook covered for about 5-7 mins or until the garlic and yam is cooked soft.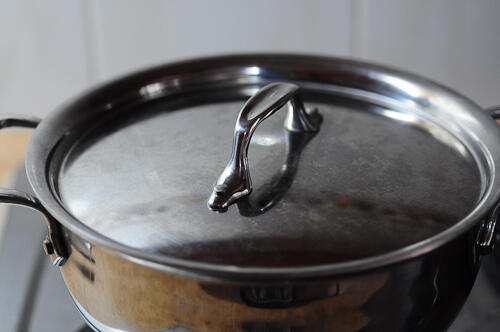 8. Meanwhile, grind the coconut to a smooth paste by adding some water.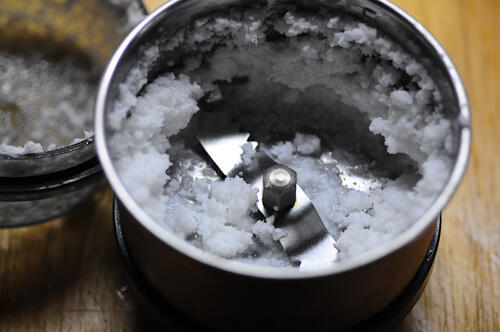 9. Once the vegetables are cooked, add this to the kuzhambu.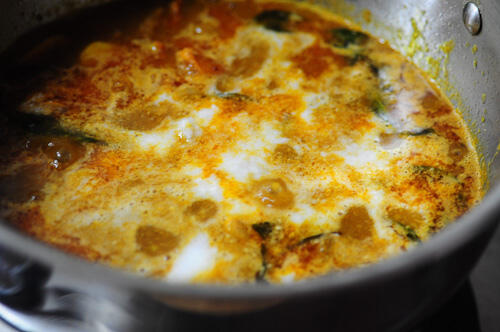 10. Mix well and let it simmer for another 10 mins or so. At this time, it will reach a thick consistency. This really depends on how much water you add. If you want the kuzhambu thicker, boil until it reaches the right consistency.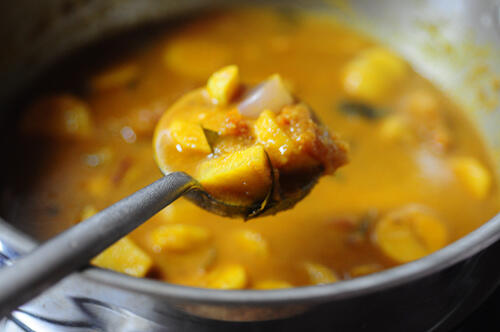 Check salt and remove from fire. Kuzhambu ready! You can store it in the refrigerator for up to 3 days. Make sure you don't leave it out for too long after cooking. Serve hot with rice and curry and refrigerate the remaining kuzhambu immediately. It tastes better on sitting for a while. Enjoy!
For kuzhambu recipe in Tamil, Telugu, Hindi, etc, please use the Google translate button in the sidebar.