Learn how to use beetroot leaves in cooking this simple masoor dal recipe that's a great side dish for roti, chapati, and pulao. Wondering if beetroot leaves are edible and if you can use them in cooking? Yes, you can! Check out this easy recipe with beetroot leaves and make a great vegetarian dish that's healthy too!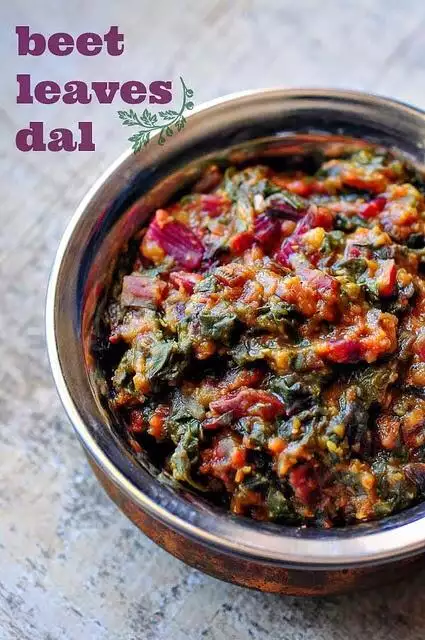 Sydney has a lot of great fresh product markets and I am lucky enough to live close to Orange Grove Markets which is a great Saturday morning farmers market that primarily focuses on fresh organic produce and food. The first time I visited, I went crazy buying all the organic greens I could find. I also bought a bunch of gorgeous beetroots with their leaves still fresh and intact. They were dug up the previous day so even the mud on the roots was still moist!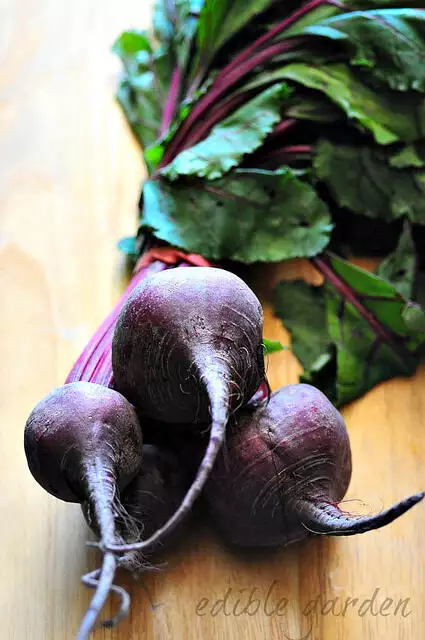 I had never seen beets so fresh let alone with their leaves and roots intact so I was determined to put the bunch to good use. I knew beet leaves were edible but had no idea what to cook with beetroot leaves so a simple dal seemed to the best idea. Can't go wrong with that!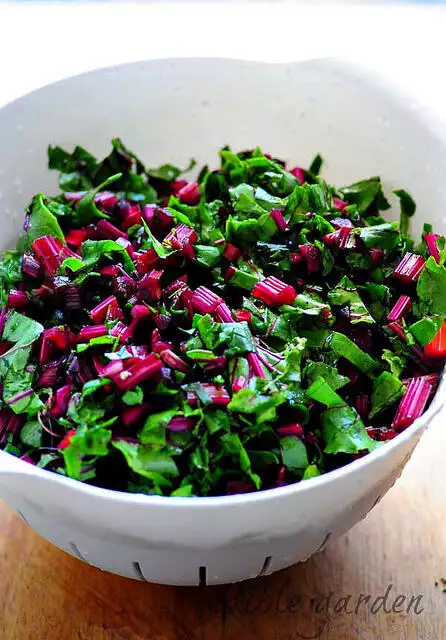 While fresh green beetroot leaves are definitely edible and great to cook with, cleaning it does take some extra effort. Since they were organic, I wasn't worried about washing away the chemicals and pesticides but there is a lot of mud towards the bottom of the stem and that needs careful cleaning because, really, no one likes extra sandy texture in their dals 🙂 Since I had a lot of greens, I made a thick sabzi-like dal with less masoor dal and more greens. You can adapt the consistency to your preference and make it more watery too. Treat beetroot leaves just like spinach when you cook with them, I am sure they taste great in other recipes if you substitute them for spinach.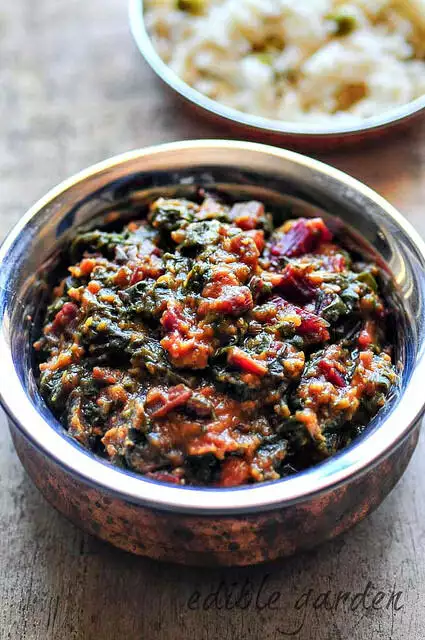 Paired with a simple pulao, beetroot leaves dal made a fabulous side dish for lunch that Saturday.
BEETROOT LEAVES MASOOR DAL RECIPE
Preparation time: 20 minutes
Cooking time: 20 minutes
Serves 4-6
INGREDIENTS:
6 cups of packed chopped beetroot leaves
3/4 cup of masoor dal (red lentils)
1/2 cup of chopped tomatoes
1 tbsp of oil
1/2 tsp of cumin seeds
1 tsp of minced garlic or garlic paste
A pinch of asafoetida (hing)
1 tsp of red chilli powder
1/4 tsp of turmeric powder
1 tsp of garam masala (optional)
1 tsp of ghee (optional)
INSTRUCTIONS:
1. First we need to clean the beetroot leaves. Chop off the beets from the stems using a sharp knife.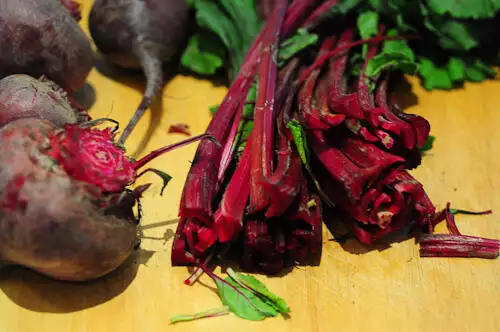 2. Chop up the stems and leaves coarsely. You will end up with a mound of chopped greens.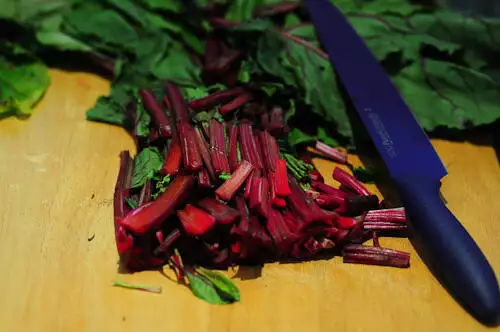 3. Transfer this to a large bowl with water. The water should be enough to completely cover the beet leaves and for them to float, so use a large enoug bowl. . Gently agitate the chopped leaves with your fingers, giving it a good swish in the water. Let it sit for 5 mins or so.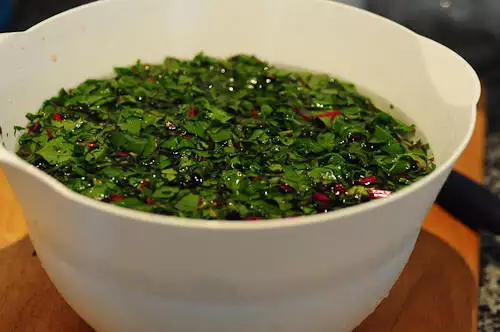 4. Gently take fistfuls of the beet leaves and transfer to another bowl. Continue to skim the leaves away and move to another bowl, squeezing out the water as you do this.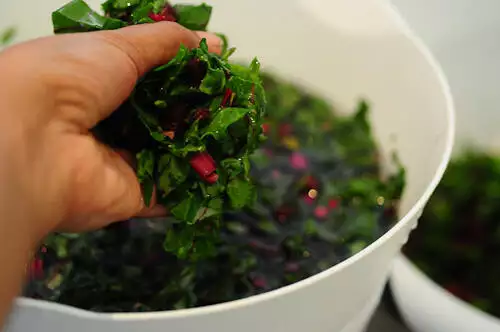 5. You'll be left with a good amount of mud at the bottom once all the leaves are out and you drain the water. Repeat the above steps until the water runs clear, I had to do it thrice. Set the beet leaves in a colander to drain out the water as you proceed to make the dal.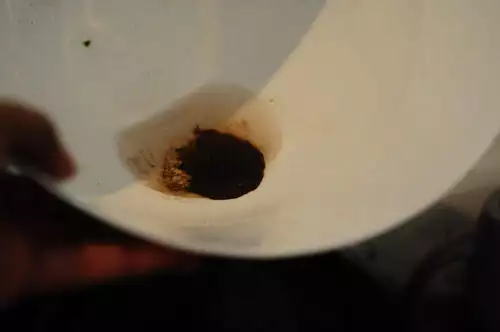 6. Heat a large pan and add the oil, cumin, and garlic. Roast for a minute and then the hing, give it 5 mins and then the tomatoes.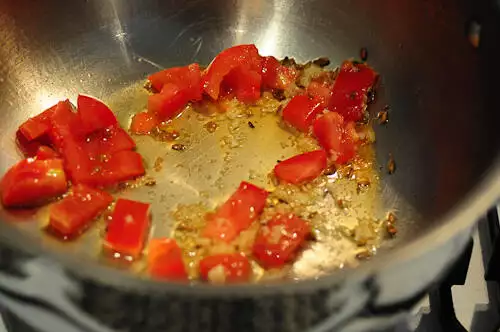 7. Once the tomatoes turn a bit soft, add the washed beet leaves.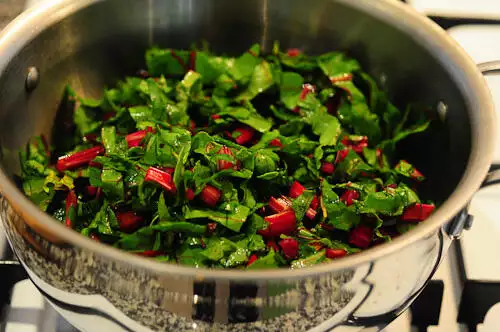 8. Top this up with washed and rinsed masoor dal, turmeric, chilli powder, and some salt. Add 2 cups of water to this.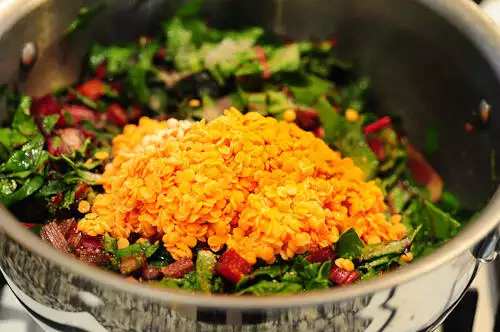 9. Mix well and cook covered on low flame for about 10-12 mins or until the dal is cooked soft and mushy.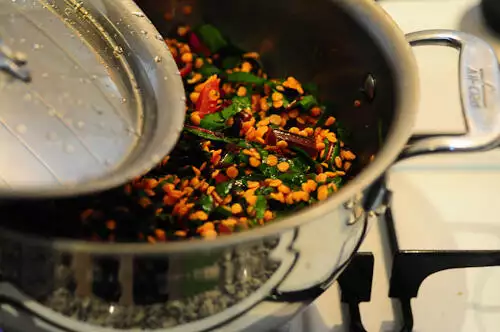 Masoor dal takes little time to cook, that's why I chose it to make this dish with it. Add more salt if required and adjust the water to your preferred consistency. These measurements will give you a thick-ish dal with more greens than dal. Add the ghee and garam masala if you are using them and give it another good stir. Remove from fire.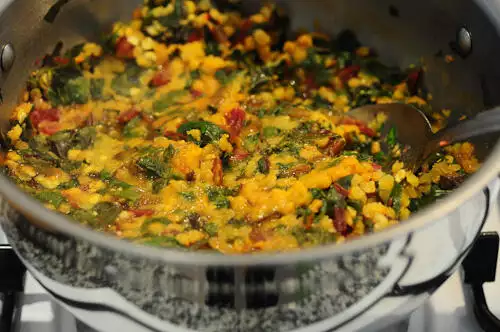 Serve masoor dal with beetroot leaves with jeera pulao or chapatis for a delicious and healthy meal.
Edited to add: some readers have shared that washing the leaves whole is easier and preserves more nutrition. On the nutrition part, I concur since I am no expert on nutrition beyond the basic stuff born out of common sense. On the ease part, I wash spinach and pretty much all other leaves whole but with beet leaves, I wasn't able to get all the mud and sand out the first time I tried that and ended up biting into sand in a sabzi I made. This method was more effective. Use your discretion, folks 🙂