Amma shared the recipe for this
Brinjal Vindaloo
a few months ago. I had only heard of pork vindaloo until then and hadn't given the dish much thought but when she read out the recipe for a
vegetarian vindaloo with brinjal
from a magazine, I was intrigued. She strongly recommended it since she had tried the recipe and it came out nice. "Your blog readers would love it", she said. I said I'll definitely try and share the recipe soon. Then in true Nags style, I forgot all about it. My mother, on the other hand, is not sloppy like me. She waited a couple of weeks for me to get back on how the vindaloo came out and seeing nothing from my end, made it again in her kitchen, got my uncle to click the pictures step by detailed step, and had him send it to me with the recipe.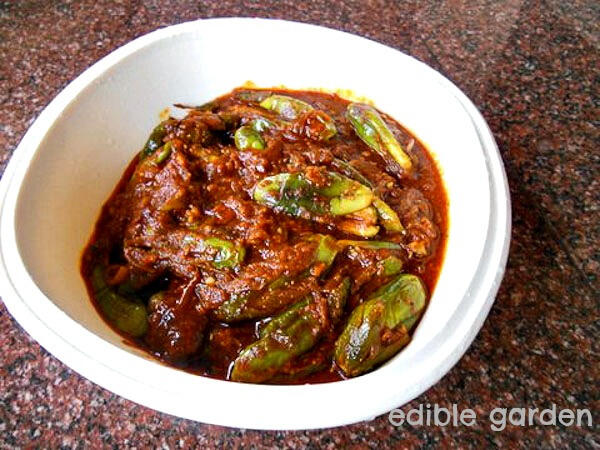 You would think I would have posted it immediately, hanging my head in shame for being such a slacker, right? Nope. I waited another 4 months before actually posting it here. I blame it on the relocation and all, but let's face it, I am not my mother's daughter when it comes to lack of laziness and inertia.
Anyway, less about me and more about the Vindaloo. It's an Indian adaptation from a Portuguese dish originally made with wine. Most popular in Goa, Vindaloo is meant to be a dish with meat, usually pork or lamb. Lots of Indian restaurants outside India serve this dish with an addition of potatoes and marked spicy. Since the Vindaloo has evolved so much and become so Indianised anyway, why not a vegetarian version of Vindaloo, eh?
Other Brinjal Recipes on Edible Garden I love – Bagara Baingan, Iyer-syle Gotsu for Pongal, Brinjal Masala.
VEGETARIAN BRINJAL VINDALOO RECIPE
Preparation time: 15 minutes
Cooking time: 20 minutes
Serves 4
Recipe source: Malayala Manorama Weekly Magazine
PIctures courtesy: Amma and Radhamama
INGREDIENTS:
500 grams of baby brinjal or eggplant
2 cups of thinly sliced onions
1 tbsp of tomato sauce
2 tsp of Kashmiri chilli powder (adjust to taste)
1 tsp of cumin or jeera
1/4 tsp of fenugreek seeds or uluva (menthayam/methi)
1/2 tsp of black mustard seeds
8 cloves of garlic, peeled
1″ piece of ginger
1 tbsp of vinegar
1-2 tsp of sugar
1/4 cup of oil (we used coconut oil)
1/2 tsp of turmeric powder
INSTRUCTIONS:
1. Make a mix of turmeric powder and required amount of salt in a small bowl. Wash and pat dry the brinjal. Amma used these small green variety of brinjal but use any kind you get. You can even use large eggplant, cubed.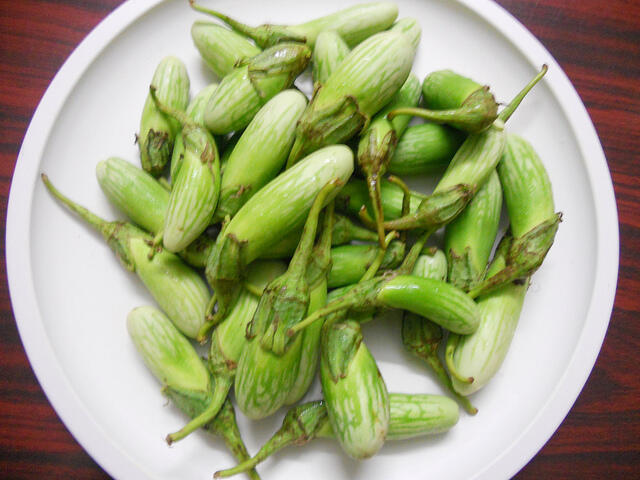 2. Make deep vertical slits in the brinjal without slicing them. Rub in the salt+turmeric mix and set aside.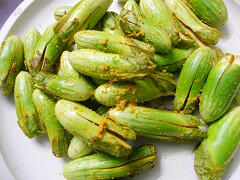 3. Heat the oil and add the brinjal. Shallow roast them until they turn soft and semi cooked as seen below. Drain and set aside on paper towels so the extra oil is absorbed.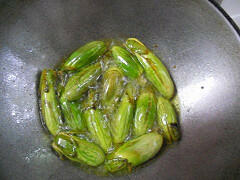 4. In the same oil, add the sliced onions and fry until golden brown. You can top up more oil if needed.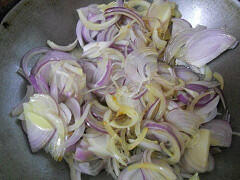 Drain and set aside.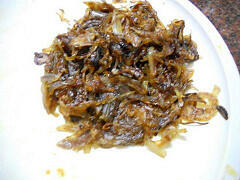 5. Grind the garlic and ginger together into a coarse paste. Highly recommend using fresh ginger and garlic in this recipe rather than the bottled stuff.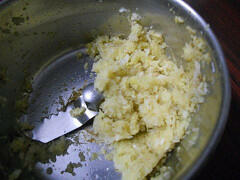 6. Add this paste to the same pan used for the brinjal and onions and saute on low flame until browned and fragrant. Take care not to burn it.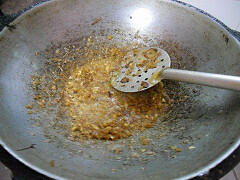 7. Powder the spices – jeera, fenugreek, chilli powder, mustard – and add to the ginger garlic paste. Saute until fragrant, about 15 seconds. Then add the tomato sauce and saute a bit more, you should see the oil clearly separating from the masala.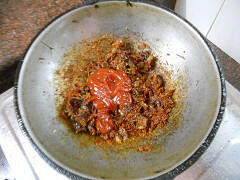 8. Add a 2 cups of water to this and the cooked brinjal and the fried onions. Bring to boil and add the vinegar and sugar. Let it simmer for about 3-4 mins or until the gravy reaches the consistency you desire. Add salt and garnish with coriander leaves or mint leaves if preferred.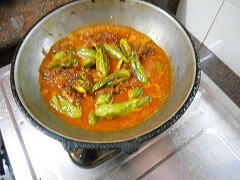 This brinjal vindaloo is a great combination with chapati or roti but you can also serve it with a simple vegetable pulao or jeera rice.