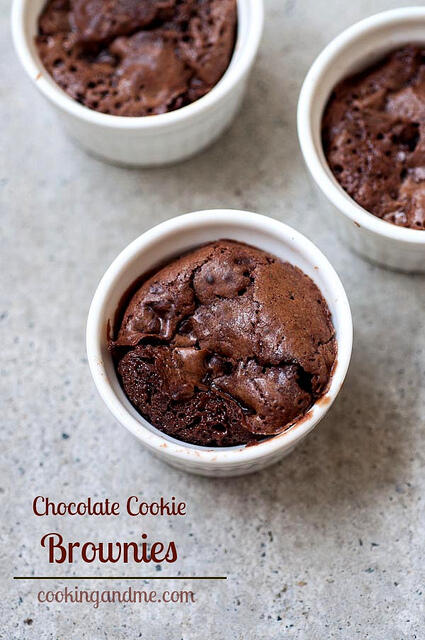 Chocolate Cookie Brownies – these brownies with a lovely crackly cookie top actually happened through a happy accident. I was trying to bake these delicious looking brownie cookies that were getting pinned left right and centre on Pinterest and the cookie dough turned out like brownie batter and i had no option other than to pour them into a small brownie pan and some mini ramekins to bake them up. I really had no high hopes for them, quite disappointed that the evening was not going to hand me some delicious brownie cookies but hey – sometimes bad things lead to better things, in this case, these gorgeously fudgy Cookie Brownies.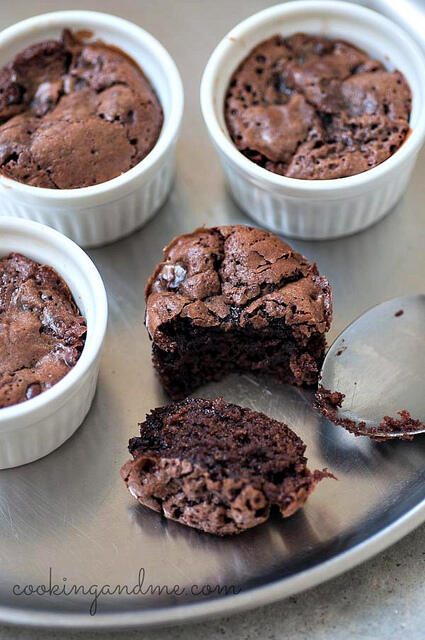 The original recipe is from Epicurious and there are lots of rave reviews from people who actually tried this recipe and got cookies instead of a brownie like me and all I can think of is that I went wrong with the beating of the eggs, which is a very important and slightly time-consuming step in this recipe. So as weird as it may seem, I am going to advice you guys to follow the recipe exactly as below (I did that too except to scale down the chocolate chips) and see if you get a cookie dough. If you do, yay, just bake them into cookies. If not, you can bake them in small cupcake trays or muffin pans into these lovely, fudgy, cookie-topped brownies. Either way, they are delicious.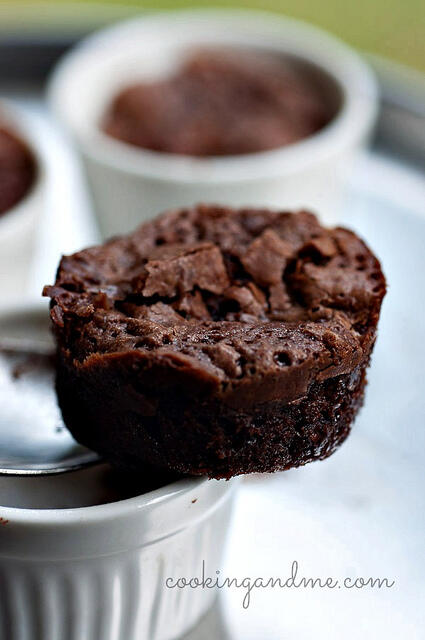 As you can see in the picture above, the brownie part turned out super moist and fudgy and the top part was crunchy like a cookie. Quite a treat, I must say. If you are looking for more brownie goodness on Edible Garden, check out all brownie recipes here or some of my favourites, the Eggless Chocolate Brownies, No-Bake Biscuit Brownies, or the Basic Brownie Recipe that's very easy to customize.
CHOCOLATE COOKIE BROWNIES RECIPE
Preparation time: 30 minutes
Cooking time: 10 minutes
Makes ~ 20 brownie pieces
INGREDIENTS:
1/4 cup of plain flour or maida
1/4 tsp of baking powder
A pinch of salt
2 eggs
2/3 cup of sugar (remove 2 tbsp for a milder brownie)
1/2 tsp of instant coffee powder
1 tsp of vanilla extract
2 tbsp of unsalted butter at room temperature
1 cup of bittersweet chocolate chunks or dark cooking chocolate broken into bits
1/2 cup of mini chocolate chips
INSTRUCTIONS:
1. Pre-heat oven to 375F / 190C. Grease and prepare a mini cupcake or muffin tray. If you use a regular cupcake tray, baking times will vary and be warned that I haven't tried that out myself.
2. Using a double boiler (a smaller bowl placed over a larger bowl of rolling boiling water without touching the water should contain the ingredients to be double boiled), melt the chocolate pieces or chunks and butter together. Remove when they are soft and lumpy and mix well together until glossy. Set aside. to cool. I am guessing you are also use the microwave for this job.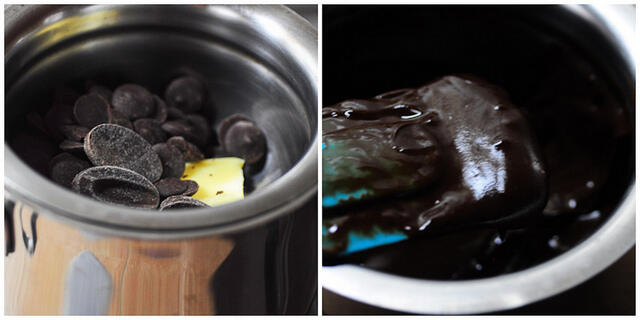 3. In the bowl of your stand mixer or using your electric beater, briefly whip the eggs to break them and add the vanilla, coffee powder, and sugar. Beat on high speed for 15 mins until thick. Yes, you read it right, it says 15 mins. That's a long time. But just do it. Even if you don't get a cookie, you'll end up with a wonderful brownie like I did.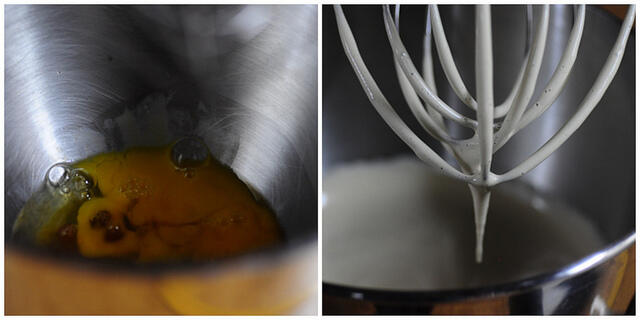 4. Pour the melted chocolate into the whipped eggs and fold gently without breaking the bubbles too much. It's ok if some streaks remain.
5. in a separate bowl, whisk together the flour, salt, and baking powder.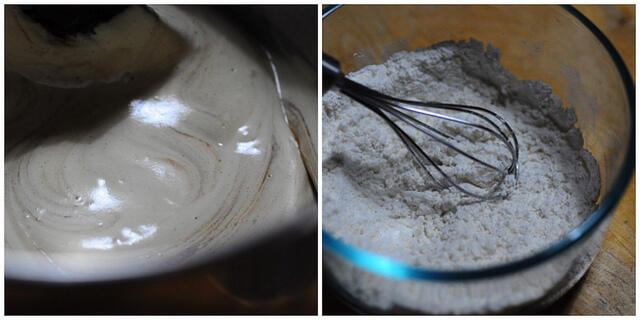 6. Tip flour mixture into the egg-chocolate mixture and fold gently again. Finally add the chocolate chips and fold again.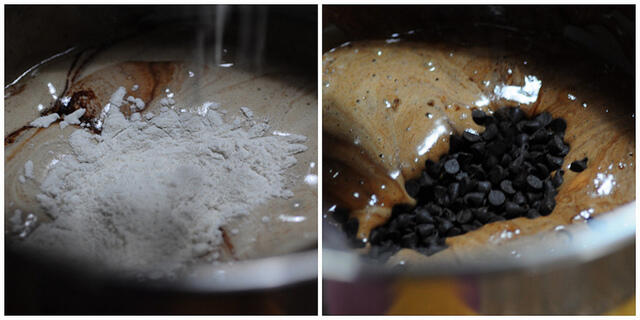 At this stage, if you get a thick dough-batter that you can bake into cookies, do that. Just lay teaspoonfuls of dough on a greased baking tray and bake away. If, like me, you got a runny batter, just pour into small brownie moulds or whatever you have in hand. I used a small heart shaped brownie mould and mini ramekins. Make sure you grease the baking pan generously with butter.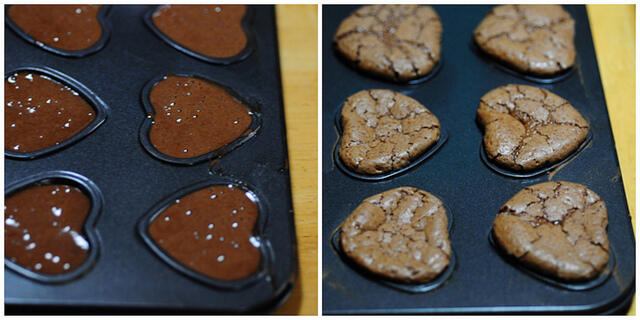 7. Bake in the pre-heated oven for about 7-10 mins depending on the size of your pan. The tip will crack beautifully and turn crisp and the centre should still jiggle when down. It will firm up on cooling.
That's it! Delicious cookie brownies are ready. Allow to cool completely before unmoulding.. The batter can be refrigerated up to one day if you want to prep ahead and bake a fresh batch for guests the following day. Serve with a dollop of cream or vanilla ice cream, you know you want to!