The red colour in
red coconut chutney
is from the dry red chillies used in the chutney so that's the basic different between a red coconut chutney and the
green coconut chutney
that uses fresh green chillies. This red chutney is a Kerala recipe since it doesn't use roasted gram or kadala paruppu as
Tamilnadu coconut chutneys
do. The chutneys in Kerala also use a generous amount of small onions or shallots (
ulli
,
chinna vengayam
) which I love.
In my version of red coconut chutney, I use ginger, shallots, and garlic when grinding the coconut. This gives a lot of flavour to the chutney but if you prefer to keep it simpler or want to serve it with pongal or some dish that has a lot of flavour of its own, then you can choose ginger or garlic and add just one to the chutney. I'm just trying to say, experiment and adapt the chutney to your taste. Also, if serving this at night, omit the garlic because raw garlic in the chutney really gives it a kick and you don't want to go to bed and wake up with garlic breath, do you? 😉

This red coconut chutney goes best with Idli and Dosa or Uthappam. If you are looking for a red chutney without coconut, then check out this red chilli chutney recipe. Love chutneys? Here's a list of all Chutney Recipes in Edible Garden.
RED COCONUT CHUTNEY RECIPE (FOR IDLI, DOSA)
Preparation time: 4 minutes
Cooking time: 6 minutes
Serves 4
Ingredients:
1 cup of grated coconut (thawed if frozen)
1 tsp of red chilli powder (or 3 red chillies), adjust to taste
4 shallots or pearl onion (ulli, chinna vengayam)
1 clove of garlic
1 small piece of ginger
For tempering:
1 tsp of oil (I use coconut oil)
1/4 tsp of black mustard seeds
1/4 tsp of split urad dal (uzhunnu parippu, ulutham paruppu)
A few curry leaves
3 shallots, sliced
How to Make Red Coconut Chutney:
1. Grind coconut + shallots + garlic + ginger + chilli powder + salt + water to make a smooth chutney. Start with a few tbsp of water and adjust as you go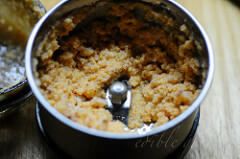 2. Heat oil for tempering, add the mustard seeds and when they pop, add the urad dal. When the urad dal turns golden brown, add the sliced shallots and curry leaves. Fry until shallots turn brown.
3. Remove from flame and dunk into the ground chutney. Mix well.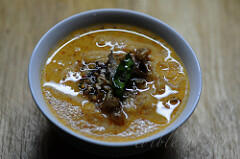 Red chutney is a fabulous side dish for dosa and idli and I make it often, especially when I run out of fresh green chillies.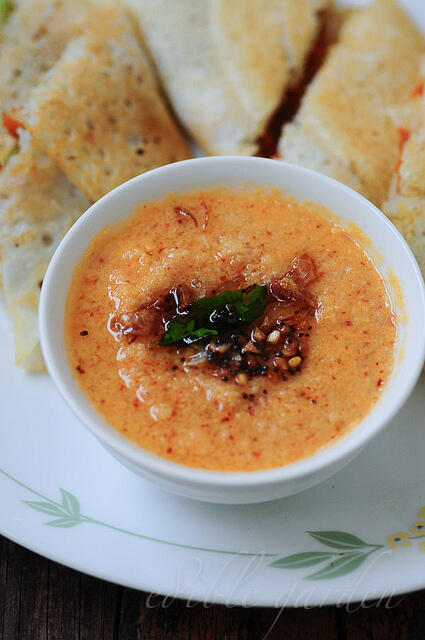 Try it in your kitchen and let me know what you thought? If you have a version of red coconut chutney that's much different, do let me know in the comments section below 🙂