Learn how to make Onion or Vengaya Bajji using this easy recipe from my MIL. Onion bajji makes a great after-school snack or a hot appetizer to serve guests.
TH's most favourite snack in the world is any kind of bajji and he hardly cares what goes into it. I have made Vazhakka Bajji, Potato Bajji, and even Mirchi Bajji a few times but never really tried the easier Vengaya Bajji ever. Well, easier because you tend to always have onions in hand.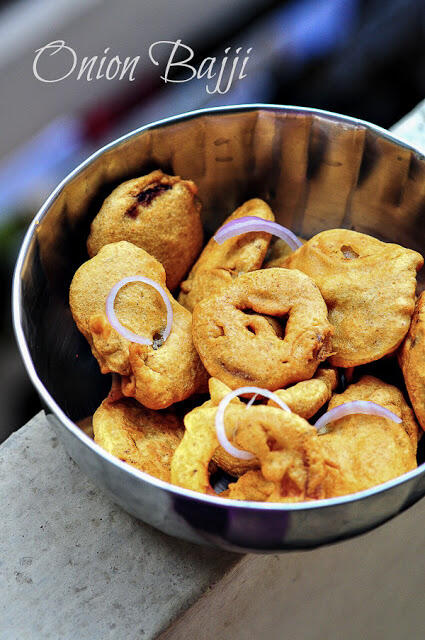 During our trip to Chennai in December, we were left without power on most evenings between 4 and 6pm and MIL would make some snack or the other to munch on as we waited, chatting. On day 1, when she asked what we would like to have, bajji was the unanimous answer.
Making any kind of bajji is pretty much the same, only the main filling ingredient changes and in this case we have used onions or vengayam.

Other Bajji Recipes on Edible Garden:
– Vazhakka Bajji
– Potato Bajji
– Mysore Bajji
Vengaya Bajji-Onion Bajji-Ulli Bajji Recipe
Preparation time: 10 minutes
Cooking time: 10 minutes
Serves 4-6
Recipe source: Mom-in-law
Ingredients:
2 large onions
3/4 cup of besan (kadalai mavu or gram flour)
1/2 tsp of red chilli powder
1/2 tsp of jeera, whole or powdered (optional)
1/4 tsp of hing or asafoetida (powder)
1 tsp of salt (adjust to taste)
1/4 tsp of soda powder (optional, we didn't add this)
2-3 cups of oil, for deep frying (according to the size of your pan)
How to make Vengaya Bajji:
1. Peel, wash, and cut the onions into 1/4″ thick rings.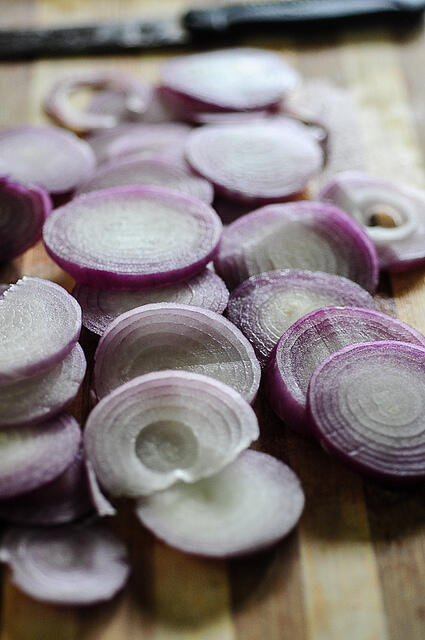 2. Mix the rest of the ingredients in a wide bowl (except the oil). Add enough water to make a thick batter. It should be thick enough to coat the onions as you dip them in but not too "drippy".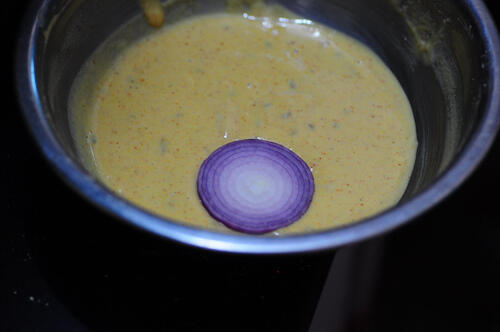 3. Heat oil until it just begins to smoke. Lower the flame to medium-low, dip the onion rings into the batter to coat completely and drop into the hot oil.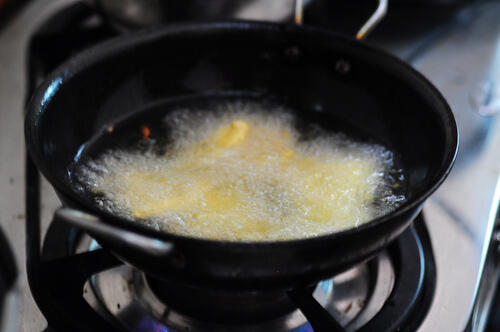 4. Fry until golden brown. This should take about 2-3 mins. Drain and set aside and proceed with the rest of the onions until you are through.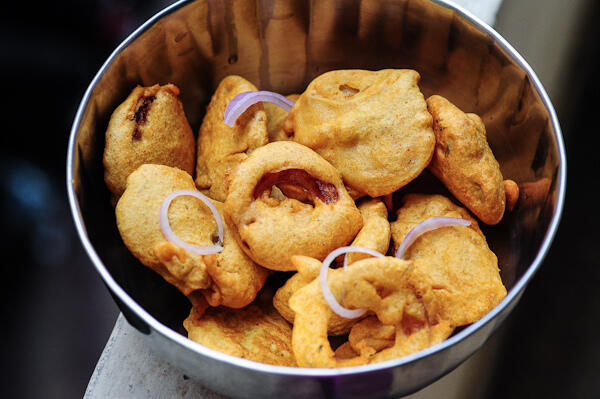 Serve Onion Bajji hot with tomato sauce or Pudina Chutney.
Notes:
– Adding soda powder makes the bajjis softer and more puffier but they tend to drink more oil making it a bit unhealthier. Go with the cost-benefit analysis here and do what you prefer.
– You can follow the same process for making bajji with other vegetables like eggplant, raw banana (vazhakka), bajji chillies, potato, etc.
– You can add a pinch of turmeric powder to the bajji batter if you prefer. I personally don't like the cumin so omit that but it does give an extra kick so add it if you like cumin (jeera).
– Based on a tip from a lot of readers (check comments), you can also add 1 tbsp of rice flour to the bajji batter. We have never really done this at home but I am assured it makes the bajjis very crisp, so try it!