Hotel-style Tiffin Sambar Recipe
Why is toor dal and not moong dal the main ingredient in a regular sambar recipe? I'd really like to know, especially after making sambar with moong dal recently, for the first time. I absolutely loved it. Although more popular called tiffin sambar because it is served with tiffin, or breakfast items, I served this with plain white rice and some vegetable curry on the side.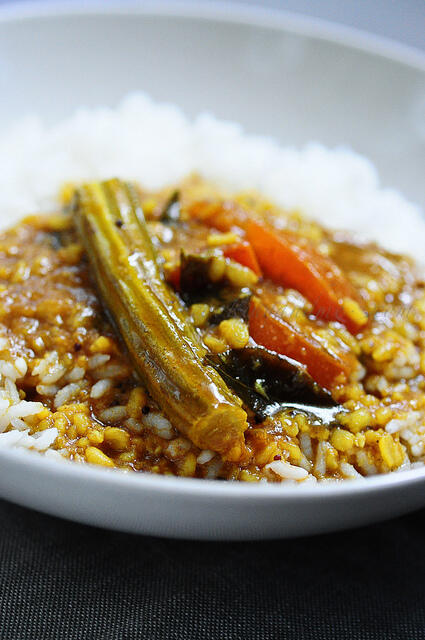 Sharing step by step pictures of my sambar-making process feels very intimate and personal to me, for some reason. Probably it's because sambar is made in practically every South Indian household and everyone has their own way of going about it. I make sambar atleast once a week and although I have shared recipes here in the past, it's never been step by step.

Murungakai Tiffin Sambar (Sambar with Moong Dal)
Serves 4
Preparation time: 30 mins
Cooking time: 30 mins
Ingredients:
1/2 cup moong dal, cooked in a pressure cooker for 3-4 whistles or until soft and mushy
1 small lime-sized ball of tamarind soaked in 1 cup warm water for 15 mins (or ~1tbsp tamarind paste)
1 drumstick (murungakai) cut into 4″ long pieces
1 tomato
A few curry leaves
1/4 tsp turmeric powder
1 to 2 tbsp sambar powder, diluted in 1/4 cup water
A pinch of hing / asafoetida / perungaayam
Salt to taste
Chopped coriander leaves for garnish
To temper:
1 tbsp ghee or oil
1/4 tsp mustard seeds
1/4 tsp cumin seeds / jeera
A generous sprinkling of hing / asafoetida / perungaayam powder
How I Made It:
1. Squeeze the tamarind and extract all juices in the warm water. Discard pulp and fibers. If using bottled paste, dilute in 1 cup water. Place this in a pan and add the cut drumsticks, tomato, turmeric powder and hing. Turn on heat. Add another cup water (so totally there's around 2 cups water in there – what you used for the tamarind and what you added after)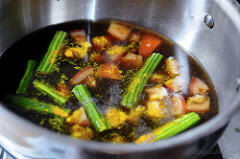 2. Add the cooked moong dal and the sambar powder dissolved in 1/4 cup water. I do this mainly to prevent the sambar powder from clumping up when added directly. I use my MILs homemade sambar powder which is a very fine powder. If using store-bought sambar powder, adding directly should be fine.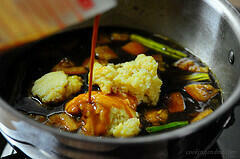 3. Mix well and bring to boil. Add salt and curry leaves. Simmer for about 15-20 mins until the drumstick is cooked and the sambar reaches the right consistency. You can add more water if you like it more watery. Generally, my sambar tends to be a bit on the thicker side. Adjust salt and remove from fire.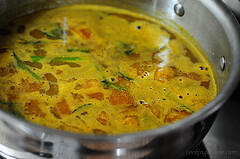 4. Heat oil or ghee for tadka in a small pan or tadka pan. Add mustard seeds and when they pop, add the cumin. When they sizzle and turn brown, add the hing and remove from fire.
5. Twirl it a couple of times in the pan and dunk into the sambar. It will give out a heavenly smell right about now.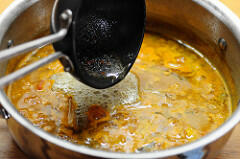 You are done! Mix well after adding the tadka, garnish with coriander leaves, and serve hot with rice or any breakfast items.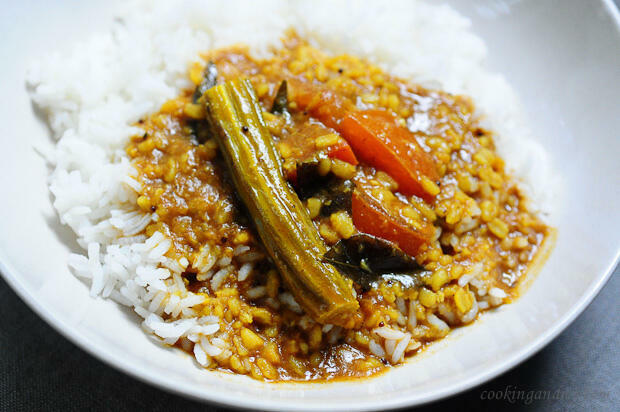 This sambar will taste fabulous with egg dosa, idli, or pongal.