Ginger cookies – generally, I am not a fan of anything ginger flavoured but these ginger cookies are an exception because of their delightful chewiness and texture. They are perfect with a cup of milk tea adding a lovely gingery feel to the whole experience. The original recipe for these ginger cookies is from my mom's friend, Shantha aunty, who makes these in a jiffy when the occasion demands. While cookies are baked in Kerala through the year, these ginger cookies are especially popular during Christmas.
Ginger Cookies Recipe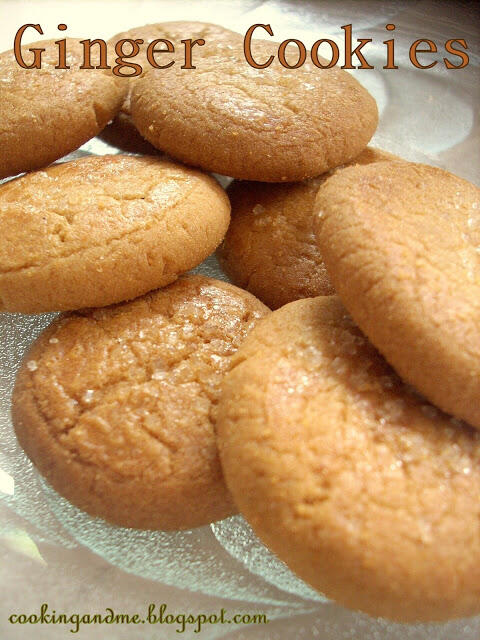 GINGER COOKIES RECIPE
Makes ~24 cookies
Ingredients:
2 cups all-purpose flour or maida
3/4 cup butter, softened
1 1/4 cup sugar
1/2 tsp grated ginger
1 egg
1 1/2 teaspoons ground ginger
1 teaspoon baking soda
1/4 teaspoon salt
1 tablespoon water
1/4 cup molasses (I used 3 tbsp brown sugar instead)
2 tbsp sugar to roll the cookies in
Instructions:
1. Sift together the flour, baking soda and salt. Set aside.
2. In a large bowl, cream together the butter and the sugar until light and fluffy. Beat in the egg, then stir in the ginger, water and molasses/brown sugar.
3. Gradually stir the sifted ingredients into the brown sugar mixture. Shape dough into walnut sized balls, and roll them in the remaining 2 tablespoons of sugar.
4. Place the cookies 2 inches apart onto an ungreased cookie sheet, and flatten slightly.Preheat oven to 350 degrees F (175 degrees C) Bake for 8 to 10 minutes in the preheated oven.
5. Allow cookies to cool on baking sheet for 5 minutes before removing to a wire rack to cool completely. Store in an airtight container.
I avoided the normally common ingredients for ginger cookies, like cloves and cinnamon because I am not much of a savory cookie lover. Also, I was out of cloves 😀 These came out quite chewy and very lightly ginger flavoured. Goes well with tea.
You may also be interested in:
Marie Biscuit Chocolate Logs
Mom's Delight
Low Fat Sugar Cookies