Tomato rice
– a mild South Indian rice recipe with tomatoes, chillies, onions, and garlic. Tomato rice or
thakkali sadam
is probably a busy cook's best friend. If you have some cooked rice and ripe tomatoes ready, this one pot meal comes together in about 15-20 minutes. I have seen a few different methods of making tomato rice, some have more spices and take a bit longer. The recipe I am sharing below is probably the easiest you can make. It's from my aunt who lives in Salem and she would whip this up in a moment's notice. I have memories of eating piping hot tomato rice with onion raita and chips on a hot summer's day. While I can't really recreate the same taste, this is as close as it gets for me.
When choosing tomatoes to make tomato rice, always lean towards the more sour ones. You can also use Roma tomatoes (known as Bangalore tomatoes in India) but in that case I'd recommend a squeeze of lemon juice for the required tang in the dish. It's also best to use peeled whole garlic cloves but I didn't have any so used bottled crushed garlic that I usually stock up in my pantry. Oh and green chillies. They are important. Fresh green chillies provide heat to this dish and I'd highly recommend staying away from red chilli powder even if it's tempting or you don't have green chillies in hand.
That's it my friends, my words of wisdom are ending there. Make this easy tomato rice, serve it to loved ones, refrigerate some so you can pack it for lunch the next day. Wrap some up in silver foil or banana leaves for a trip or train journey. It's so very versatile and convenient.
A few more rice recipes that are popular on Edible Garden:
Palak pulao recipe
Capsicum rice
Raw mango rice
Sesame rice
Sambar sadam
Iyengar curd rice
TOMATO RICE RECIPE (SOUTH INDIAN STYLE)
Preparation time: 5 minutes
Cooking time: 15 minutes
Serves 4
INGREDIENTS:
4 cups of cooked rice (I used basmati)
1.5 cups of chopped ripe tomatoes
1/2 cup of finely chopped onion or shallots (chinna vengayam, ulli)
1 tsp of ghee
1 tsp of oil
1/2 tsp of black mustard seeds
1 tsp of split urad dal (ulutham paruppu, uzhunnu parippu)
1/2 tsp of cumin powder
1/2 tsp of minced garlic (or use 4-5 garlic cloves)
2 green chillies (adjust to taste)
1/4 tsp of turmeric powder
4 tbsp of finely chopped coriander leaves (for garnish)
INSTRUCTIONS:
Heat the oil + ghee in a pan and add the mustard seeds and urad dal.
When the mustard pops and the dal turns golden, add the finely chopped onion or shallots along with the green chillies, slit.
Let the onions saute to a golden brown and then add the garlic, cumin powder, and turmeric. Saute for a while longer (30 seconds or so) for the garlic to get toasted.
Add the chopped tomatoes to this and cook on low flame.
When the tomatoes begin to cook and turn soft, help it along by smashing it with your ladle.
In about 5-7 minutes, you should have a mushy tomato paste mixture. Add salt at this stage and turn off the heat.
Mix in the cooked rice. Add some first and see if the rice is flavoured right for you. Some like their tomato rice on the milder side so add more rice if that sounds like you. I used the proportions mentioned above and it was perfect for us.
Mix well and let the rice sit for 30 minutes at least before serving.
Before serving, add the chopped coriander leaves and mix again.
Serve tomato rice warm with raita or any vegetable curry of choice. Some chips or papad will go fantastic with it as well.
Notes:
– I sometimes add a small stick of cinnamon to the onions when they are getting fried. This gives the rice a subtle flavour I like but it may not be for everyone so use your judgment
– This tomato rice recipe was updated on December 6, 2014 with step by step pictures and a slightly better recipe based on my trials and errors since originally posting it. I hope you try and like it 🙂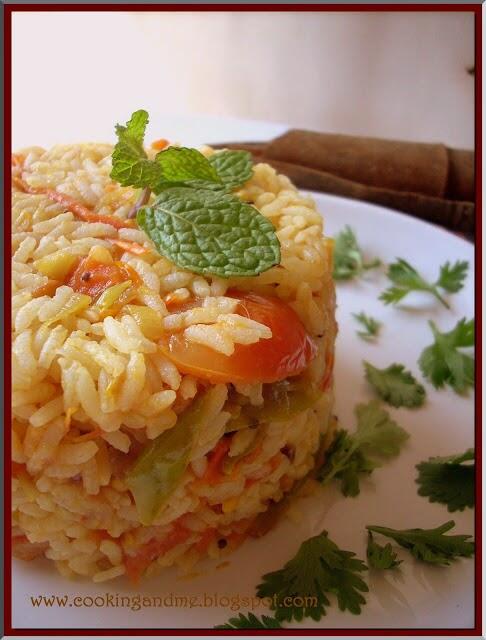 For tomato rice recipe in Tamil, Telugu, Hindi, Urdu, etc, please use the Google Translate button in the sidebar