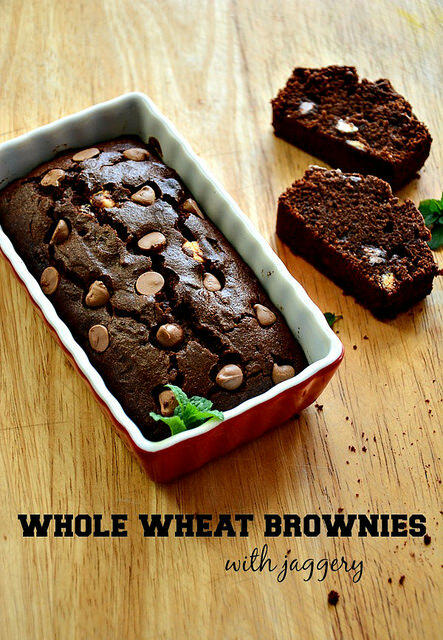 Learn how to make healthier brownies with whole wheat flour (Indian wheat flour or atta) and jaggery (gur or unrefined cane sugar) through step by step photos.
To be honest, I don't go out of my way to make cake and brownies healthier. I bake them the way they are meant to be made traditionally (like using this simple brownie recipe) and eat them in moderation. It's exciting to experiment now and then though and I had been meaning to try baking brownies with atta for a long time now. The usual issue with using heavier flour in baking is the texture. We want our cakes and bakes healthy but don't want to compromise on fluffiness or taste and that's not always easy!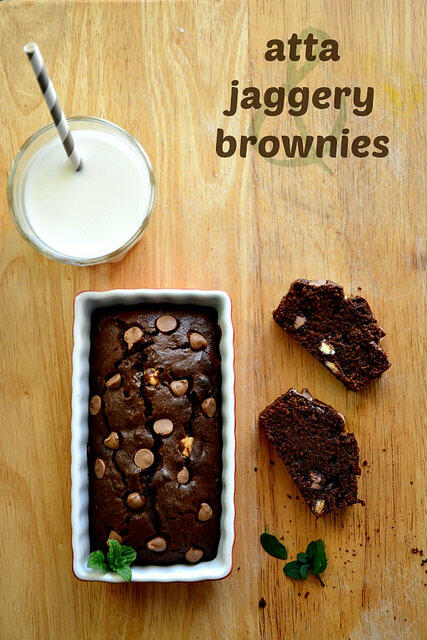 These healthy brownies with atta and jaggery were a delightful surprise though. I usually default to my simple brownie recipe or these eggless brownies but recently I used a basic brownie recipe from Hershey's and tinkered with the ingredients a bit to get this moist, crumbly brownies that use no refined ingredients. A first for me so I am thrilled to share the recipe with you. I also had a ton of fun photographing the brownies, as you can see.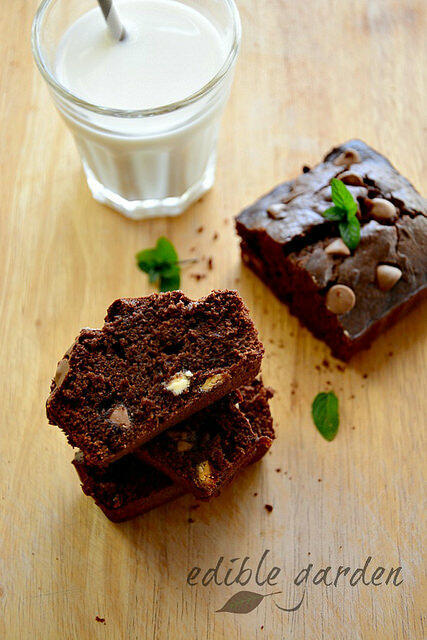 Now, brownies can be fudge-y, chewy, heavy, cake-like, etc. This brownie recipe yields a crumbly, slightly chewy but cake-like brownie and I absolutely loved it. I baked 2 batches of 4 small loaves and gave some away as gifts too. Obviously, there are many different ways to customise this brownie recipe, I used my favourite method which is to throw in a fistful of chocolate chips. Always a winner! If you have some nuts lying around, you can chop them up and add that to the batter too.
You really can't taste the atta or jaggery in this but there's a nutty, slightly chewy taste and texture which is different from regular brownies.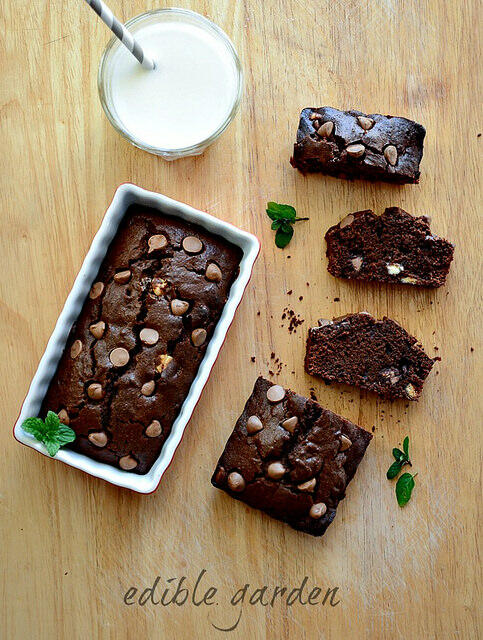 If you'd like more brownie recipes, check out:
dulce de leche brownies
butterscotch blondies
biscuit brownies (eggless, no baking required)
brownies with twix candy bars
WHOLE WHEAT BROWNIES RECIPE
Preparation time: 15 minutes
Cooking time: 40 minutes
Makes ~15 slices or large squares
INGREDIENTS:
6 tbsp of unsweetened cocoa powder
1/4 cup of boiling water
1/3 cup of melted butter
1 of egg
1 cup grated or powdered jaggery (see notes)
1/4 tsp baking soda
1/2 tsp vanilla extract
1 cup + 2 tbsp whole wheat flour (atta)
1/4 tsp salt
3/4 to 1 cup chocolate chips (any kind)
INSTRUCTIONS:
1. Pre-heat oven to 350F / 180C.
2. Boil water and add to the cocoa powder. Mix well without any lumps. You'll get a thick paste.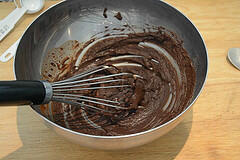 3. Add melted butter to this. I melt butter in the microwave using the 'defrost' option so that it doesn't get very hot. If the butter is hot, wait until it cools down before proceeding. Mix well after adding it to the cocoa paste.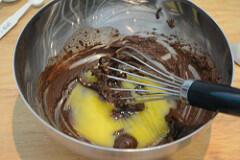 4. Crack the egg in and whisk well to combine.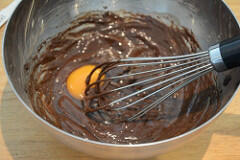 5. Next step is to add the jaggery. I bought this large bottle of Punjabi shakkar from the Indian store here that's been a lifesaver. It's powdered jaggery that has no impurities so I just use it directly to make any Indian sweets or payasam. I measured it out just like sugar and added it to the above.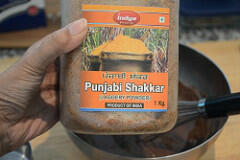 In goes 1 cup of jaggery. See notes below for ways to use jaggery syrup or how to substitute sugar for jaggery. Mix well.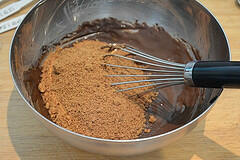 6. Now add the atta, vanilla, salt, and baking soda. Gently fold to combine well and make sure no streaks of flour remain.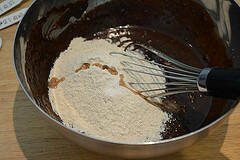 7. Add the chocolate chips (or dried fruits, nuts, anything else that you like) at this stage and fold in. I used a mix of white and milk chocolate chops and reserved some to add on top.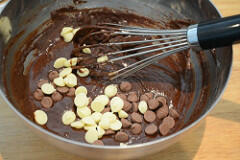 8. The batter will be fairly thick. Great your baking pans with non-stick baking spray or a generous coating of butter and transfer the batter in. (I used two 6″ loaf pans, you can use one 8″ pan too). Flatten the top gently with your spatula to make sure it's even. Add the reserved chocolate chips on and push into the batter gently.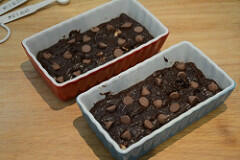 9. Bake in the pre-heated oven for 35-40 mins. I needed the full 40 mins although I used smaller pans so make sure to check after 35 mins and if a toothpick comes out clean, it's done.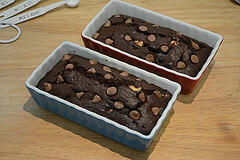 10. Cool in the baking pans for 15 mins and gently invert onto cooling racks to cool completely before slicing. Stays at room temperature for 2 days and refrigerated for 4 days.
Notes:
– if you want to remove impurities in your jaggery, heat 1 cup grated jaggery with the 1/4 cup water mentioned in and when it's just melted, remove from heat. Let cool, strain, and proceed from step 2 by adding cocoa, etc
– if using the salted, white jaggery from TamilNadu, proceed with caution since it's heavily salted and I am now sure how the brownies will end up tasting. Needless to say, omit the salt in the recipe in that case
– You can substitute jaggery in this recipe with same amount of brown sugar (1 cup packed) or white sugar
– You can use regular plain flour instead of whole wheat flour or atta. Try using gluten free flour for a gluten free brownie recipe
These whole wheat brownies with atta and jaggery make excellent gifts, especially to those with kids and those who stay away from refined foods. Enjoy!
If you liked this brownie recipe, do like, pin, or share to spread the love

Thanks!