Learn how to make this Kerala-Style Tapioca Masala or Kappa Masala which is different from the usual Kappa recipes that are used in Kerala.
I am fortunate enough to live in a place where fresh tapioca (kappa in Malayalam, maravalli kizhangu in Tamil) is always available. While in most Kerala homes Kappa Puzhukku is the common dish made with tapioca, this Kappa Masala has been a regular in my home ever since I can remember. It's not mushy like Kappa Puzhukku, but the tapioca pieces are boiled until soft and spiced mildly with red chillies and a good amount of garlic. It's delicious on its own as a quick snack in the evenings with tea or an accompaniment to your breakfast.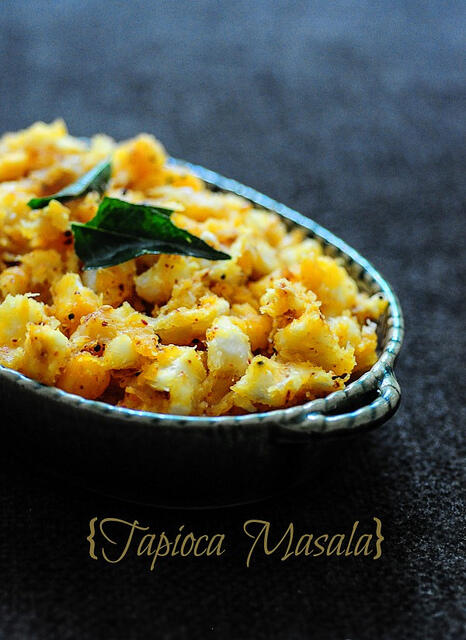 Oh and before I forget, I must tell you that this dish is special because a bunch of folks from the Kerala Kitchen group in Facebook are joining me to cook it this month. You don't really have to be a Malayali or from Kerala to join in either the Facebook group or this cooking group. Just grab some kappa and cook this dish along with us and you are good to go. More details below: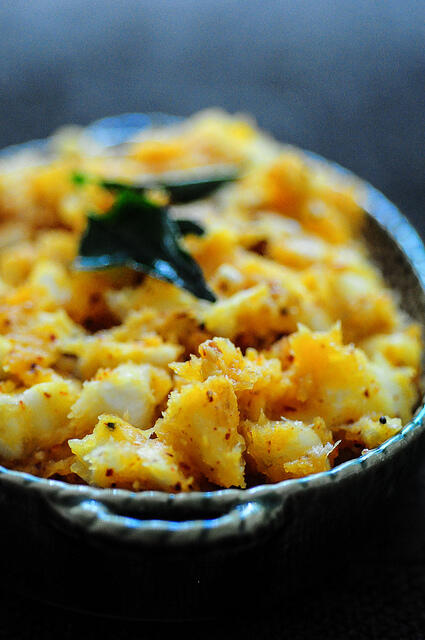 Some basic rules to join this Kerala Kitchen cooking group this month:
– You can use the Kappa Masala recipe below as a general guideline to make your dish. Feel free to adapt and change it to your taste and liking
– You have to link to this post in yours if you are a blogger. Eg: "This Kappa Masala Recipe was adapted from Edible Garden, who is hosting the Kerala Kitchen cookout this month".
– The post needs to be made between the 1st of Feb and 2nd of March and linked to below using the Linky Tool.
– Non-bloggers are welcome to join but I would request you to share a picture of your dish.
That's it! I hope you have fun cooking up your Kappa Masala Recipe.
Kappa Masala – Kerala-Style Tapioca Masala Recipe
Preparation time: 10 minutes
Cooking time: 20 minutes
Serves 4-6
Recipe Source: Amma
Ingredients:
5 cups of kappa or tapicoa, cubed (about 500 gm)
5 cloves of garlic, crushed
5 of dry red chillies
1 tbsp of coconut oil
1/2 tsp of black mustard seeds
1/2 tsp of split urad dal or uzhunnu parippu
1 strand of curry leaves, torn into pieces
1/4 tsp of turmeric powder
How to Make Kappa Masala:
Peel the tapioca and wash it thoroughly. Cut into rough cubes by driving the knife in and splitting it off the centre of the tapioca. There's a technique to this actually. Will upload a video at some point if I can.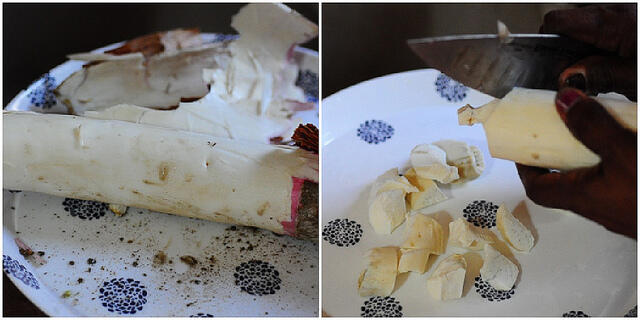 Cook the tapioca in a pan with enough water to cover it by an inch, until the pieces are soft (about 10-15 mins).
Crush or coarsely grind the garlic and red chillies together in a pestle and Mortar.
Heat oil and add the mustard seeds. When they pop, add the garlic-chilli paste along with the turmeric powder and fry for 10 seconds until fragrant.
Add the cooked tapioca, salt, and the curry leaves. Mix well and continue to stir until the spices coat the tapioca.
That's it! Hot and delicious Kappa Masala is ready. Wasn't that easy?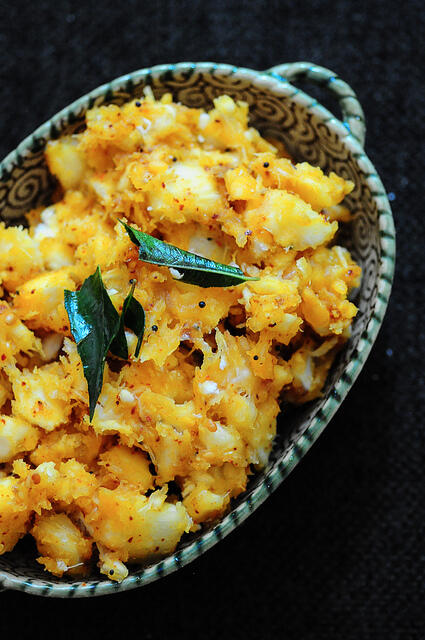 Love the serving dish? Check out more details of where I buy my food photo props from!

Notes:
– Use fresh garlic please. None of that minced bottled stuff.
– You can use red chilli powder if you don't have whole chillies.
– The kappa must be cooked soft before you proceed with the rest of the cooking process.
Do you want to cook this Kappa Masala along with the rest of the Kerala Kitchen members? Go ahead and do just that. Thank you for joining us!
Update: this cook-along is now closed. Here are the 14 others who cooked Kerala Kappa Masala with me and made it fun.