Apparently
Ven Pongal
and Gothsu are like Romeo and Juliet, only with a happier ending. As I have mentioned before, my Reddiar-Malayali mix of a household doesn't see a lot of Ven Pongal (but amma makes
Sakkarai Pongal
for all sorts of non-occasions, even for reasons like "I felt like eating Sakkarai Pongal) but my all-tamil in-laws do make and eat a fair bit of Ven Pongal and I thank my lucky stars for that.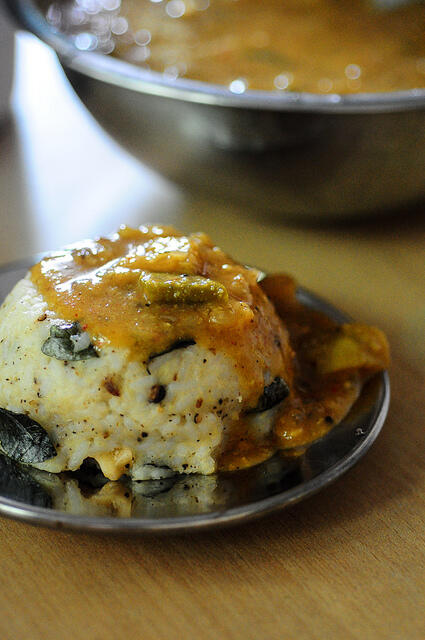 I absolutely love Pongal but can only eat my mom-in-law's version of it. When we go out to eat at Murugan Idli Kadai or Saravana Bhavan in Singapore, Pongal is probably the last thing I'd order, don't ask me why.
So anyway, when we were in Chennai last December, I put forth my usual request for a Pongal breakfast to mom-in-law and she made Kathirikai Gotsu to go with it. This is my first time eating Gothsu and I fail to understand why it's only eaten with Pongal (they are a great pair, I do agree) and not with idli and dosa and upma and anything else that you can get your hands on.
Anyway, here's my mom-in-law's fabulous recipe for Kathirikai Gotsu. A true delight!
Kathirikai Gotsu | Brinjal Gothsu Recipe
Preparation time: 10 minutes
Cooking time: 20 minutes
Serves 4
Recipe source: My mom-in-law
Ingredients:
1/2 cup of moong dal (pasi paruppu), pressure cooked to a mush with water
2 onions, chopped
2-3 green chillies
1 cup of chopped kathirikai (brinjal)
1 chopped tomato
1/2 cup of tamarind juice (semi-thick)
1/2 tsp of powdered jaggery (or brown sugar, or sugar)
A small bunch of chopped coriander leaves
1/2 tsp of mustard seeds
1/4 tsp of turmeric powder
1 tbsp of oil
For the Spice Powder:
1 tsp of oil
4 tsp of chana dal (kadala paruppu)
1 tsp of split urad dal (ulutham paruppu)
4 tsp of coriander seeds
3-4 dry red chillies
1 tsp of whole black peppercorn
1/2 tsp of cumin seeds (jeera)
1/2 tsp of white sesame seeds (ellu), optional
How to make Kathirikai Gothsu:
1. First, cook the moong dal with enough water to cover it by 2 inches, in the pressure cooker for 3-4 whistles until it's soft and mushy. Don't use roasted moong as it won't cook down to a mush. Since Gothsu is usually made to serve with Pongal, you can cook required amount of the pasi paruppu for Pongal and Gotsu together. Set aside.
2. Next, heat oil for the spice powder and reduce flame to low. Add the ingredients to roast and keep stirring as the chillies start to glow and the dals turn golden brown. Take care not to burn them. Cool, powder, and set aside.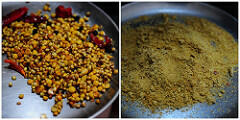 3. Heat the 1 tbsp oil and add 1/4 tsp mustard seeds. When they pop, add the chopped onions, perungaayam, and green chillies. Fry until the onions turn soft (about 3 mins) and add the chopped brinjal and tomatoes. Fry again until the tomatoes turn soft (another 3-4 mins).

4. Next, add the tamarind water and turmeric powder and bring to boil. Cook until the tomatoes and brinjal turn completely soft (about 5 mins).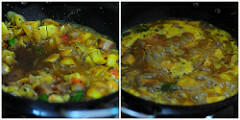 5. Add the cooked moong dal to this along with the powdered spices and bring to boil again. You can add about 2 tbsp of the spice powder, taste, and then add more if required. Add salt and simmer until the right consistency is reached. It should be like a gravy that is pourable on Pongal. Turn off flame and garnish with the chopped coriander leaves.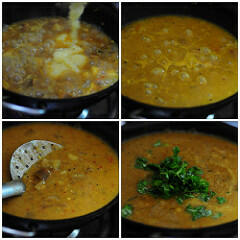 That's it. Delicious Kathirikai Gothsu is ready to be served with piping hot Ghee Pongal.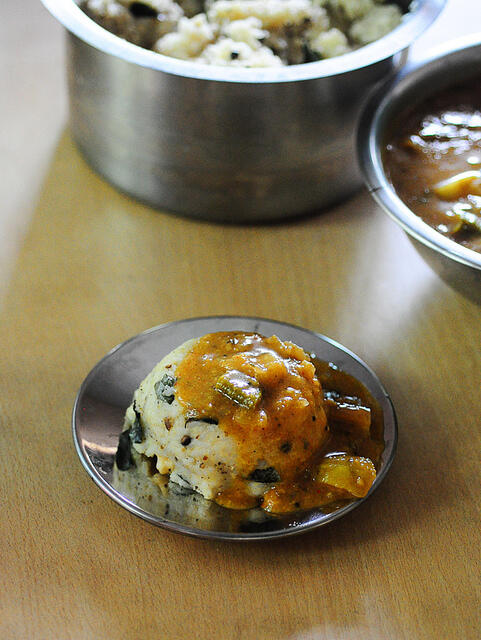 Pongal makes for a delicious, well-balanced, and filling South Indian breakfast which is generally brunch at my in-law's place. .With good reason too, because after a meal of Pongal-Gothsu, hunger doesn't strike until late evening!