No kootu I've ever made has looked as pretty as this Chow Chow Kootu. The mom-in-law made this the day after they landed in Singapore earlier last month. Thank God I had some chow chow languishing in the fridge. Sometimes, letting vegetables stay in there results in good things – like this kootu.
You can also try making chow chow chutney recipe and chow chow sambar if you love this vegetable (also known as chayote squash) as much as we do.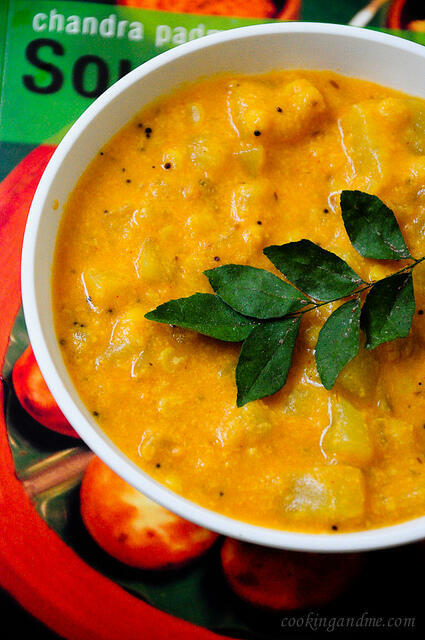 Chow Chow Kootu
Ingredients
1 chow chow cut into small cubes
1/2 cup channa dal / Bengal gram / kadala paruppu
Grind Together:
1/2 cup grated coconut
A pinch of turmeric
1 tsp jeera / cumin seeds
1/2 tsp red chilli powder
1 green chilli (optional)
Salt to taste
For Tempering:
2 tsp (coconut) oil
1/4 tsp mustard seeds
1/2 tsp urad dal (optional)
A generous pinch of hing / asafoetida
A few curry leaves
Instructions
Wash the Bengal gram and add to the cut, cleaned chow chow. Add 4 cups water and cook on a low open flame until the chow chow is cooked soft and the Bengal gram is cooked yet firm (about 15-20 mins). Add salt and turmeric.
Grind the ingredients in the list well with a bit of added water and add to the cooked chow chow mixture. Mix well and simmer until all extra water is absorbed and the mixture takes a thick consistency.
Heat oil for tempering and add ingredients in the order given. Once the mustard seeds pop and the urad dal turns brown, dunk everything into the kootu mixture and mix well. Adjust salt. Serve hot with rice and kozhambu of choice.
Yield: Serves 4
Prep Time: 00:10
Cook time: 00:30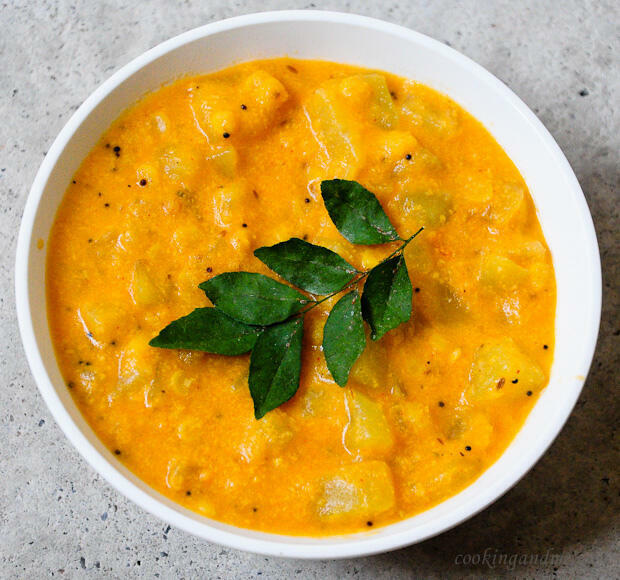 Notes:
– If the chow chow kootu is too watery even after simmering for a while, mix 1 tsp rice flour with some water and add to the mixture. Bring to light boil and the mixture should get thicker.
– Another alternative is to drain the water once the chow chow and channa dal have cooked. I don't prefer this method too much because of the loss of nutrients through the water.