This Soya Chunks Cutlet Recipe is almost entirely flicked from my sister. She has always been better with her hands than me, so my cutlets look more rugged as compared to her chubby, smooth ones. I am guessing it tasted as good though because these cutlets did taste pretty great.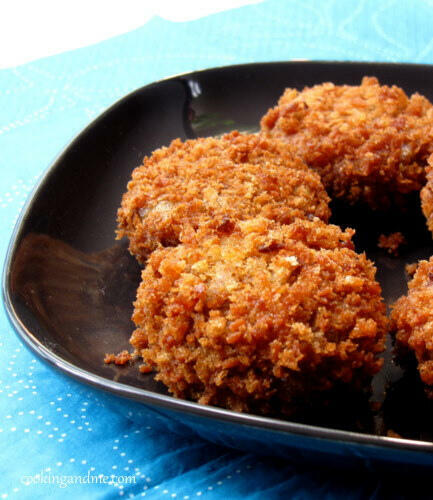 Soya Chunks Cutlets
If you are looking for a good vegetarian cutlet recipe, then this is the one, because soya chunks give a nice meatiness to the cutlets which is hard for vegetarians to come by. Even if you are not a huge fan of soya chunks, these may just turn you around because the infamous smell associated with soya chunks is absent in these cutlets and overall, these are healthier than meat / fish cutlets.

Soya Chunks Cutlets

Makes: 12

Ingredients:

For the cutlets

1 cup soya chunks

1 large potato, boiled and mashed

1 large onion, chopped fine

1 tsp ginger garlic paste

1 tsp coriander powder / dhania powder / malli podi

2 green chillies, chopped fine (or 1 tsp red chilli powder

1 tsp garam masala (or any curry masala you have in hand)

A pinch of turmeric powder

1/4 tsp pepper powder

A few curry leaves

Salt to taste

Before frying:

1 cup bread crumbs (toast 3-4 slices of bread dry and powder in the mixie)

1 beaten egg or a paste of 2tbsp maida with 2 tbsp water

Oil for deep frying
How to Make Soya Chunks Cutlets
1. Soak the soya chunks in water for about 30 mins. Drain and squeeze excess water out.
2. Blend in a mixer until fine. Again squeeze out all excess water.
3. To this, add all the ingredients for the cutlets and mix well.
4. Shape this mixture into cutlets, dip first in the egg (or maida mixture) and then the bread crumbs – you can see the steps in this
vegetable cutlet recipe
post. Deep fry until nicely browned. Make sure you keep the flame in medium-high so that the inside also gets cooked well.
5. Serve hot with ketchup, or just bite in!
Thanks for a lovely vegetarian cutlet recipe sis. We loved it! 🙂