Yes, I take all the pictures for this site but this one is easily the most delicious looking, according to me. If you don't agree, its because you don't know how good this dish tastes, so let's do something about that, shall we?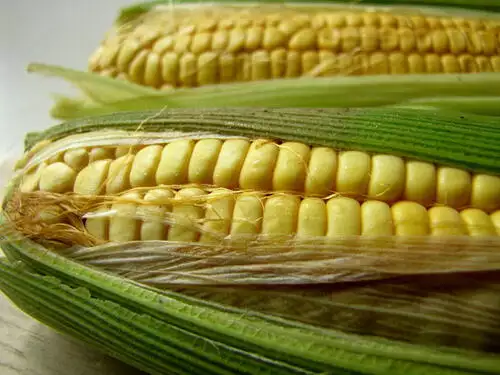 Pin2 corn cobs from the super market and I was good to go.
Speaking of the sauce, let's get started with that. Chop up 2 large onions, 2 pods garlic and a 2″ piece of ginger and throw them into the mixer.
Something about the above picture makes me smile. I think its those fresh curry leaves. Fresh curry leaves always make me smile.
Gently place the corn pieces in the hot oil. Take care not to splash oil on yourself. It burns!
Fry for 8-10 mins and then add the shaved corn pieces. (An extra step because I don't have sharp knives in the house – refer above). Mix well.
Let it simmer on a low fire for 2-3 mins. Add salt and mix well before removing from fire.
Here's the recipe again, all in one place.
Sweet Corn in Rich Onion Sauce

Serves: 2

Ingredients:

2 corn cobs

2 large onions, chopped

2 garlic cloves

A 2″ piece ginger

1/4 tsp turmeric powder

1/2 tsp onion seeds (optional)

1/2 tsp cumin seeds

1 tsp chili powder

6-8 curry leaves

1/2 tsp sugar

1 cup scant yogurt

Oil

Salt

Instructions:

1. Cut corn cob into 1″ pieces.

2. Grind onion, garlic and ginger.

3. To the above, mix in the spices, curry leaves and sugar.

4. Heat 1 cup oil and fry corn pieces until golden brown. Remove excess oil and fry the onion paste mixture until oil separates (8-10 mins). Add the shaved corn pieces and the fried corn cobs. Mix well.

5. Lower heat and fold in the curd/yogurt. Simmer for 2-3 mins. Add salt and remove from fire.