I enjoy cooking Regional Cuisines of India the most, mainly because it gives me an opportunity to take a peek into some really cool names of vegetables, dishes and even ethnic recipes. I loved researching for Karnataka recipes and as always settled for something easy, yet something I would want to cook again cuz it turned out really well.
Here is our Sunday lunch – a simple Kannadiga one!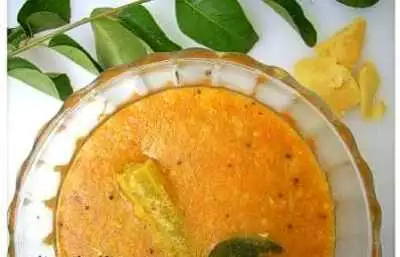 I. Bele Saaru or Karnataka-Style Sambar
The lovely Karnataka style sambhar with a unique sweet flavour contributed by jaggery. The consistency is supposed to be thicker than rasam but thinner than normal sambhar, but since we like it on the thicker side, I made it that way. I am especially proud of the fact that I made the Sambar Powder from scratch (like I have mentioned a lot of times already :D). Forgive me, but making curry powders from scratch is a huge deal for me 😀
Ingredients:
Toor dal – 1/2 cup
Tamarind paste – 2 tsp
Jaggery powder – 2 tsp
Karnataka Style Sambar Powder – 2 spoons
Turmeric powder – 1/4 tsp
Chilly powder – 1/2 tsp
Green chillies – 3
Drumsticks – 1
Salt – to taste
Curry leaves – one strand
How to Make Karnataka Style Sambar
1. Pressure cook the dal with turmeric powder, drumsticks cut into long pieces, green chillies and sufficient water.
2. Once the excess pressure has left the cooker, adjust the consistency by adding water if necessary. Then add the tamarind paste and jaggery and mix well.
3. Temper mustard seeds, curry leaves, Sambar Powder, chilly powder in some oil and when it emits a nice smell, add into the above mixture. Mix and serve hot with rice.
II. Bandanekayi / Ennegayi Palya / Karnataka Style Eggplant Curry
This is a simple brinjal curry, with a lovely hot & sweet flavour that I thoroughly enjoyed. I know brinjals are not the most popular vegetales around but I like it when its stir-fried in oil. This particular dish goes well with bele saaru and rice.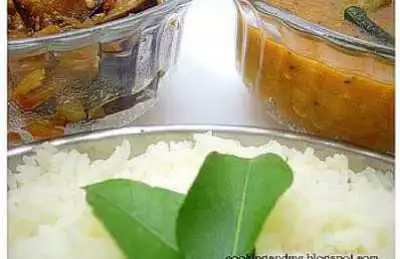 Ingredients:
Ennegayi / brinjal – 5 medium
Onions – 2
Garlic paste – 1 tbsp
Curry leaves – one strand
Jeera powder – 1/2 tsp
Chilly powder – 2 tsp
Hing – one pinch
Tamarind paste – 1 tsp
Jaggery powder – 1 tsp
Turmeric powder – 1/4 tsp
Oil – 2 tbsp
Salt – to taste
How to Make Karnataka Style Eggplant Curry
1. Cut the brinjals into cubes and soak them in water with little salt.
2. Heat the oil and add jeera, hing and then onions.Fry a little and then add chilli powder. Fry again before adding the brinjals, tamarind paste, salt and jaggery.
3. Cook keeping the pan covered. When the brinjals are done, add the garam masala, fry for another minute and remove from fire.
4. Serve hot with rice and bele saaru. Atleast, that's what I did 🙂