Quinoa
is a gluten-free super grain that has been gaining a lot of popularity over the last few years. While it looks very similar to the pearl millet easily available in India, I don't believe there's an
Indian name for quinoa
or that it's locally produced. You can definitely buy quinoa online in India though. Since it's very easily available in Sydney (even more so than Singapore), I've been trying to cook up
Indian quinoa recipes
that suit our palates.
Quinoa pulao
also makes a great lunchbox recipe since it doesn't dry out as much as rice pulao tends to.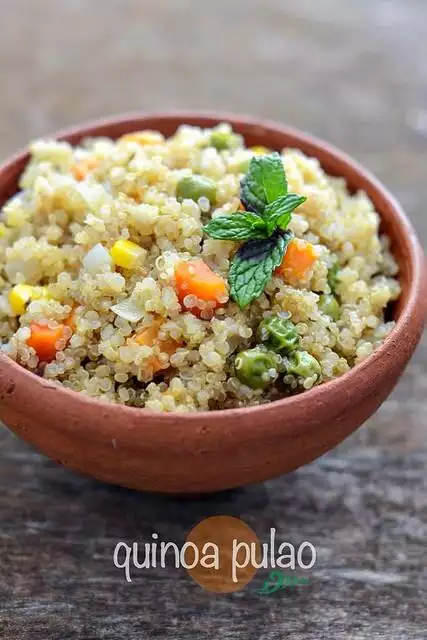 Quinoa pulao with vegetables is one of my success stories! Quinoa has a nutty flavour and lacks the sweetness and stickiness of rice so I'd definitely say it's an acquired taste. In fact, it's a seed and not a grain so it cooks up easier than rice but does have a strong flavour, especially when you prepare vegetable pulao with quinoa.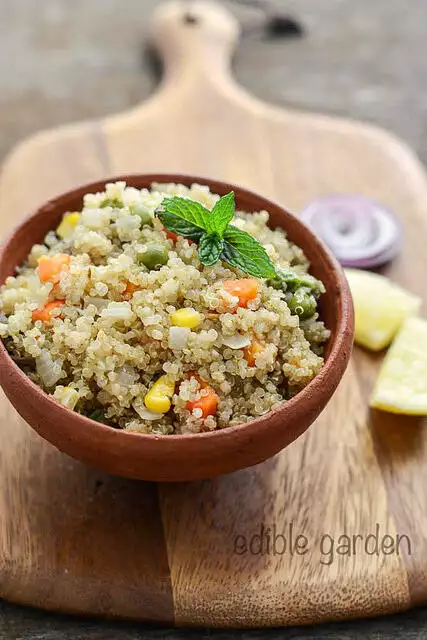 I used my standard vegetable pulao recipe and adapted it with the addition of quinoa instead of rice. You can cook it directly on the stovetop (no soaking or pressure cooker needed) and so it totally fits my cooking style (read – get the job done as quick as possible and get out of the kitchen).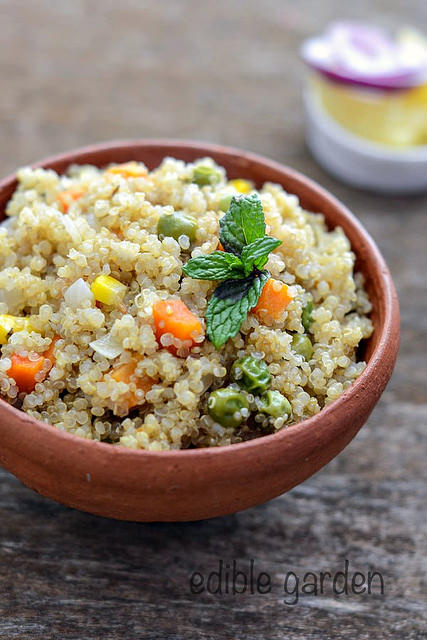 If you're trying to incorporate quinoa into your (largely Indian) diet, here are a couple of tips:
– Taste it first if possible and see if you like it. Quinoa tends to be expensive and it'll be a pity to buy a bagful only to find that you can't how it tastes
– Try pearl millet in recipes that use quinoa. It's produced in India, is much cheaper, and has health benefits that match that of quinoa. They even look very similar, if that's important to you. Taste-wise, I'm not sure how they compare so let me know if you try pearl millet in this pulao recipe
Rather stick with rice? Sure, why not. Try this easy green chana pulao recipe, vegetable pulao in pressure cooker, or one of my favourite coriander rice recipe.
QUINOA VEGETABLE PULAO RECIPE
Preparation time: 10 minutes
Cooking time: 25 minutes
Serves 2
INGREDIENTS:
1 cup of quinoa (any kind – my 1 cup = 200 ml)
1/2 cup of onions, chopped fine
2 tbsp of ghee or oil
1/2 tsp of cumin seeds (jeera)
4 cloves
1 small piece of cinnamon
1 bay leaf
3-4 green cardamom pods, crushed
1 tsp minced garlic
1/2 tsp grated ginger
1 cup mixed vegetables (I used frozen carrot, peas, corn)
A few mint leaves or coriander leaves (optional)
Salt
INSTRUCTIONS:
1. Heat the 2 tablespoon oil in a pan, preferably non-stick. Add the cumin seeds and when they sizzle, add the whole spices – cinnamon, cardamom, cloves, bay leaf. Fry for 10 seconds and then add the chopped onions. Fry until just soft (about 3 mins) and then add the ginger and garlic. Sautè until fragrant – about 2 mins.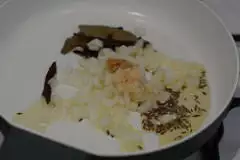 2. Add the vegetables now, along with finely chopped coriander or mint leaves (if using). Sautè for 4-5 mins until the vegetables are almost cooked.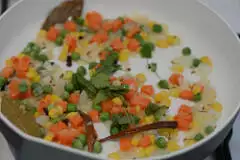 3. Add the 1 cup quinoa to this.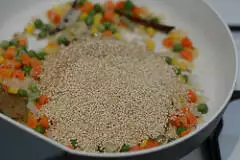 4. Check your quinoa package to see recommended amount water needed to cook it. There are different varieties and I am assuming they have differing lengths of cooking time. I have only cooked with white quinoa and the method I follow is to add double the water. So 1 cup quinoa gets cooked in 2 cups water and that's how much I added.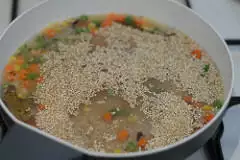 5. Add salt and bring this to boil. Then lower heat to simmer and cook covered for about 5 mins.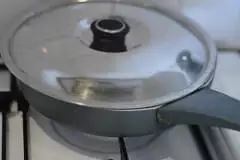 Check in between to make sure there's still water in the pan and the quinoa or vegetables is not burning. Ensure heat is at a minimum and you should be fine.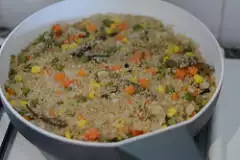 The quinoa will fluff up quite a bit on cooking and in about 5-6 mins, you should have very soft and fluffy quinoa. The rest of the vegetables should be done now too. Add more coriander leaves if desired and serve hot.
I serve quinoa vegetable pulao with the usual side dishes you'd serve rice pulao with. aloo gobi would go really with this as would a some delicious methi matar malai.