Mint Pulao or pudina pulao
is one of my favourite mixed rice recipes. Mint has a strong flavour but when combined with spices and rice, it lends it very well to the final dish. I have seem many variations of this mint rice recipe but this is the kind I like the best and stick to making. Since fresh mint is not always easy to get near where I love, I postpone all my mint recipes and save it for when I buy it from Little India. This mint pulao is one such recipe I had postponed for a while.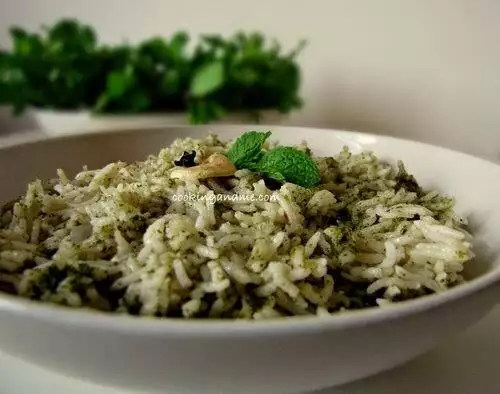 Anyway, I prepared this mint rice about a month back because I got a huge bunch of mint leaves from the Indian vegetable market and had no clue what to do with it all. There is only so much you can use up to make mint chutney, right?
The rice came out super nice and since TH is a huge mint fan, he loved it too!
If you love pulao recipes, then check out this vegetable pulao recipe, rajma rice recipe, tomato spinach pulao, and coriander rice recipe.
Pin
Pudina Pulao / Mint Rice / Pudina Rice
Serves : 2 – 3
Ingredients:
2 cups rice (I used basmati rice)
2 cups fresh mint leaves / pudina, lightly packed
1 onion, chopped fine
3 to 4 green chillies
¼ cup grated coconut (fresh works best, frozen will do too)
1 tbsp ginger garlic paste
4 cloves
4 green cardamom pods
1″ piece of cinnamon
1 star anise
1 bay leaf
1 tbsp ghee
12 roasted cashews for garnishing (optional)
Salt to taste
Instructions:
1. If using basmati, soak the rice in 4 cups water for half an hour and cook in pressure cooker for 1 whistle. Once pressure leaves the cooker, spread out on a plate and let it cool without clumping. If using rice cooker or any other method, cook until the rice is done yet firm.
2. Grind the mint leaves with the coconut, green chillies and ginger / garlic (if using fresh) to a paste.
3. Heat ghee in a pan and roast the cashews until golden brown (if using) and drain. Add the spices – cardamom, cloves, cinnamon, bay leaves and star anise – and saute for about a minute, taking care not to burn them. Then add the chopped onions and saute unil it turns transparent.
4. Add the ground paste to the pan and fry for about 2 to 3 mins until it turns fragrant. Again, take care not to burn! Add salt.
5. Mix in the cooled rice without breaking it too much. Garnish with the roasted cashews and serve with a raita of choice.
Pin
Pudina pulao is best served warm and fresh. However, it also makes a great lunchbox dish so pack it along with some nice vegetable curry for a well-rounded meal.