Fruit custard recipe, learn how to make this super easy dessert recipe that's chilled custard sauce served with a fruit salad that has a secret ingredient – dates.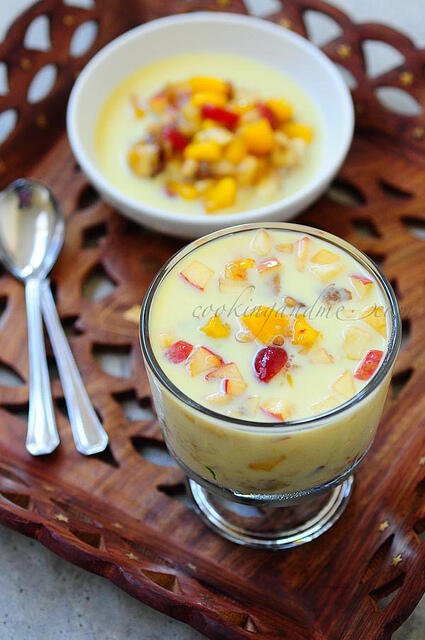 This delicious fruit custard recipe is another gem from K. Athamma who invariably makes it for dessert at all our family get-togethers. It may seem easy to just chop up some fruits, make a salad with it, and add some custard sauce to it but she has a definitive process she follows to make this fruit custard recipe. This fruit salad uses an eggless custard recipe made using vanilla custard powder and while you can choose pretty much whatever fruits you want to make the fruit salad, there are a few that she highly recommends – mostly tropical fruits that are available easily in India.
I have always noticed that Athamma's fruit salad has an underlying flavour of not just the fruits but something else that's sweet and cooked. So when I called her to ask how she makes her fruit custard, I realised there is more to this recipe than I imagined. She cooks dates and pineapple in some sugar syrup before adding it to the salad giving the entire fruit salad a very lovely flavour. I strongly recommend you to try this same process and be amazed.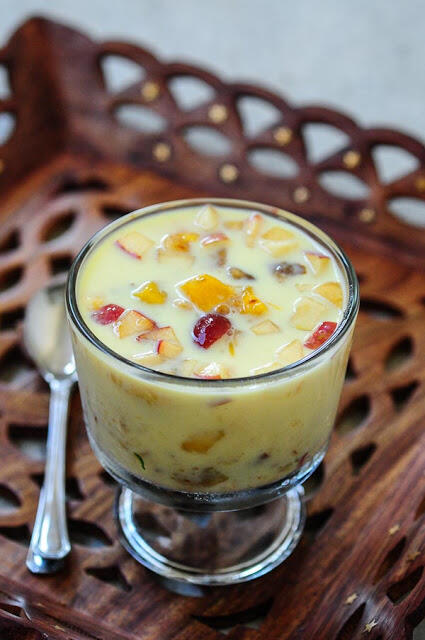 I have used a mix of fruits which I could find easily at the time but please note that if you omit certain ingredients, the fruit custard will taste less than great and we all know no one wants to eat a fruit salad with custard sauce that tastes anything but great!
Other Easy Dessert Recipes:
Apple Crumble with Custard Sauce
China Grass Pudding
Banana Hazelnut Pudding
Vanilla Panna Cotta with Blueberry Coulis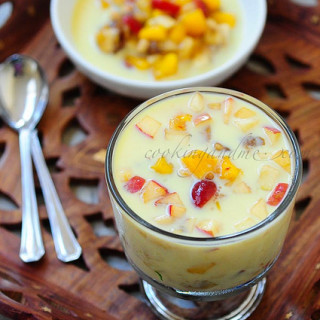 Fruit Custard Recipe
Fruit Custard Recipe Preparation time: 20 minutes Cooking time: 5 minutes Serves 6 Recipe Source: Kumari Athamma
Ingredients
1

apple

1

orange

1

cup

of cubed

ripe pineapple

5-6

dates

1/2

cup

of cubed

ripe mangoes (if in season)

1

small banana

1/4

cup

of glazed cherries

1/4

cup

of chopped cashew nuts

1/4

cup

water

2

tbsp

sugar

For Custard Sauce:

2

cups

of milk

3

tbsp

of vanilla custard powder

3

tbsp

of sugar
Instructions
Add the custard powder to 1/4 cup milk, mix well, and set aside.

Bring the rest of the milk to boil and add sugar.

Slowly add the custard mixture and continue to cook until thick - about 5-7 mins.

Remove from fire, cool completely, and refrigerate.

Cook the 1/4 cup water + 2 tbsp sugar for about 3-4 mins until the syrup thickens a bit. It doesn't need to be one-string, etc.

Remove from heat and set aside.

Chop the pineapple into small cubes and shred the dates into small pieces.

Add these to the hot syrup, mix well, cool completely, and refrigerate.

An hour before you need to serve the fruit custard, cut the other fruits into small pieces, cube the cherries, chop the nuts and add to the pineapple-date mixture.

Mix well and refrigerate until you need to serve.

To serve: add 1/2 cup of the fruit salad to a bowl and top off with 1/2 cup chilled custard sauce.
Step by Step Pictures to Make Fruit Custard Recipe:
To Make the Custard Sauce
Mix the custard powder with 1/4 cup milk and whisk until smooth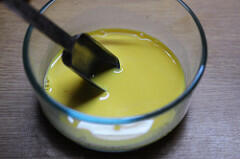 Bring the milk and sugar to boil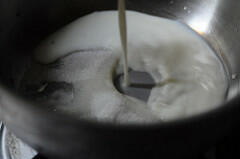 Add the custard mix slowly to the boiling milk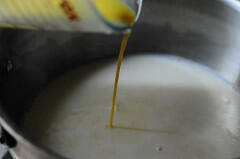 Keep stirring until the custard starts to thicken. This will take about 5-7 mins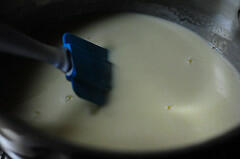 Remove, transfer to a bowl, cool completely, and refrigerate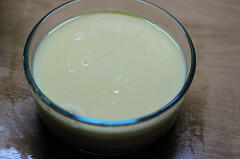 To Make the Fruit Salad
Round up your fruits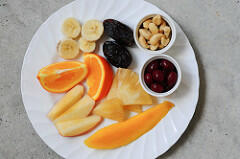 Make a slightly thick syrup with water and sugar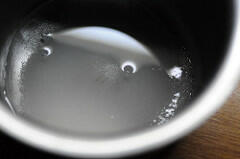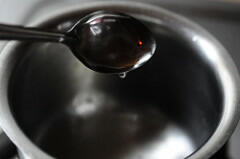 Add finely chopped pineapple and dates to this syrup
Mix well, cool completely, and refrigerate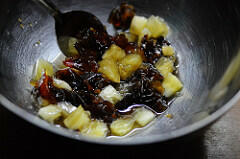 An hour before serving, chop the rest of the fruits and add to the pineapple-date mixture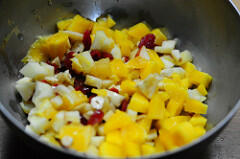 Mix well and refrigerate until serving time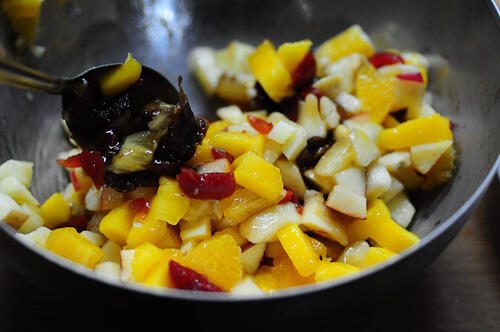 To Serve
Add required amount of the fruit salad to a bowl. Top off with desired amount of custard. Serve chilled.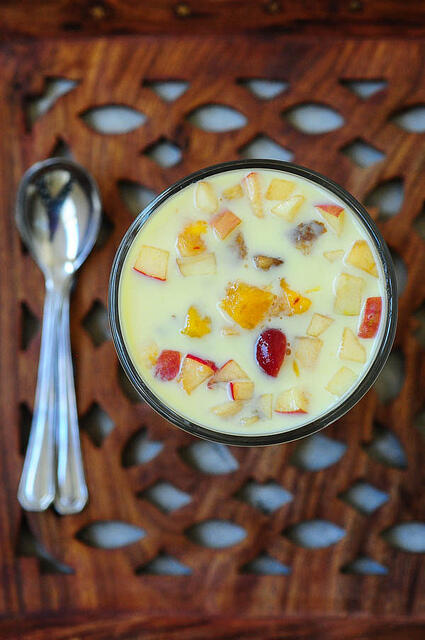 Notes:
– Add and subtract fruits according to your preference but I highly recommend the banana, cherries, and cashew nuts
– If you prefer to make the custard sauce thicker, add more custard powder. We prefer a light, more watery custard with more focus on the fruits
– Here's a custard sauce using eggs if you want to make custard sauce without custard powder
For fruit custard recipe in Hindi, Tamil, Telugu, Kannada, Urdu etc please use the Google translate button in the sidebar