Frangipane cake recipe – the cake version of the popular frangipane tart, which is made with almond flour, eggs, butter, sugar, and pretty much any other ingredients you want to add on to customise it. I used fresh strawberries to make this strawberry frangipane cake adaptation.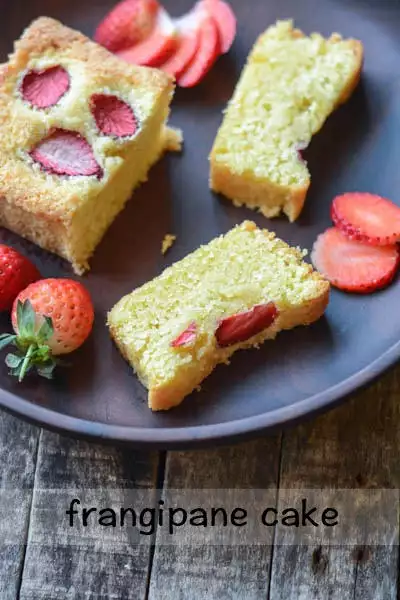 On my last day in Google, a good friend at work, Kate, made this delicious almond cake with fresh raspberries as a good-bye gift (Incidentally, this same friend baked the best banana cake recipe for me a couple years ago too, one of my favourites!). I loved it so much that I got the recipe from her immediately and made it the next day. Ah, the joys of a jobless Thursday. I was literally jobless and while there were the nagging chores of relocating back to Singapore to get done, I still managed to watch a lot of mindless TV, bake, nap, and read. A 'holiday' with no agenda, that's what it felt like.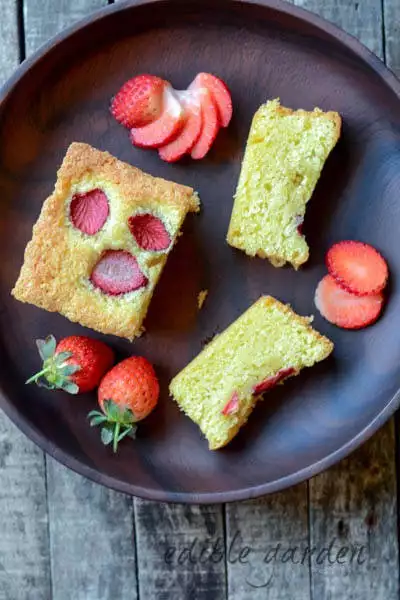 I generally like sweets and desserts with almonds – like badam milk, badam halwa, and pretty much anything with marzipan in it – so it was no surprise that this frangipane cake grabbed my fancy. I baked a few different variations, with and without adding flour, with and without fruits, adding yogurt in one variation, etc. A few of my friends in Sydney got a lot of cake my last week there 🙂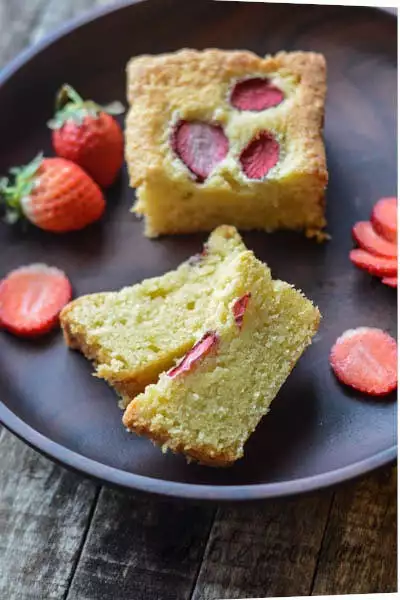 I'd say this is a relatively fail-proof cake recipe since there's isn't much you can do wrong. Customise as you wish and you have a fabulous snack or coffee cake in under an hour.
For more easy cake recipes, check out my steamed chocolate cake recipe, this orange cake with toffee sauce, sticky date cake which has been a hit at many tea parties, and this tiramisu cake from Dorie Greenspan.
FRANGIPANE CAKE WITH STRAWBERRIES
Preparation time: 20 mins
Baking time: 40 mins
Makes 2 small loaves or one 6″ cake
INGREDIENTS:
100 gm of butter
100 gm of sugar
110 gm of almond flour (almond meal)
1/4 cup of plain flour
1 tsp of baking powder
2 eggs
1 tsp of vanilla
1 tsp of lemon zest (optional)
1/4 tsp of salt
1/2 cup of sliced strawberries
How to Make Frangipane Cake, Step by Step:
Pre-heat oven to 160C / 320F. Grease one 6″ cake tray or 2 small loaf trays with non-stick spray or butter.
Beat the butter and sugar together until creamy.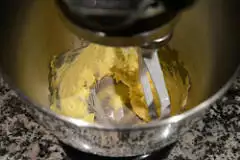 Add the eggs, vanilla, and lemon zest (if using). Beat again until smooth. Add the almond flour and mix again.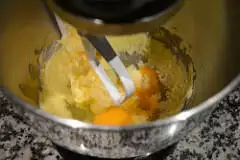 Now add the flour, salt, and baking powder and gently fold to combine well. Make sure no streaks of flour remain in the batter.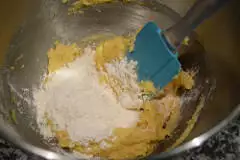 You will have a fairly thick batter, this is perfect.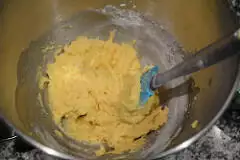 Transfer to the greased pans and press down gently. Arrange the sliced strawberries on top.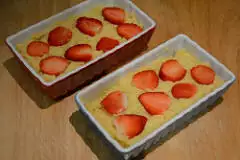 Bake in the pre-heated oven for 35-40 mins. I only needed about 40 mins. The edges will start to brown and the strawberries will shrivel quite a bit. If a skewer inserted in the centre comes out moist but without any batter sticking to it, you are done. The cake will rise very slightly so that's a good sign to look out for as well.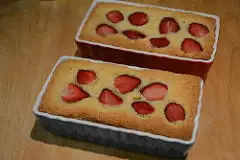 Let the frangipane cake cool in the pan for about 20 minutes and then gently invert onto a cooling rack. Cool completely before slicing. Best served within two days of baking.
NOTES:
– you can add either vanilla or lemon zest. I just tried combining the two flavours
– try the same recipe with raspberries or blueberries
– you can add 2 tbsp desiccated coconut to the batter for some texture
– you can sprinkle the top of the cake with some sliced almonds
– try adding chocolate chips, they usually make everything better
– I haven't tried to make this cake eggless so if you'd like to try, just searching for egg substitutes in almond cake or eggless almond cakes