Date and Nut Balls or Ladoos (Laddus)
are probably the quickest and easiest sweet you can make for Diwali this year. There are many variations of these delcious ladoos and mine are probably the most stripped down and basic version. I cooked down the dates a bit and mashed in the nuts to give it a nice texture but you can easily skip this step and make
raw date nut balls
too.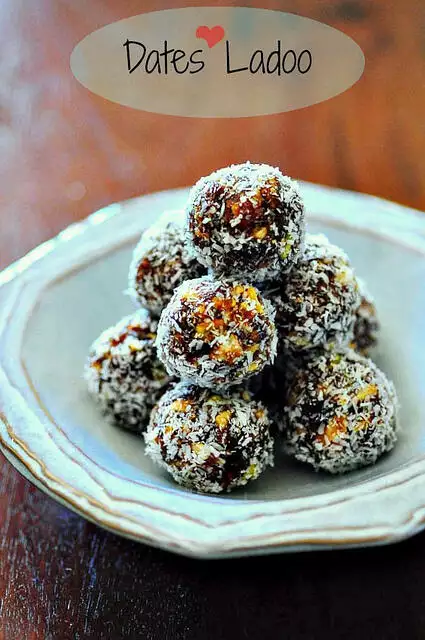 Most supermarkets here have pitted medjool dates which are perfect for making date ladoos. Medjool dates are large, very soft and fleshy, and have tons of fiber in them. Since dates are naturally sweet, you don't need to sweeten these ladoos although you can if you want to. To make vegan date nut balls, skip the butter or ghee and add some neutral oil or coconut oil for shaping the balls.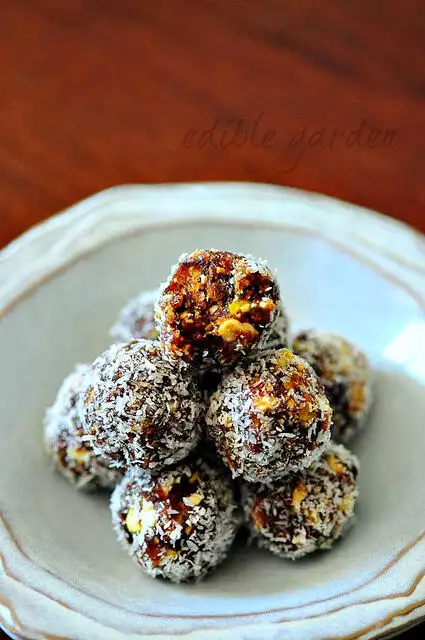 As it often happens with ladoos, you can decide what you want to add to these along with the dates. The dates form the perfect base being sweet and sticky, and you can add dry fruits, nuts, chocolate chips, sesame seeds, desiccated coconut, etc. These ladoos are also much healthier than tranditional sweets like maladu, besan ladoo, sandesh, gulab jamun, etc. I won't argue that they are tastier but these dates nuts balls are surely a great treat and quite addictive too. Try them this Diwali and share with friends and family. I really wanted to add 2 tbsp of chocolate chips in them but didn't have any in hand. Try that for me, won't you 🙂
15-MIN DATE & NUT BALLS (LADOO)
Preparation time: 10 minutes
Cooking time: 5 minutes
Makes 12 balls
INGREDIENTS:
12 medjool dates (or any soft dates)
1 cup of raw mixed nuts of your choice
1 tsp of butter or ghee
1/2 cup of desiccated coconut (optional)
INSTRUCTIONS:
1. Remove seeds and grind the dates to a coarse paste. Set aside.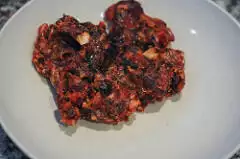 2. Dry roast the nuts one kind at a time until they start to brown in patches.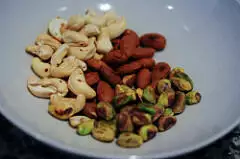 3. Pulse this in a mixie or food processor until you have a coarse mixture. It's best to leave a few chunky pieces for some texture in the ladoos.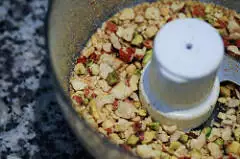 4. Heat the butter or ghee in a non-stick pan.
5. Add the dates and cook on low flame until it turns soft – about 3 mins. It will absorb the butter/ghee completely too.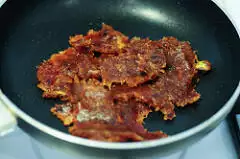 6. Add the chopped nuts and blend in. Turn off heat.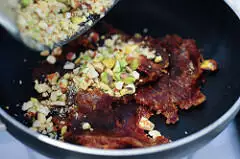 The mixture will be sticky and a bit tough to blend but keep going with your spatula and soon you will have mass of dates and nuts blended in perfectly.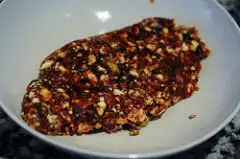 7. When it's cool enough to handle, make ladoos of your desired size and roll in the desiccated coconut. You can also use roasted sesame seeds, poppy seeds, etc in place of coconut. Or just leave the dates ladoos plain.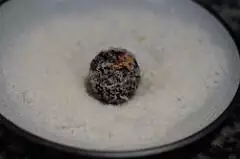 I hope you make these delicious dates and nuts ladoo for Diwali this year. They keep well at room temperature for up to one week and make a great, healthy snack in addition to being a nice sweet to distribute to friends and family for Diwali since they pack well and won't crumble or lose shape easily. Check out a list of easy Diwali sweets here.
For Dates and Nuts Ladoo recipe in hindi, tamil, marathi, telugu, urdu, etc, please use the Google translate button in the sidebar.