There are so many different variations to
South Indian Coconut Chutney Recipes
. However, this basic Tamil-Style Coconut Chutney that's my easiest
chutney recipe for idli or dosa
keeps us all grounded in its simplicity and maybe I can say authenticity too?
In Kerala, Coconut Chutneys are made with just coconut as the main ingredient but in Tamil Nadu, Pottukadalai or Roasted Bengal Gram is almost always added to coconut chutney. This gives more body and thickness to the chutney, not to mention makes it a bit more economic for hotels to serve generously (In Kerala, they just add water to the chutney generously, making it even more economic for them!). So let's check out how to make this easy Tamil Thengai Chutney to serve with idli, dosa, pongal, upma, etc.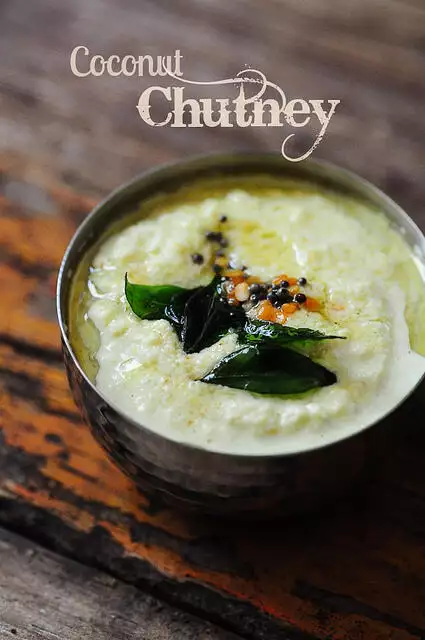 During our annual visits to Salem to my athamma's place, we'd always eat this Tamil Nadu style coconut chutney which was such a welcome break to us because it was so different from what we were used to back home and also because it somehow felt right having it with idli or dosa for breakfast in a different place when you are on vacation.

Tamil Coconut Chutney-Thengai Chutney Recipe (for Idli-Dosa)
Preparation time: 5 minutes
Cooking time: 3 minutes
Serves 4
Ingredients:
1 cup of grated coconut
1/3 cup of pottukadalai or roasted Bengal gram
2-3 green chillies (adjust to your heat levels)
3/4 tsp of salt
2 tsp of oil
1/4 tsp of musard seeds
1/4 tsp of ulutham paruppu or urad dal
5-6 curry leaves
1 fat pinch of perungaayam or hing
How to make Hotel-Style Thengai Chutney:
1. Grind the coconut, pottukadalai, green chillies, and salt with enough water into a smooth chutney base. You can make the consistency as loose or as thick as you prefer. We prefer chutney on the thicker side.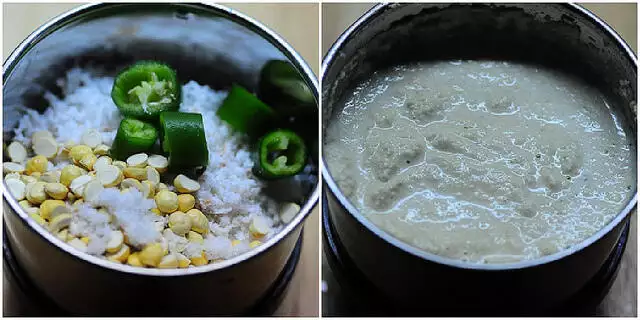 2. Heat the oil in a tadka pan and add the mustard seeds. When they pop, add the urad dal and fry until golden, followed by the hing, and curry leaves. Remove from fire and drunk into the prepared chutney. Mix well. Adjust salt if you need to.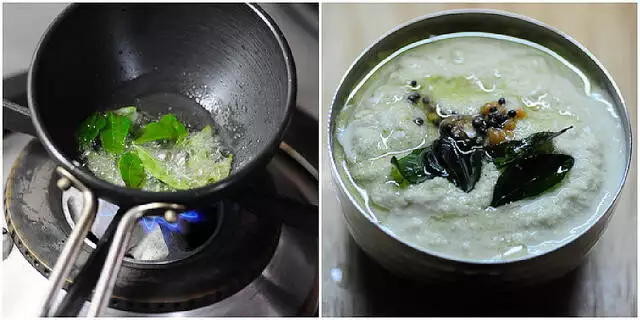 That's it! Hotel-style Thengai Chutney for your Idli or Dosa is ready.
Notes:
– Amma sometimes adds the chutney into the tadka pan, heats it a bit (don't boil) and then transfers back to a bowl. You can follow that method too.
– You can add a small piece of ginger or a couple of cloves of garlic to the coconut chutney while grinding if you prefer. I have also seen a small piece of tamarind being ground with the chutney for some sourness.
– Garnishing with chopped coriander leaves gives a nice flavour to the chutney.
– You can add 1-2 dry red chillies, torn into halves, while tempering the chutney.
– Adding curd to the chutney is another way to make it thick and sour. Amma used to do this but we don't like the flavour that much so I think she stopped. (Thanks to some awesome readers for reminding me of this tip for coconut chutney in the comments).