Kerala Banana Chips Recipe: Banana chips or ethakka upperi is arguably the most popular snack in Kerala that also finds its place in all Kerala Sadya. You need to use unripe plaintains (ethakka, the raw form of ethappazham used to make Pazham Pori, which is not the same as vazhakka) to make these banana chips and frying them in anything other than coconut oil is as good as not bothering to make them, really. When I was growing up, Amma always uses this banana chips recipe to make them at home and didn't even consider it an additional task because they aren't really hard to make at all. Some planning and readiness to get hands sticky and dirty is required though.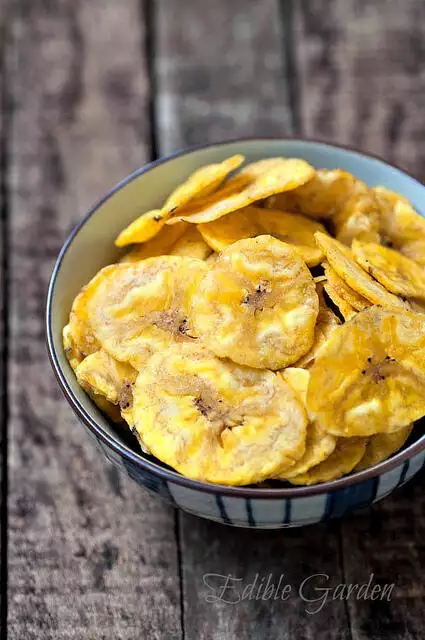 While in Kottayam we call banana chips upperi, in northern Kerala, upperi refers to thoran (check out Cabbage Thoran Recipe here), a Kerala dish made with vegetables and a ground coconut mixture. Call it what you want, these crunchy, delicious snacks are addictive and moreish. Oh, and you can also make banana chips in the microwave.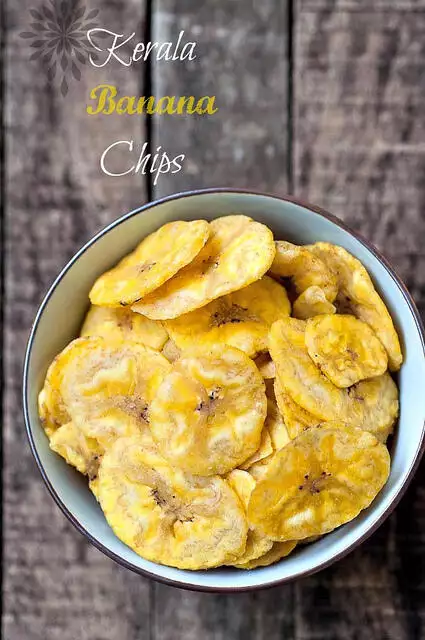 The banana chips or upperi served at Kerala sadya is usually not cut into circles but further quartered into smaller pieces and they tend to be thicker. The thickness of the chips really depends on the slicer you have. Amma has had a very basic mandoline slicer for years which slices quite thin and it's been used to make many many batches of delicious banana chips over the years.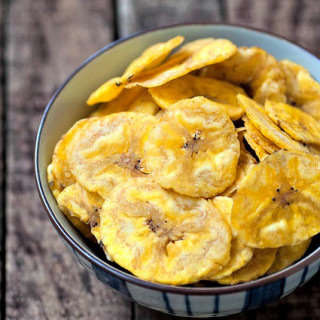 Kerala Banana Chips Recipe
Ingredients
3

unripe plaintain

ethakka

1

tsp

of turmeric powder

1-2

tbsp

of salt

4-5

cups

of coconut oil for deep frying
Instructions
Make grooves into the skin of the plaintain and peel it off gently. Save the skin for a thoran (waste not!)

Mix the turmeric powder in a bowl of water and immerse the peeled plaintain in this.

Let it rest for 30 mins

Heat oil in a pan and let it reach almost-smoking point

Pat the soaked plaintain dry using kitchen towels, it's ok if it's a bit moist

Using a slicer, slice the plaintain into thin discs. You can directly do this into the hot oil (which needs more practise) or do this into another bowl and then add it to the hot oil

The chips will sizzle A LOT and then start to brown a bit. Don't let it turn too red, that will spoil the taste. The sizziling will almost subside when the chips are ready

Mix the salt in about 2 cups water and keep ready

Sprinkle this salt water over the chips when they are still in the oil but ready.

Be careful while doing this since the oil is hot - just sprinkle, don't pour

Give it a mix and then drain the chips to a kitchen towel to soak up the excess oil

Fry all the banana pieces, let cool, and store in airtight containers.

Since coconut oil tends to go rancid pretty quickly, finish off the chips within 2-3 days or store in the refrigerator for up to a month
For Kerala banana chips recipe in Malayalam, Tamil, Kannada, Telugu, Urdu etc please use the Google translate button in the sidebar.