Chocolate Mug Cake Recipe in 5 minutes: a super quick and easy method to make chocolate cake in a mug in your microwave. Perfect for odd hour chocolate cake cravings!
Making cake in a microwave, that too a microwave chocolate cake, is a no-brainer to me. Most of my childhood stories that my parents relate revolve around chocolate in some form.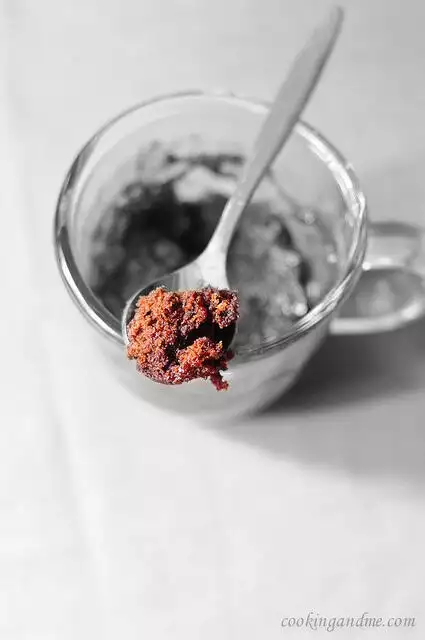 So yeah, I am a chocolate-lover and this microwave mug cake is a really dangerous thing to enter my life. Throw some ingredients you already have in your pantry into a mug, microwave for a minute on high, and there you go – mug cake!
Sugar cravings are real and while it's advisable to ignore it most of the time, sometime's a girl's gotta have her chocolate cake!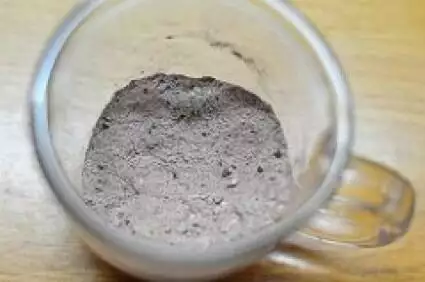 When 5-min chocolate mug cake recipes did their rounds in the Internet, I turned a blind eye. I told myself it can't actually be chocolate cake if it's made in a mug in the microwave for 2 minutes, can it?
Well, it is. I recently caved and made the darn thing one night when I had to have something with chocolate in it. It took all of 5 mins to whip one up for myself and it was good. Like, really good.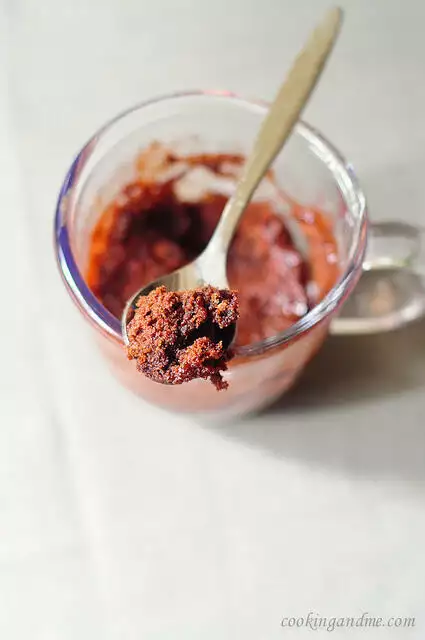 This chocolate mug cake is springy and fudge-y and tastes just like regular cake, trust me. All you need are basic ingredients which you probably already have in your pantry. Even an occasional baker or complete beginner can whip up a mug cake.
So what type if microwave is needed to make cake? For this mug cake, a generic microwave that has heating functionality is good enough. Isn't it a delightfully scary thought that now there's nothing (much) standing between you and a mug of delicious chocolate cake?
Also check out this microwave chocolate cake ready in 7 minutes, and this chocolate chip cookie in a cup recipe. Want to make cake without an oven? Here you go – pressure cooker chocolate cake recipe that turns out perfect!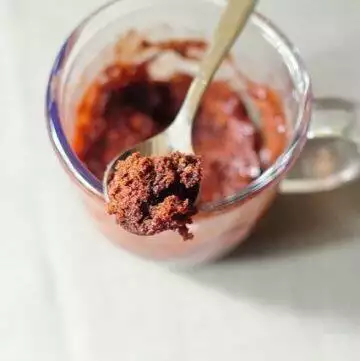 5-Minute Chocolate Mug Cake Recipe
A chocolate cake you can make in the microwave in a mug in 5 minutes. Dangerously delicious and perfect to take care of those cravings that hit at the oddest hours.
Ingredients
4

tablespoon

flour

5

tablespoon

sugar

white or brown

2

tablespoon

unsweetened cocoa powder

1

teaspoon

baking powder

1

egg

3

tablespoons

milk

any milk will do

3

tablespoons

butter

or any neutral oil

A pinch of salt

if using unsalted butter

2

drops of vanilla extract

optional
Instructions
Grab two microwave-safe coffee mugs that can hold about 250 ml liquid 

Halve the quantity of flour, cocoa, baking powder, salt and sugar and add into each mug.

Mix well with a fork.

Then halve the quantity of milk, butter, and vanilla and add into each mug.

Break egg into another small bowl, whisk with a fork, and add half of it into each mug.

Stir well until all the ingredients mix well. Make sure there is no flour stuck to the bottom of the mug.

Add one mug at a time to the microwave and cook on medium heat for 2 mins.

Every microwave acts differently and mine is a very basic one with just two knobs, one for heat level (low, medium, high) and one for time. I kept mine on medium and set each mug at 2 minutes. The cake turned out perfect.

If your microwave can show power levels, etc, keep it at medium and start with 2 minutes.

You can adjust it once you take a look at your cooked cake.
Important Notes for Making Mug Cake in a Microwave:
Bake mug cakes in regular heating mode, not convection mode on your microwave.
Stop cooking the cake when its still a bit fudge-y and goo-ey around the edges. The cake cooks a bit more while cooling down (yes you will have to wait a while after it cooks!).
For an eggless chocolate mug cake, replace the egg with 3 tbsp plain yogurt (1.5 tbsp for each mug).
If you make this without eggs, it won't be as airy as the version with eggs. Still, if you don't eat eggs, it's absolutely acceptable to go the eggless route.
You can add chopped nuts, chocolate chips or sprinkles on the cake to jazz it up.
Serve with whipped cream or ice-cream for an extra special touch. Works great if you are hosting and want a quick dessert idea
Almost all ceramic mugs can take 2-3 mins in the microwave but be mindful of what you choose. Ceramic or glass works best. Avoid plastic mugs (not just for microwave use but in general, if possible).
For chocolate mug cake recipe in Hindi, Tamil, Telugu, Kannada, etc please use the Google translate button in the sidebar.