When I start off with a title like how to make cake, it may seem very generic and even a bit random but do read on. Baking a cake can seem intimidating if you are a beginner baker. While I love cooking, baking is what really got me into the kitchen at a young age and something I immensely enjoy even today so if you are hesitating to start on your baking journey, don't! Baking differs fundamentally from stove-stop cooking but if you keep a few things in mind, it's not so hard after all.
This is why I hope this post on how to make cake with some basic tips, recipes and FAQs for beginner bakers will be useful. This topic is vast so I have kept it limited to the very basics, just to get you all started, almost the way I did many years ago.
Equipment and Tools
Before you start baking, there are a few essential things you need and then there are some tools which are not must-have but more a nice-to-have to make your baking journey easier. I have listed only the essentials based on my opinion and experience.
An Oven – although there are methods to make cake without an oven like this pressure cooker cakes, this microwave cake recipe and this steamed chocolate cake, baking in an oven is still the most conventional and convenient methods to bake a cake
Electric beater – while this is not completely mandatory and there are lots of cake recipes you can successfully follow without an electric beater or stand mixer, it's good to have one to aerate your batter more. Invest in a basic handheld one for a start and see how you go. This is a good option to get started
Other tools – here's a post detailing the baking essentials for beginner bakers which includes mixing bowls, spatula, measuring cups and spoons, etc with pictures
A kitchen scale is a good idea once you bake for a while and realise you enjoy it. Weighing ingredients is usually more preferable as it's more accurate and less prone to mistakes like scooping too much flour, or not using a level measure when using a cup, etc. I am often lazy to weigh my ingredients when baking a basic cake but have definitely found that I get more consistent results when I weigh ingredients. In fact, my mom used to even weigh eggs when baking because if you are using, say, an American cake recipe, the size of their eggs may be larger so if the recipe calls for 2 eggs, we may need to add 3 Indian eggs.
Recipes
The recipes you choose to make cake in your early days of baking will really define your success and failure. Pick one that's basic, a single layer, a flavour you and your family/friends like, and doesn't need frosting or any fancy techniques.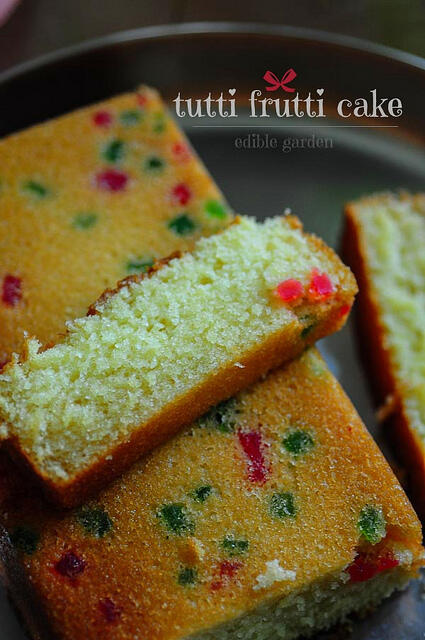 Basic cake recipes for beginners
If you are wondering how to make cake without eggs, then check out this post for a list of eggless cake recipes and here are some cupcake recipes if you want to try them.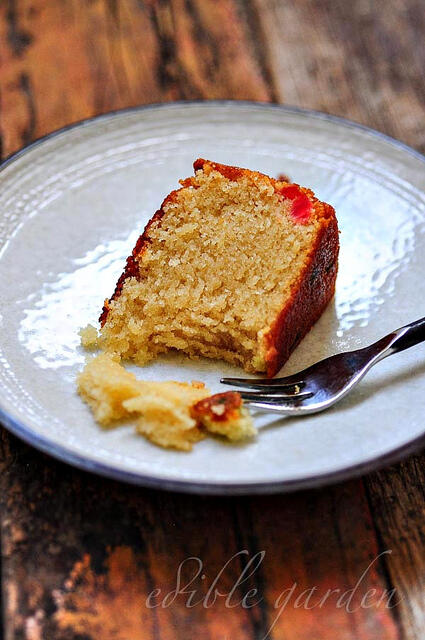 8 Things to Keep in Mind When You Bake Cakes
Oven temperature – this is a crucial one and often, our ovens lie. If you set your oven to, say, 180C or 350F, it's highly likely it's a few degrees off. An oven thermometer can help catch this and I postponed buying one for the longest time thinking it's not really needed. Trust me, getting one has really changed the game for me. My oven is actually 10 degrees hotter than what the dial claims so for 180C, I need to set it at 170C. I also leave the thermometer inside the oven, of course, to monitor the temperature and to ensure it is what it needs to be. Mine is similar to this model. It's also vital that you preheat your oven before baking. Check this post on how to preheat an oven.
Temperature of ingredients – another important one which we often ignore. Butter is often a tricky one since recipes mention "butter at room temperature" but often our rooms are very different in temperatures depending on where we live! As a rule of thumb, a block of butter should shield to gentle pressure from your fingers and sink in. If it doesn't, it's too hard and if it melts on your fingertips and is gooey, it's too warm. Also, leave eggs out well before you plan to use them and if you store flour in the fridge or freezer like I do (the bugs in Singapore hate me!), leave those out well in advance too.
Measuring 101 – I touched on this before but there's a right method to measure your ingredients even if you use measuring cups. The spoon and level method has given me the best results so far. Use a regular spoon to transfer the flour/sugar/cocoa etc to your measuring cup and then level the top with the back of a knife. This ensures you don't use too much of any ingredient. Don't press down on any ingredient (brown sugar is probably an only exception when recipes say "packed") as you fill the measuring cup, use a light hand. Using a weighing scale is a more accurate and consistent method to weigh our your ingredients
Use the right size and type of pan – In general, metal cake pans work best since they conduct heat more evenly than, say, silicon bakeware. Buy a basic round cake pan, a square pan for brownies and breads (I use them for loaf cakes too, like banana cake), and one loaf pan and you should be fine. A cupcake pan would be a good idea too if you plant to start with baking cupcakes rather than cakes or you can even make your own cupcake mould.
Use the right type of ingredients – Baking is largely forgiving to reasonable substitutes but as a beginner baker, stick with what the recipe recommends. I would highly recommend finding a recipe that's tried and tested rather than find a recipe that sounds good to you and then changing a lot of ingredients in it. For example, if you can't or don't eat eggs, find eggless cake recipes rather than substitute eggs in a cake recipe that uses them. If you want to try healthier bakes, find cake recipes with whole wheat, or that use oil instead of butter, or that use healthier sweetener options than regular white sugar. Once you get comfortable with baking, you can start exploring or even coming up with your own proportions and recipes.
Follow the recipe – There are some techniques in baking that are best followed closely. For example, when you mix the cake batter, the vigorous beating usually happens when you are mixing the fats like eggs and butter together. Once flour enters the picture, the idea is to use a very light hand and "fold" the batter. The nature and role of each ingredient plays a big part here and even if you are not keen on learning the science behind it, do follow the instructions in the recipe as closely as possible. Also note that baking powder and baking soda serve different purposes and are not interchangeable. Not all recipes need both, some need just one and some don't need any. Use a trusted recipe source and take the leap!
Tray position in oven – we already spoke about oven temperature but it's also important where you place the cake pan while baking. Typically, positioning the cake pan in the middle rack in the middle of the oven is the way to go. This ensures even heat distribution and prevents cakes from burning on top or not cooking properly in the middle.
Preparing the baking tins – Most recipes will call for greasing of the cake pan and this is a crucial step on how to make cake. The additional fat or grease you use in the cake pan not only helps the cake out in one piece after baking, but also helps the baking and rising of the cake while in the oven.
Other topics in the Basics of Baking series:
I'll be back with more baking 101 for the basics of baking series, so stay tuned!
If you enjoyed this post on how to make cake: baking 101 and would like to see more, please leave a comment below and share with your friends on social media. I appreciate the support!
For tips and tricks on how to make cake in Hindi, Tamil, Telugu, Urdu, Kannada, Malayalam, etc please use the Google translate button in the sidebar.
Please note this post on how to make cake contains affiliate links. I only endorse or recommend products I believe are good.