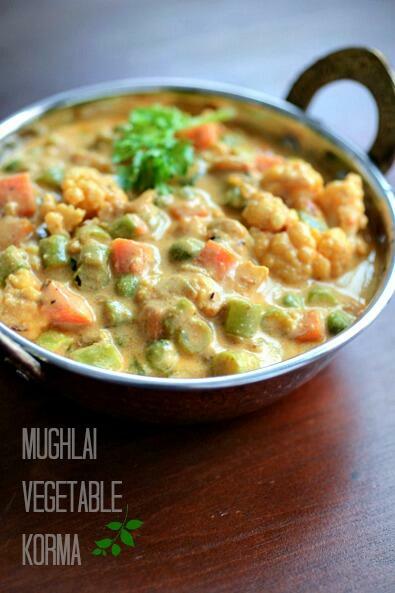 Mughlai Vegetable Korma– the name of this vegetable korma is quite a mouthful isn't it? Well the good news is, it's also super delicious when you take a mouthful with some roti or pulao (see what I did there?). Ok, I'll stop with the bad puns. Any Mughlai recipe is a bit of a weakness for me, the spicy gravies made rich with cream and/or cashew nuts, the process of adding different vegetables or paneer or meat to make it wholesome. I personally love navratan korma as long as it's not too sweet which some korma recipes tend to be. This Mughlai Vegetable Korma is a recent addition to my 'recipes for guests' repertoire because it's fail-proof and definitely impresses even the fussy eaters.

Here are some more interesting mixed vegetable recipes:
Chettinad vegetable curry
Vegetable korma with coconut
Vegetable jalfrezi
Soya chunks vegetable korma
Navratan korma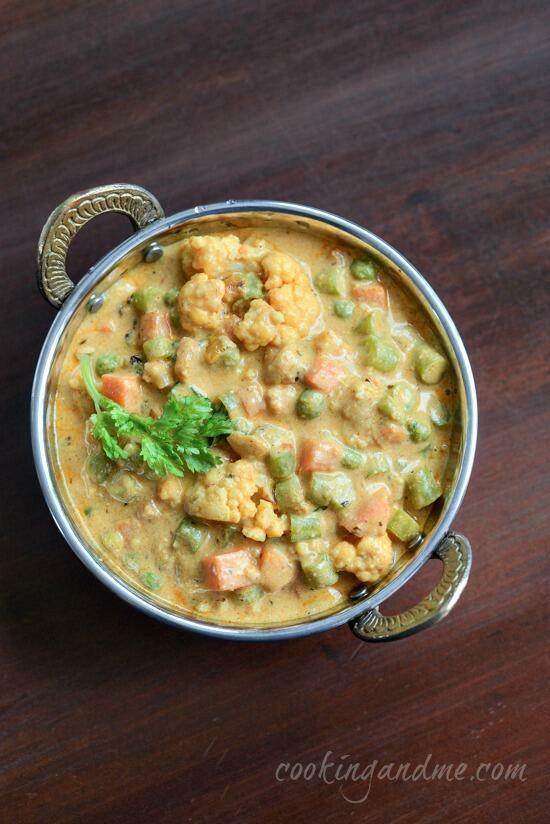 During a recent trip to Kerala, I found almost everything I ate too spicy. This was irrespective of whether I was eating my mom's cooking or outside food. So realisation has dawned on us that I have progressively been adding less and less heat to my food. Now, this is not entirely a bad thing I guess but it was interesting to note how our taste buds had adapted to this change so much that I found the local Kerala food in a thattu kada (street vendor) too spicy to eat! I bring this up because as I was reviewing the pictures of this Mughlai vegetable korma and going through my hurried notes while cooking, I have added very little spice to it. You can also probably tell from the pictures that this Mughlai vegetable korma is quite mild. However, in the interest of keeping my fiery Indian-ness intact, I have adjusted spice levels accordingly and request you to tone it down if it's not your thing.

Mughlai Vegetable Korma Recipe
Mughlai vegetable korma is a medley of cut vegetables cooked in tomato onion gravy and spices, finished off with some cream and garam masala. A rich side dish for pulao or rotis.
Recipe type:
Vegetarian Sides
Ingredients
6 cups mixed vegetables (I used cauliflower, beans, and carrots)
15 whole cashew nuts
1 tbsp raisins
2 tbsp oil
1 tsp cumin seeds
½ cup chopped onions
1 cup tomato puree (grind ripe tomatoes in a blender and then measure)
1 tbsp ginger garlic paste (freshly ground or pounded in a pestle and mortar)
¼ tsp turmeric powder
1 tsp Kashmiri chilli powder
1 tsp coriander powder
2 tbsp canned tomato paste (or 1 more cup tomato puree)
2 tsp kasuri methi (dried fenugreek leaves)
1 tsp garam masala
¼ cup cream
3 tbsp chopped coriander leaves for garnish
Salt to taste
Instructions
Soak the cashew nuts and raisins together in some warm water for 15-30 minutes
Grind the cashew nuts and raisins together with water to a smooth paste. Set aside
Add the chopped vegetables to a pan with ¼ cup water and cook on low flame until they are tender. Do not cook the vegetables to a mush, just until they turn soft
In a separate pan, heat the oil and add cumin seeds
When they sizzle and turn brown, add the chopped onions
Once the onions turn brown, add the ginger garlic paste and fry until fragrant (about 1 minute)
Then add the chilli powder, coriander powder, and turmeric powder
Fry for 30 seconds taking are not to burn the masala. Keep flame low to prevent this
Now add the tomato puree. If you are not using tomato paste, add all the tomato puree at this time. Mix well and cook for 2 mins
Now add the ground cashew nut and raisins paste along with tomato paste (if using)
Top up with 1.5 cups of water and add some salt
Mix well and let it simmer for 4-5 minutes
Finally, add the cooked vegetables and mix well
Top up with the cream and mix gently. Turn off heat
Then add kasuri methi, garam masala, and chopped coriander leaves
Serve hot with roti, nan, or pulao
Step by Step Mughlai Vegetable Korma Recipe
Soak 15 whole cashew nuts and 1 tbsp raisins together in some warm water for 15-30 minutes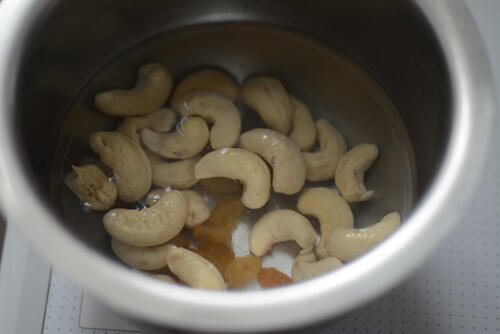 Grind the cashew nuts and raisins together with water to a smooth paste. Set aside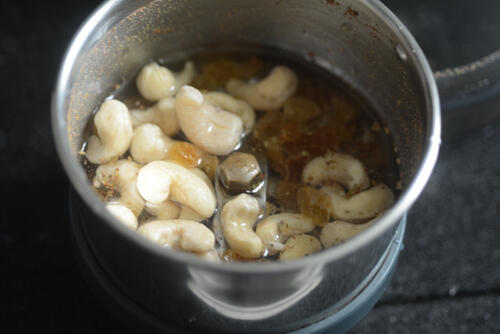 Add 6 cups chopped vegetables to a pan with 1/4 cup water and cook on low flame until they are tender. Do not cook the vegetables to a mush, just until they turn soft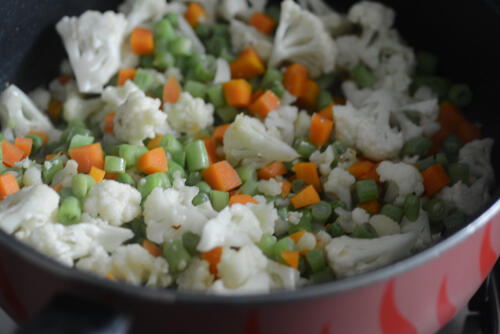 Once done, set aside. If there's any water left, keep that intact too, do not drain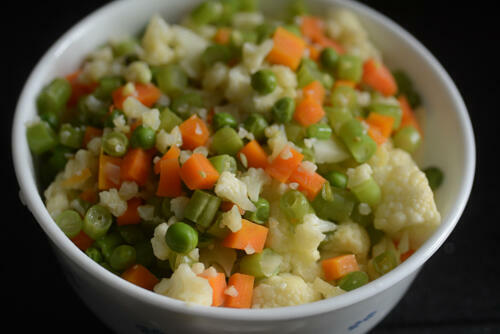 In a separate pan, heat the oil and add 1 tsp cumin seeds. When they sizzle and turn brown, add the 1/2 cup chopped onions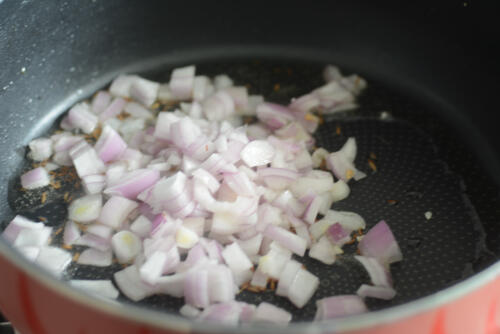 Once the onions turn brown, add the 1 tbsp ginger garlic paste and fry until fragrant (about 1 minute)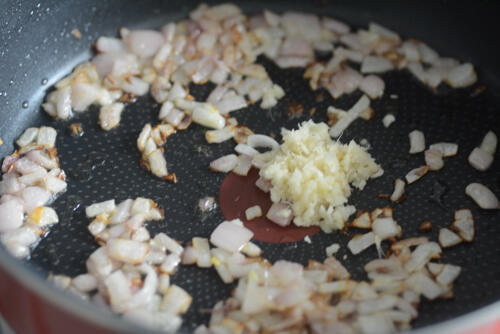 Then add 1 tsp Kashmiri chilli powder, 1 tsp coriander powder, and 1/4 tsp turmeric powder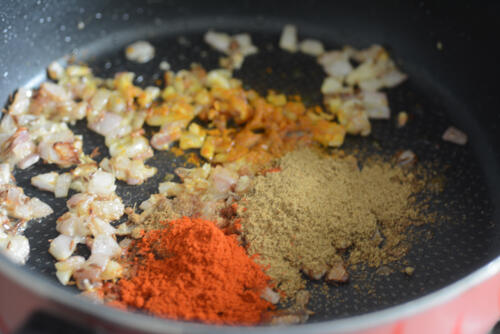 Fry for 30 seconds taking are not to burn the masala. Now add 1 cup tomato puree. If you are not using tomato paste, add another cup of tomato puree at this time. Mix well and cook for 2 mins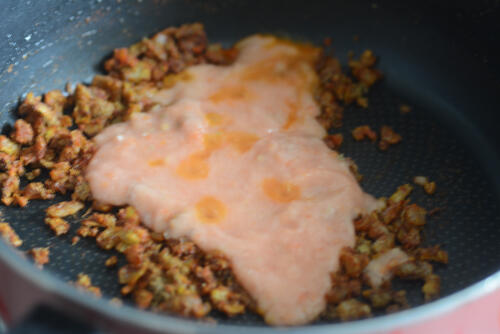 Now add the ground cashew nut and raisins paste along with 2 tbsp tomato paste (if using)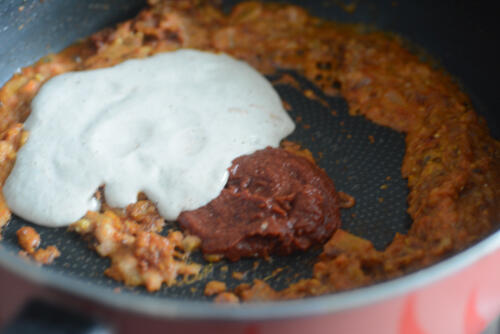 Top up with 1.5 cups of water and add some salt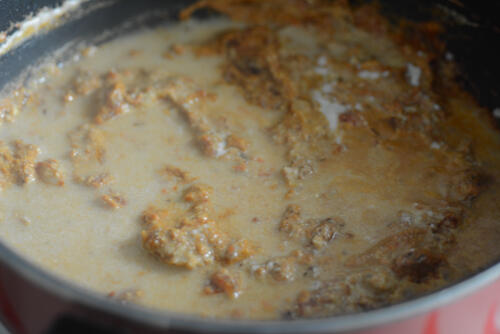 Mix well and let the korma simmer for 4-5 minutes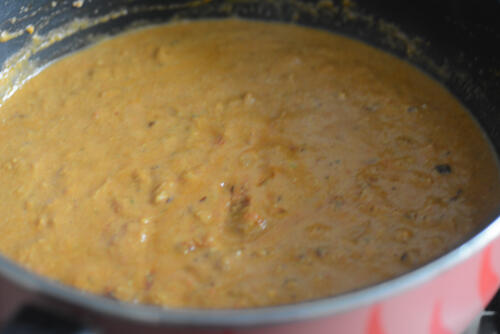 Finally, add the cooked vegetables and mix well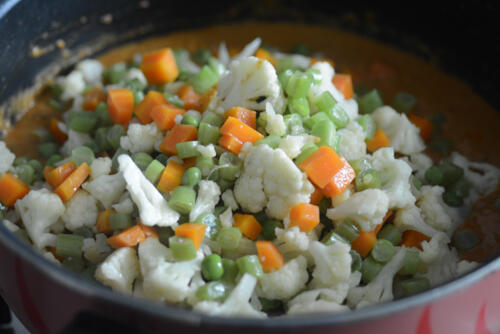 Top up with the cream and mix gently. Turn off heat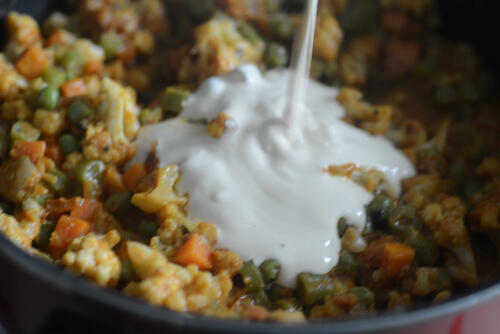 Then add kasuri methi, garam masala, and chopped coriander leaves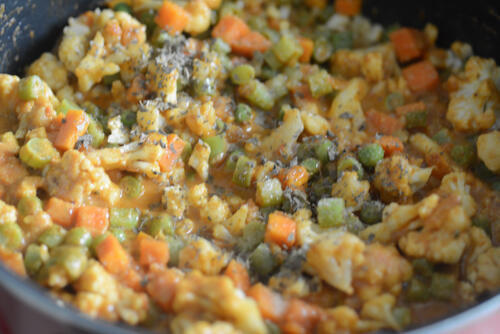 Serve Mughlai vegetable korma hot with roti, nan, or pulao
Notes:
– If using regular chilli powder instead of Kashmiri chilli powder, add lesser amount since it will be more spicy.
– Adjust all spices to your preference. This quantity in a fairly mild side dish
– You can add more vegetables or even paneer and pineapple to this korma
– Add some whole cashew nuts to the korma along with the vegetables for added richness
– The cream is optional but recommended
– If you don't use Kashmiri chilli powder or the tomato paste, the colour of the korma won't be so dark