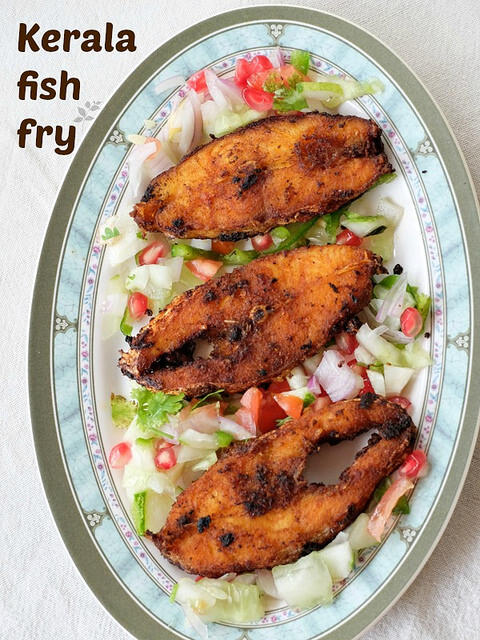 Fish Fry Recipe and how to make it Kerala-style. This recipe for Fried fish (meen varuthathu, varutha meen) is simple, tasty, and it's how the Malayalis do it, although I must admit that every home will have their own version and method of making fish fry. especially the recipe for marinating the fish before frying.
In Kerala, a non-vegetarian home usually has some form of fish at the table every single day. The fish is bought fresh from a passing man/woman with a basket of fish over his or her shoulder.

I am sure I have mentioned him before but our fish man was called English Mathukkutty. He only spoke in English (which, as you may know, is not common in day to day Kerala life) and would describe his fish as still "jumping" and "shivering" because they are so fresh and just out of the water.
In our home, since we were meant to be vegetarians but got "corrupt" along the way, Amma bought fish only 2-3 times a month. So it was always a special meal when there's fish and while there was so many different ways you can prepare fish, the fried kind is always the most popular.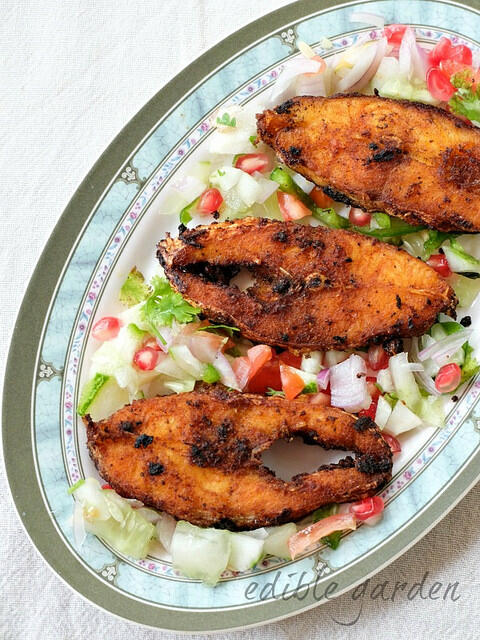 Typically, we would buy a few pieces, marinate them, and leave a piece per person out for frying that day and freeze the remaining. This would give my mom respite on days she gets busy with work (she's a businesswoman and is always doing multiple things at the same time) or didn't feel much like cooking.
Fried fish is popular throughout India but the marinade recipe would change quite a bit. Apart from this Kerala-style fish fry, I also love Chettinad fish fry but that's a recipe for another day.
Love fish? You can browse all fish recipes here or check out my favourites below:
Fish curry with coconut milk
Fried anchovies recipe
Kerala-style prawn roast
Bengali fish fry
Fish moilee

Kerala-Style Fish Fry Recipe
Kerala-style fish fry recipe, a simple marinated fish fry recipe that you can either pan fry or deep fry. Goes great with rice and any curry
Ingredients
4 fish steak pieces (King fish or pomfret work well)
½ tsp of red chilli powder
½ tsp of black pepper powder
1 tsp of minced garlic (3-4 flakes)
1 tsp of grated ginger (a 1" piece)
1 tsp of vinegar or lime juice
2 tsp of shallots (small onions), crushed, optional
¼ tsp of turmeric powder
A few curry leaves
Salt to taste
Oil for frying (I use coconut oil)
Instructions
Cut and clean the fish pieces. I buy the fish steaks cut into the right shape so it makes preparation really simple
Let the cleaned fish drain in a colander placed inside the sink (or another vessel if you wish). We need the fish to be as dry as possible before slathering in the marinade
To prepare the marinade, there are two options:
You can add all the ingredients into a spice grinder and grind to a paste.
If you are using readymade ginger garlic paste (I don't recommend this, freshly made paste is better for this recipe), then you can just mix everything in a bowl
If the paste is too thick, add a teaspoon of water. The marinade should be a thick paste and not watery; with this proportion of ingredients, I usually don't need to add any water
Using your fingers, generously slather the marinade all over the fish pieces
Plate in a bowl or plate, cover and set aside for 30 minutes. You can leave it overnight in the refrigerator if you don't intend to cook it immediately
When ready to fry the fish, heat oil in a pan until it almost begins to smoke. We always pan fry the fish with just enough to cover the fish halfway and that works great
Once the oil is hot enough, gently place the fish pieces into the oil
Keep flame at medium and cover the pan while frying to prevent the spluttering oil and marinade getting all over you and the stove
The moisture from the fish and the heat from the oil will fry-steam the fish in this method
Once the first side of the fish is a dark golden brown, gently flip over and keep covered until the other side is cooked
Needless to say, you must not allow the fish to overlap while cooking.
Serve fish fry hot with sliced onions and lime wedges
Step by step pictures to make Kerala fish fry:
Cut and clean the fish. Grind or mix together the ingredients for marinade and generously slather the fish pieces in it with your fingertips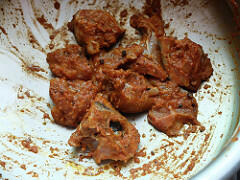 Cover and set aside until ready to fry. You can leave it for 30 minutes or refrigerate overnight. When ready to fry, heat oil in a pan for shallow frying. The quantity of oil will depend on the size of your pan. Gently lower the fish pieces into the heated oil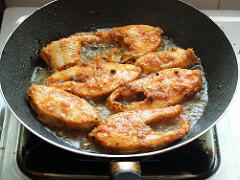 Keep covered and cook on medium heat until the first side is a dark golden brown. Gently flip over to fry the other side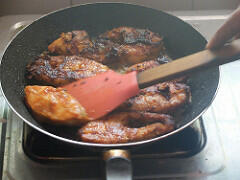 Cook the other side until done. Adjust the frying time to your preference. If you fry longer, the fish will turn crisp and darker whereas removing it when both sides are about done and fried, the outside will be done and the inside will be softly cooked. At home, we usually prefer the latter.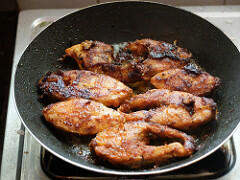 That's it! Kerala fish fry is ready to be served with some sliced onions, rice, and curry.
For fish fry recipe in Tamil, Telugu, Kannada, Marathi, Hindi, Urdu, Malay, etc please use the Google translate button in the sidebar.