This chow chow capsicum curry is more of a dry curry recipe with some coconut and minimum spices. The sweetness of chow chow lends itself well to the flavours of capsicum and red chillies. Serve with rice and
tomato rasam
for a simple and tasty meal.
Chow chow tends to be a bit of a pain to peel due to its irregular surface. On top of that, it has some slime as you peel, which can stain your clothes and make your fingers stick long after. A tip when peeling chow chow – rub some oil on your palms and use the peeler as best you can. After that, chop it up and remove the remaining skin using your knife. In spite of giving out all this wisdom, I do sometimes deter from buying chow chow just because I am lazy to peel and chop it. There, I said it!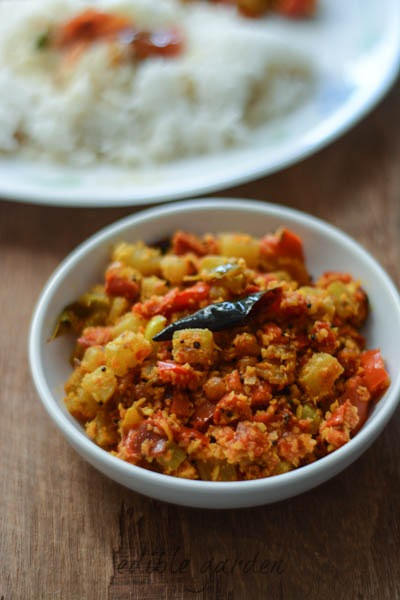 Simple recipes are the top priority in the mad rush that's my life right now. Chow chow (or chayote squash) is a readily available vegetable here and I love its inherent sweetness and texture in anything. While I usually default to chow chow kootu, we needed something to go with rasam rice and so this Kerala thoran-inspired dish was born.
We moved to Singapore over a month ago and stayed in a temporary place for 30 days. Our stuff arrived last week and we were magically able to coordinate moving into our rented apartment around the same time. More than half our things are still in boxes as we wait for new furniture to get delivered but I've managed to clear out the kitchen counters to be able to cook simple dishes, a welcome change after almost 45 days of eating out. I even managed an 8-day trip to San Francisco in the middle of all this!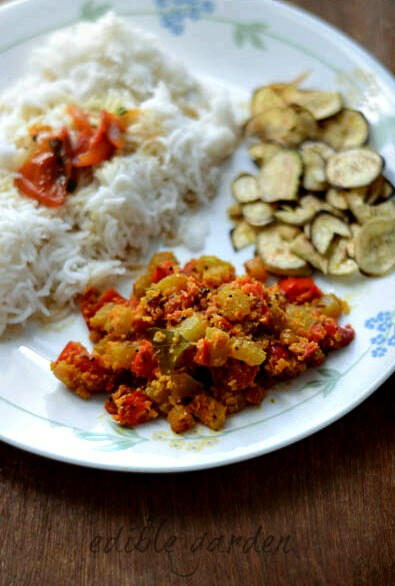 I have set up a pantry from scratch numerous times and there's always a list of items I prioritise. Coconut tops the list and I find it hard to cook without it for more than 2 days in a row. Basic spices like coriander, cumin, turmeric, etc obviously feature in the list too. While a stir-fry is easier to put together and needs no grinding, there's something to be said about a coconut-based side dish to go with rasam and so this chow chow capsicum curry was born. You can customize in many different ways, using green chillies instead of red chilli powder, adding more capsicum in different colours, etc. I will leave that to your imagination.
A quick note to everyone who has been leaving lovely messages on Facebook and such. The fact that some of you missed posts made me get to work at 7am today just so I could post a recipe. There's no Internet at home yet and that's not going to change for another 10-12 days. Turns out life does go on without the Internet too!
For more delicious chow chow recipes, check out:
Chow chow kootu recipe
Chow chow chutney recipe
Chow chow sambar recipe
CHOW CHOW CAPSICUM CURRY RECIPE
Preparation time: 10 minutes
Cooking time: 20 minutes
Serves 4
INGREDIENTS:
2 cups of chow chow (chayote squash), cut into small cubes
1 cup of capsicum, cut into small cubes
1/4 cup of grated coconut
3/4 tsp of cumin seeds
1/2 tsp of red chilli powder (adjust to taste)
2 of shallots (optional, but recommended)
A few curry leaves
2 tsp of oil
1/4 tsp of mustard seeds
1/4 tsp of turmeric powder
INSTRUCTIONS:
Heat oil and add the mustard seeds. When they pop, add the curry leaves, turmeric, and all chopped vegetables.
Stir well, lower heat, and cook covered for 10 mins or until the chow chow has turned soft. The capsicum should be cooked within this time too. You can sprinkle some water if needed but the water let out by the chow chow should be enough to cook it. Keep flame low to prevent the vegetables burning.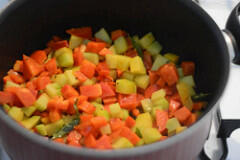 While your vegetables are cooking, coarsely grind the coconut with cumin seeds, chilli powder, and shallots. Do not add water while grinding.
Add this coconut mixture to the cooked vegetables along with some salt and stir through.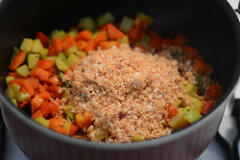 Cook for another 3-4 mins, stirring frequently. Check for salt and if all okay, remove from heat.
Easy, wasn't it?
Serve chow chow capsicum curry with rasam or sambar and rice. I also added some microwave banana chips to the meal to keep things crispy and interesting.