TH and I both love
raw banana
(
kache kele
in Hindi,
vazhakkai
in Tamil) and this
raw banana kofta recipe
is a keeper just for reason alone. I often make
vazhakkai podimas
or
roasted raw banana
to go with a simple rasam but snacks using raw banana were new to me. While I am sure it's very nutritious and healthy, raw banana also has this firm yet creamy consistency when cooked which makes it very versatile to make Indian snacks with as well – like these
raw banana koftas
.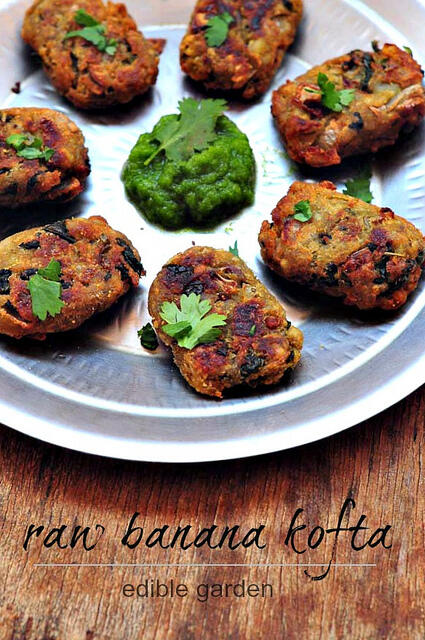 A brain-child of my mom-in-law, this kofta is a variant of kebabs that usually includes meat and any herbs of choice. This is a vegetarian kofta kebab using raw banana as the main ingredient and we've used mint and coriander leaves both in the kofta and in the green chutney served with it. When mom in law told me she has a few easy and quick snack recipes to share with me, I got super excited and we made these koftas and the palak aloo tikkis at the same time as a snack with evening tea.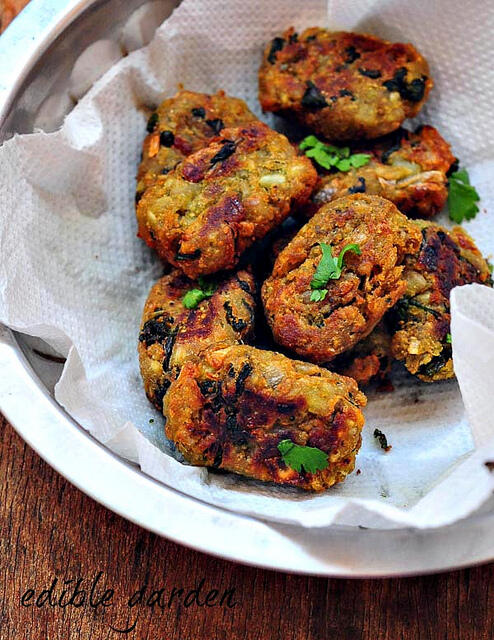 I am positive you can bake these kofta on a skewer (or without) with some drizzled oil on top but we cooked it in a heavy skillet with a few drops of oil until the koftas turned golden brown on both sides. It's reasonably quick to make except the time it takes to pressure cook the raw banana. I also love that we whipped up a quick green chutney to serve with the koftas and a bit of this is also added to them before cooking! Quite a brilliant idea that is, in my opinion.
Check out my post on quick and easy snacks under 15 minutes for more snack ideas, especially for parties and for after school evenings.
RAW BANANA KOFTA RECIPE
Preparation time: 25 minutes
Cooking time: 20 minutes
Makes 12 koftas
Recipe Source: Mom-in-law
INGREDIENTS:
1.5 cups of boiled and mashed raw banana
1/2 cup of finely chopped onions
1/2 cup of tightly packed mint leaves
1/2 tsp of powdered cumin or jeera
1 tsp of salt (adjust to taste)
4 tbsp of oil, or as needed
For the Green Chutney:
1/2 cup tightly packed coriander leaves
1 green chilli
A few pieces of sliced onion
A small piece of ginger
2 cloves of garlic
A pinch of salt
1/2 tsp chaat masala
INSTRUCTIONS:
1. Boil or pressure cook the raw banana, peel, mash and set aside in a bowl.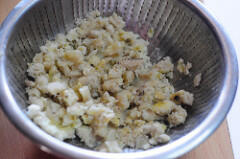 2. Heat 2 tsp oil in a pan and lightly saute the onions until it is soft. No need to brown them.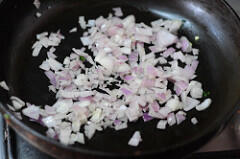 3. Add the mint leaves and saute until wilted. Turn off flame and set aside.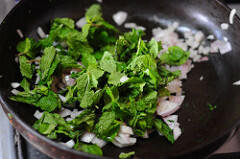 4. In a small mixie jar, grind together coriander leaves + onions + green chillies + ginger + garlic + chaat masala + salt to a smooth paste.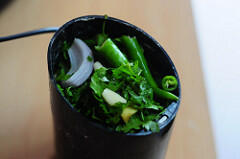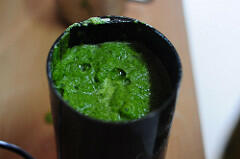 5. Add 2 tbsp of the green chutney and the sauteed onion mint mixture to the mashed banana. Add more salt and the cumin powder.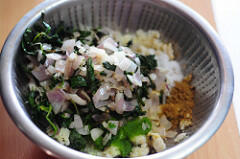 6. Lightly combine the mixture with your fingertips and shape into 1″ thick slightly oblong pieces. Well, the shape doesn't matter, it's up to you.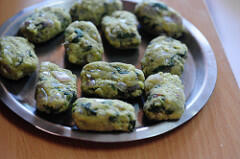 7. Add a few tsp of oil to a skillet and shallow fry the kebabs until both sides are golden brown. You can alternatively try baking them.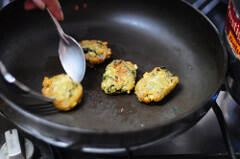 Serve the raw banana kofta with more of the green chutney.
Notes:
– if the banana mixture seems too sticky add some raw rice powder or besan to the mixture
– you can make a gravy like for malai kofta and add these koftas to make raw banana kofta curry, a great side dish for rotis
– you can shallow fry the koftas in more oil and then cook it on a griddle to crisp it up further if you feel like the method above is not cooking them properly. We did for some of the koftas in the batch pictured above
For Kache Kele Kofta recipe in Hindi, please use the Google Translate drop down box on the right hand sidebar.