Both TH and I love capsicum (or bell pepper) and this Capsicum Masala Recipe is my quick go-to on weeknights when I need a side dish for rice or roti that can also be packed in TH's lunch box the next day. Capsicum Masala works great because although the vegetable cooks up very quickly, it doesn't get all mushy. Also, the inherent sweetness in capsicum is very appealing.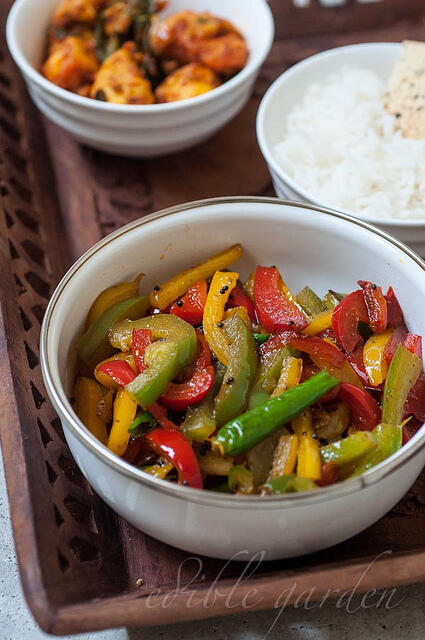 I mix up three different colours of capsicum for this dish usually just to make it more appealing and also, the peppers all have different levels of sweetness, the red being the sweetest. You can choose the spices you want to add, I keep it minimal just letting the capsicum shine through as much as possible.
You may also like these Indian capsicum recipes:
Capsicum besan zunka
Capsicum masala rice
Capsicum and tomato dal tadka
Chana masala with capsicum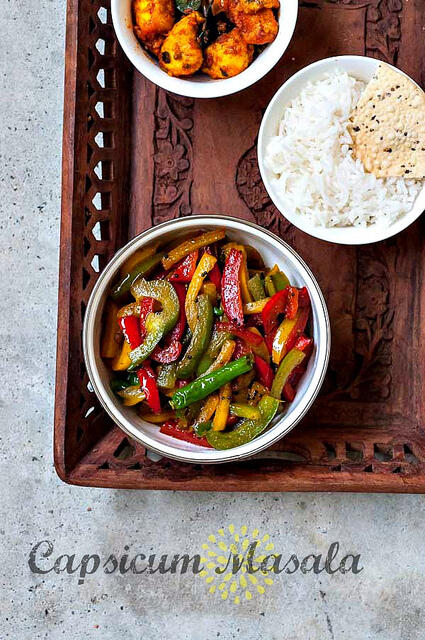 Use the freshest capsicum you can find and use it on the same day as buying it for best results. The juicier and crunchier the peppers, the better.
CAPSICUM MASALA – BELL PEPPER STIR FRY RECIPE
Preparation time: 5 minutes
Cooking time: 15 minutes
Serves 4
Ingredients:
3 capsicum, any colour or a mix, sliced long
3 cloves of sliced garlic
1 tbsp of oil
1/2 tsp of mustard seeds
1/4 tsp of turmeric powder
2-3 green chillies (or 1/2 tsp red chilli powder)
1 tsp of curry powder or garam masala (or add coriander powder, jeera, anything you prefer)
A few curry leaves, optional
How to Make Capsicum Masala:
1. Heat oil and add the mustard seeds. When they pop, add the sliced garlic and fry for 5 seconds.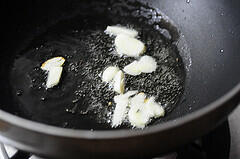 2. Add the sliced capsicum and slit green chillies to this and mix well. Add salt and cook until the capsicum turns soft – about 6-8 mins.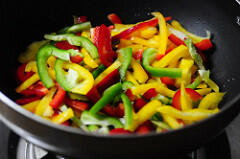 3. Next, add the turmeric powder and the spices of your choice. Mix well and add curry leaves.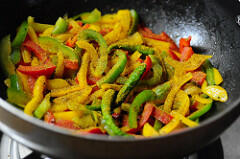 4. Cook for another 3-4 mins until fragrant. Adjust salt and remove from flame.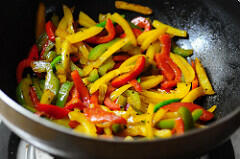 Serve hot with steamed rice and kuzhambu or rotis.
Notes:
You can add onions and ginger if you prefer. I wanted to make capsicum masala as simple and easy as possible
You can add in one more vegetable like brinjal or potato to this to give it more texture. I tried it with brinjal once and we loved it