Vazha Pindi, Vazhai Thandu, Banana Stem
, whatever you call it, it's a pain to prepare before you cook. There, I said it. I postponed buying it for a long time because I just didn't feel it was worth it to spend this much time and end up with just one dish for two people. I would still need to make the rest of the meal!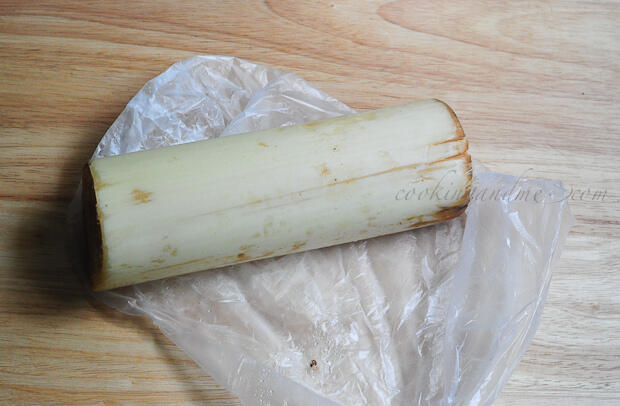 But, BUT, it's not all bad. Banana steam is fibrous and nutritious so once in a while, maybe like once a year which is what I do, it's good to take the time out and do this and maybe eat it with leftover rasam and rice from the previous day.

How to Prepare Banana Stem for Cooking
The outer layer of the stem is usually removed when you buy it from vegetable stores. But, it's good to strip off one more layer before using, unless your banana stem is super fresh. Mine wasn't that fresh so I did that.
Cut the banana stem into thin discs, gently. As you do this, you will notice fibres refusing to let the discs go from the larger chunk. With your index finger, remove those fibres using a circular motion. Or however you please. Just remove them.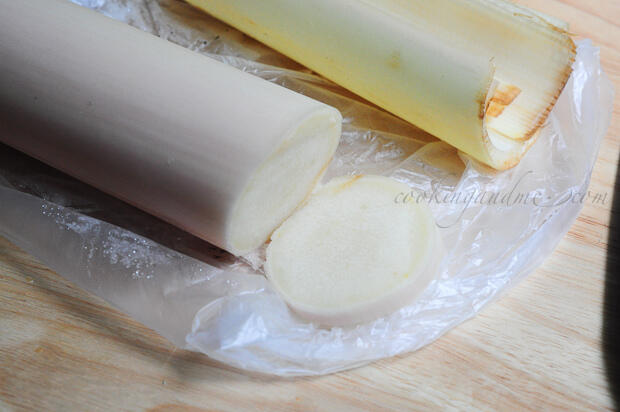 Side story: I remember my mom doing this. She would use the traditional aruva mona for chopping and use a swift motion to remove the fibres. At the end of it, she would have a thick, darkened, layer of banana stem fibre wound around her index finger.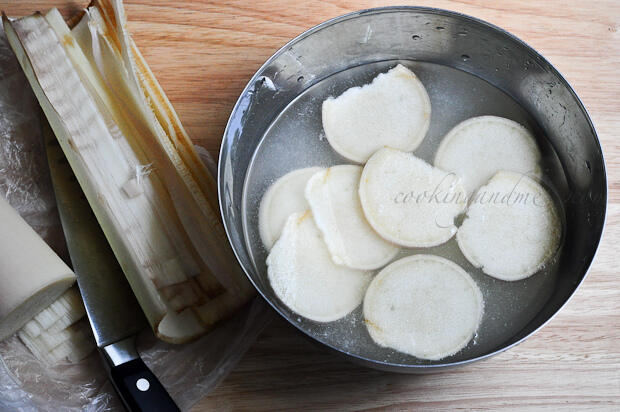 Dunk these discs into a bowl of diluted buttermilk. I just added a spoon of yogurt to some water and used that. Once you are done cutting up the entire stem, you can chop these further depending on what you are making.
Need ideas for recipes with banana stem? Check out vazhai thandu poriyal or vazha pindi thoran. Another interesting, unique recipe coming soon!