It definitely doesn't seem that long but just over 2 years back, I had posted a
review of Irvin's Seafood Place
when they were in River Valley Road.
Well, a lot has changed since then. They have moved to Upper Thompson Road, changed their name slightly, set up a lovely more upscale restaurant space, and revamped their website and even their menu.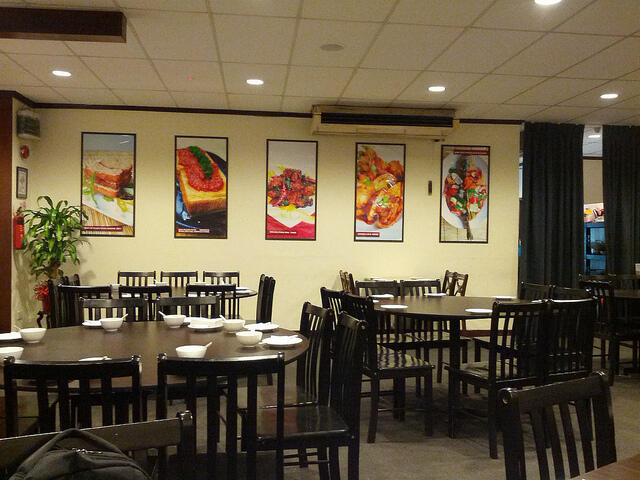 Steph from Irvin's invited TH and me for a meal so we headed down there last week for dinner. We got the most amazing welcome ever and TH was all "wow! what did you do to get treated like this?". Hehe.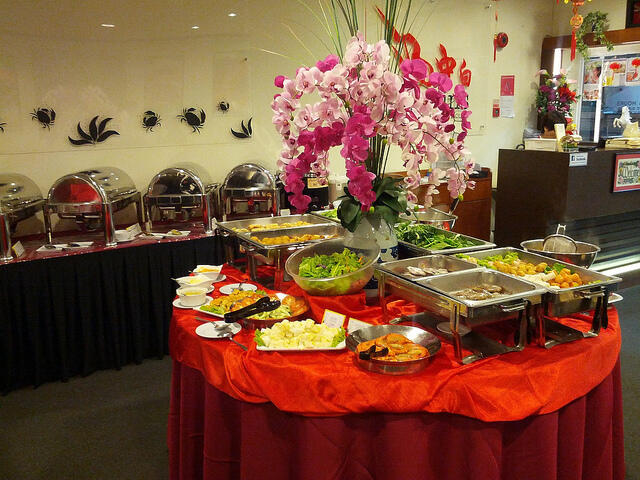 We were greeted by a beautifully arranged buffet but we were there for food tasting from the ala carte menu, which btw, is quite extensive.
Irvin's is known for their very reasonably priced crab dishes, especially the salted egg crab which I tasted the last time I was there. So this time, I was recommended the salt and pepper crab that comes with a lot of fried garlic garnish.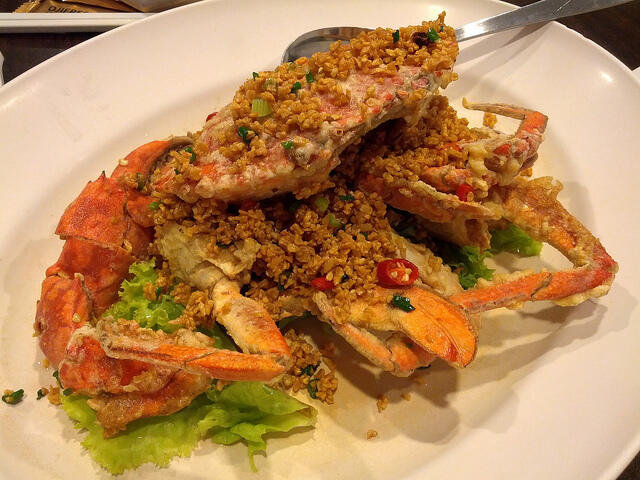 Admittedly, I get a bit thrown off by the look of a crab on a plate but this was quite delicious. It's cut up nicely for our convenience so there wasn't any awkward moment with me and pliers and crab legs.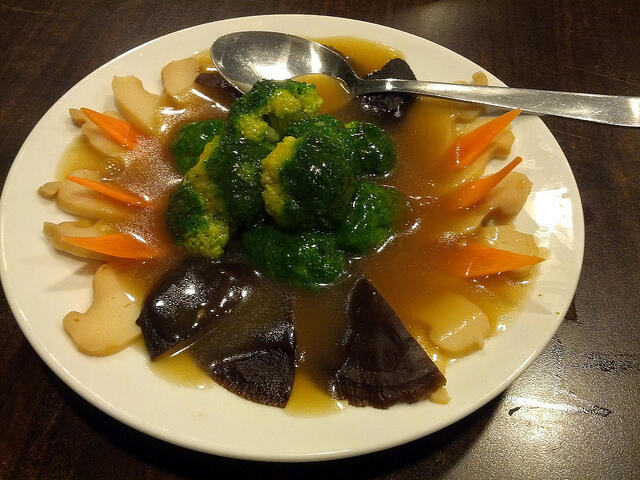 TH got a pretty nice plate of mixed vegetables cooked with mock meat. The vegetables were cooked perfectly and very fresh. He didn't care for the mock meat much but I thought it was very good.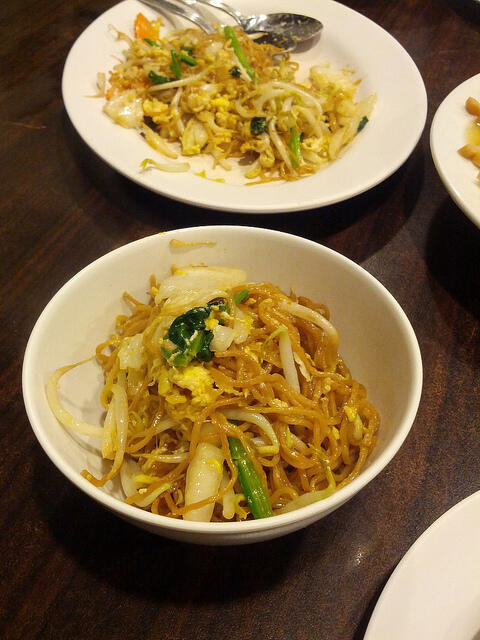 We ordered one plate of Hong Kong noodles (vegetarian, with egg, you can request for no egg too) and one plate of steamed plain rice. The noodles was excellent. I would go back just for this.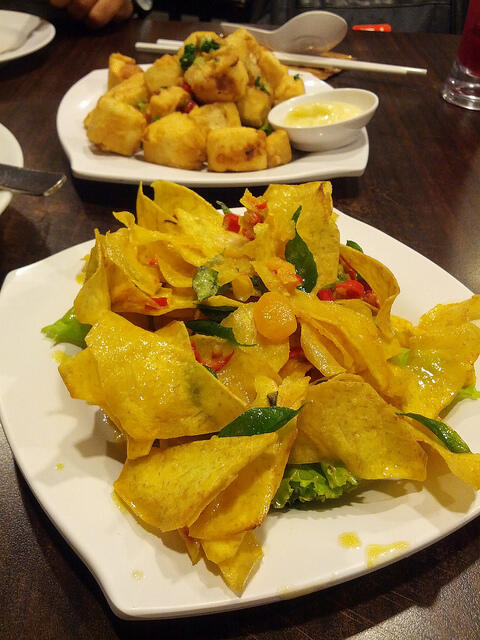 But I don't need to because this right here is one of the tastiest plate of chips I've ever eaten. They are yam chips doused in salted egg sauce. It was absolutely delicious and very very addictive.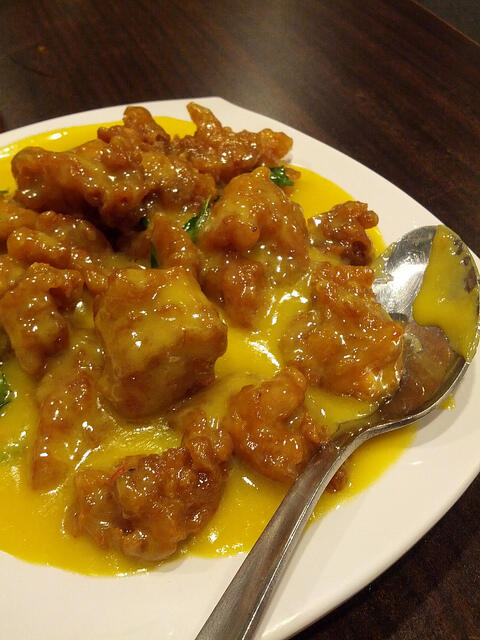 This here is butter chicken. Looks very different from the Indian butter chicken, right? Well, it tastes different too. There's a ton of curry leaves and the chicken is super crispy. However, it's very heavy. I couldn't eat more than 2 pieces and had to pack the rest for home. This is a perfect dish to order if you are large group and have enough to share with.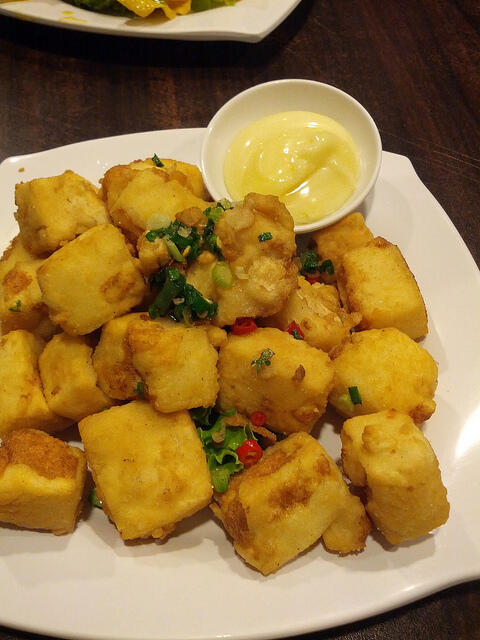 Salt and pepper tofu with mayo dip, another favourite for TH. He likes tofu and it is usually the only vegetarian item on the menu for him but Irvin's is super good about customizing dishes so this was a sure win, We brought back the rest and re-heated it the next day. Still tasted great!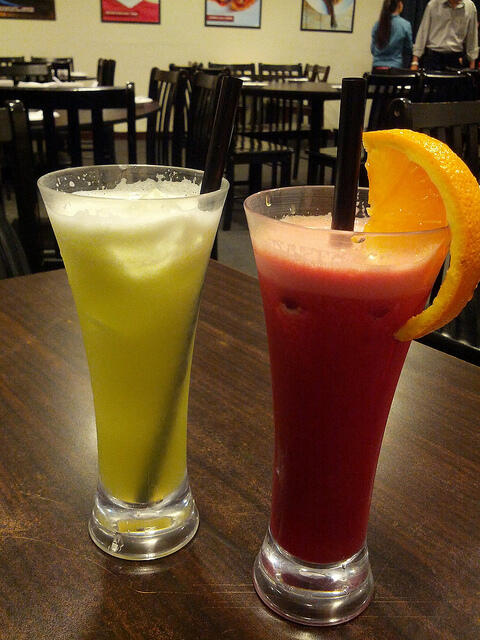 Oh, our drinks. How could I forget that? The one on the right is the Eat Your Vegetables drink which is a mix of orange, beets, and spinach. I was skeptical so I ordered the melon juice on the left but the EYV was yum. You really can't taste the spinach and there's an undertone of beets, but mostly you just taste the orange juice. It was fresh and refreshing.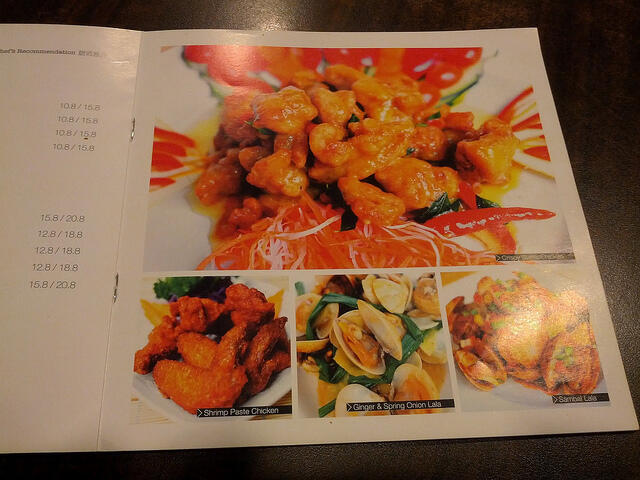 We were too full for dessert but definitely plan to try the fried ice cream on the menu. Irvin owns the Leban HK Cafe next door too so you can order from both the menus. In fact, our drinks were from Leban cafe next door.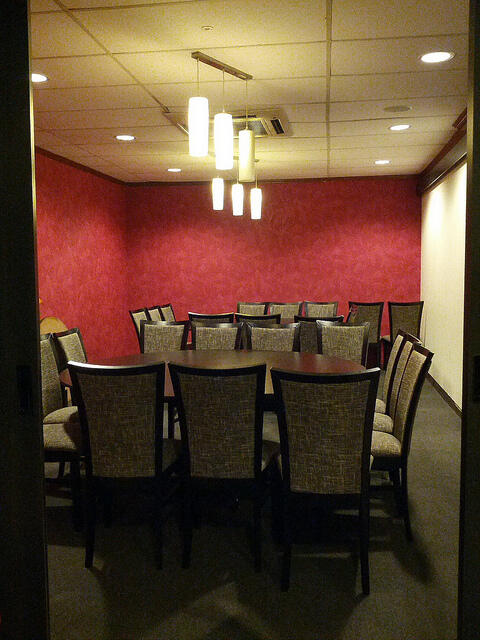 Final verdict: I was impressed by Irvin's Seafood House the first time around and I will say that again. It's a great place to go in large groups, especially. In their new restaurant, they have private spaces for you to reserve and that leaves you and your group alone. On the day we went, there was a b'day party going on and I hear that corporates love booking the place too because the food is great, the portions are family-sized, the crab is cheap, and they have a space for themselves to crack confidential office jokes in!
Avg price per person – SGD 25-30
Ideal for groups of 4 or more
Irvin's Life Seafood House
No. 4 Jalan Leban, Upper Thompson Road
Singapore, 577548
Website
For reservations, enquiries, takeaways, deliveries and catering, call 6836-5020.
Disclaimer: This is an unpaid, unbiased review. Our meal was complimentary but there was no obligation to write about them, especially good things.