Learn how to make Methi Sambar with this easy recipe using methi leaves and a great and fresh Sambar recipe.
Today is a leap day, a once-in-4-years type thing that I didn't want to miss so although I am in KL living out of a suitcase for the next couple days, I wanted to share something here using the very wonky Internet from my hotel room.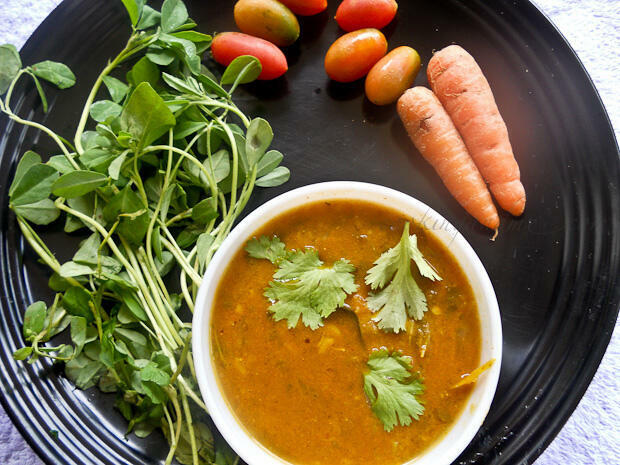 Any recipe that amma sends me, especially if it's along with 'styled' pictures that my uncle Radha mama takes, is special. Methi, or fenugreek leaves, are not very common in Kerala and you don't often see it in every vegetable stall. So amma grew her own (but of course). Then she made sambar with it and I think her argument was "if you can make dal with it, I can make sambar with it". Well of course you can amma. The cherry tomatoes you see in the pic are also from her small garden.
Here's the recipe, from her kitchen to yours.

Amma's Methi Sambar (Vendhaya Sambar) Recipe
Preparation time: 15 mins
Cooking time: 40 mins
Serves: 4
Ingredients:
1 bunch fresh methi (fenugreek leaves), cleaned and chopped
1/2 cup toor dal, (pressure) cooked until soft and mushy
1 carrot, chopped (optional)
1 tomato, chopped (or a few cherry tomatoes, halved)
A handful of shallots, peeled
1 lemon-sized ball of tamarind
2 tbsp sambar powder
1/4 tsp turmeric powder
A pinch of sugar
Salt to taste
For tempering:
1 tsp ghee or oil
1/4 tsp mustard seeds
1/4 tsp powdered jeera / cumin
A generous pinch of hing / asafoetida
A few shallots, sliced long
How to Make Vendhaya Keerai Sambar:
1. Soak tamarind in 1 cup warm water for 15 mins. Extract juice and discard the pulp. Transfer this to a pan along with the sambar powder, salt, turmeric powder, tomato, shallots, carrot and chopped methi leaves. In Kerala, a typical sambar consists of a few vegetables all added in together and this is how amma makes her sambar. You can omit the carrot if you want to keep it simple but the tomato is definitely recommended.
2. Bring the above mixture to boil with 2-3 cups of added water for about 15 mins. Add sugar and the cooked dal. Bring to boil and mix well. Adjust salt. Remove from fire.
3. Heat a small pan and add the ghee along with the rest of the ingredients for tempering. When the mustard seeds pop and the shallots turn a light brown, remove from fire and dunk straight into the cooked sambar. Mix well.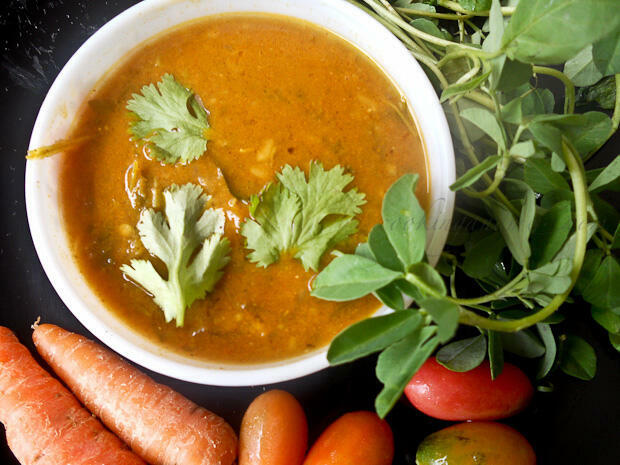 Note: Don't add curry leaves or coriander leaves to this sambar. This is to ensure that the flavour of the methi is dominating. I know the picture has some coriander leaves but that's just amma trying to make the sambar look pretty for the picture 🙂
Huge thanks, as always, to Amma and Radhmams for the Vendhaya Keerai Sambar pictures and recipe 🙂