When you have people like my athamma (appa's sister) and amma at home, there's no dearth of cooking inspiration. My athamma of the
welcome drink recipe
fame, made this vethalai rasam one day and my amma seeing how unique it is, immediately tried it at home, made my mama (her brother) take pics, and sent them to me.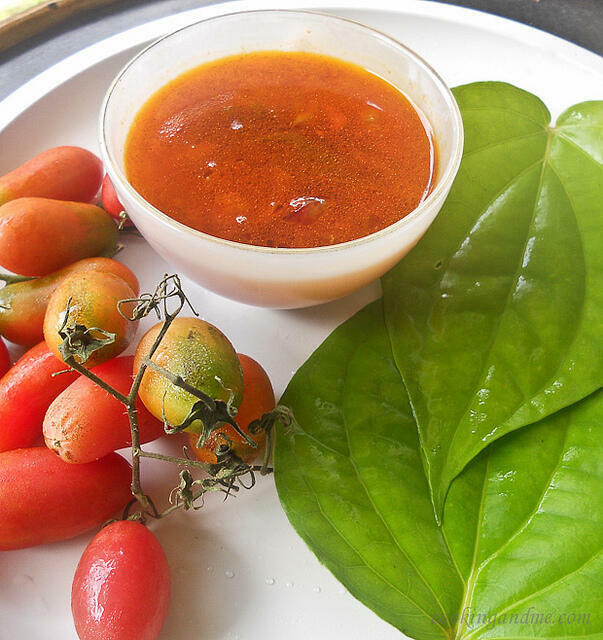 I must add that the cherry tomatoes you see in the pic were grown by her and the vethalai is also from our front yard. To say my mom has a green thumb would be an understatement. I could go on and on about that so I will save it for another post maybe.
Betel leaves or vethalai are used traditionally in India for making paan. It's widely used all over the country for this purpose and in the south, it's also considered auspicious and makes it's way into weddings and other ceremonies where you would use it to give dakshinai to your elders and take their blessings. I am not good at explaining traditional practises but they are fascinating to say the least. You must look it up if this sort of stuff is interesting to you.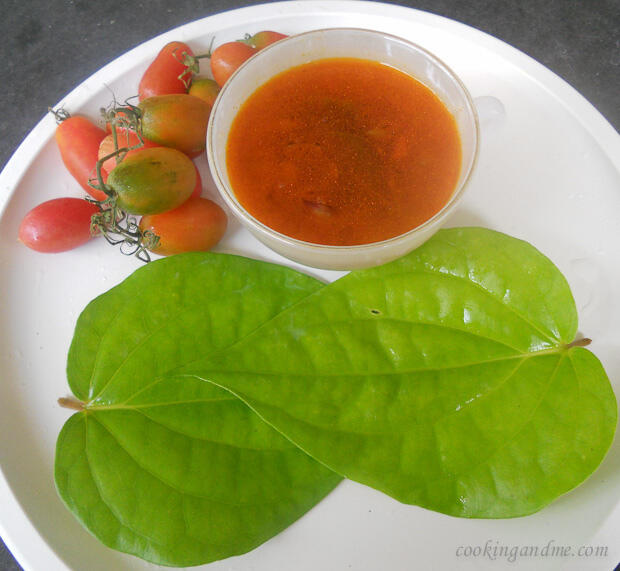 Back to the rasam recipe. In Kerala, or we Reddiars atleast, make rasam quite differently from how the Brahmins and the tamilians make it so don't pounce on me saying this is not authentic and other such useless things. This is how we make rasam, the end.
Betel Leaves Rasam / Vethalai (Vetta) Rasam Recipe
Serves 4-6 people
Ingredients:
3 cups of
water

2 medium-sized of
tender betel leaves / vethalai / vetta

1/4 tsp of
turmeric powder

1/2 tsp of
jeera / cumin powder

6 flakes of
garlic (the small Indian variety)

6 Asian shallots

4-5 cherry tomatoes or 1 medium-sized regular tomato
1/4 tsp of
black pepper powder

A small lemon-ball-sized tamarind

2 sprigs of
curry leaves

1 generous pinch of
perungayam / hing / asafoetida / kaayam

1 tbsp of
oil or ghee

Salt to taste



How It's Made:
1. Soak the tamarind in the water for a few mins. Extract juice and discard the pulp. Set aside.
2. Roughly grind the garlic and shallots together in a pestle and mortar or small mixer.
3. Heat oil in a pan and add some mustard seeds. When they pop, add the crushed garlic-shallot mixture along with the hing. After frying it for about 20 seconds, add the pepper powder, turmeric powder, and jeera (you can add some red chilli powder too if you want more heat) and fry a bit longer. Take care not to burn the spices. Add the tomatoes and fry until soft.
4. Add the tamarind water with some salt and the curry leaves and bring to boil. After about 5 mins of boiling, add the vethalai leaves, each torn into four. Remove from fire and serve hot with rice.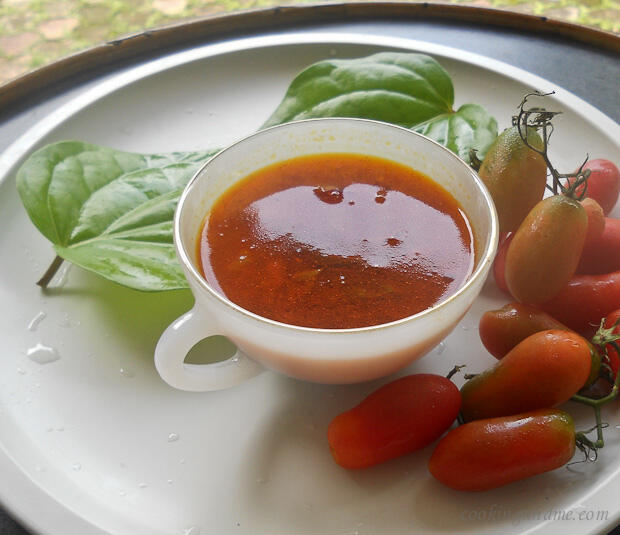 Note that you ideally shouldn't garnish this rasam with coriander leaves because that may overpower the flavour of the betel leaves. Curry leaves are fine but you can avoid that if you'd like too
Let me know if you try this, I haven't done so yet, need to get my hands on some betel leaves first!