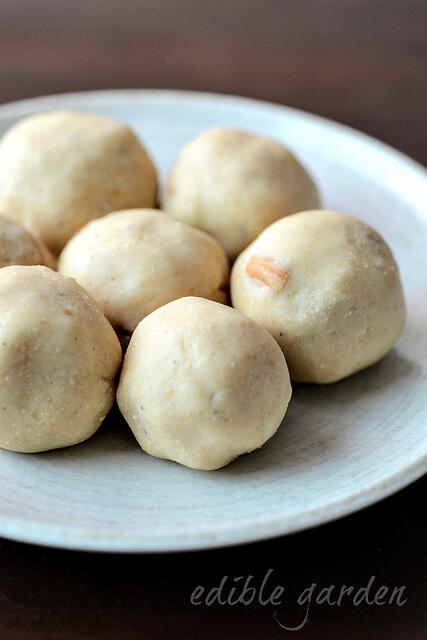 Maa ladoo (also known as maladu, maa laddu, pottukadalai urundai) is the easiest sweet recipe you can make for Diwali, especially if you are a novice at making traditional Indian sweets like I am. Maa ladoo also holds a special place in my heart because growing up, it was one of my favourite ladoos and so we included this sweet in the return gift bag for my wedding. My mom, sister, and I made close to 500 ladoos the day before my wedding to pack and give away, since my mom insisted on the sweet being homemade as my wedding was a small one by Indian standards – 450+ guests!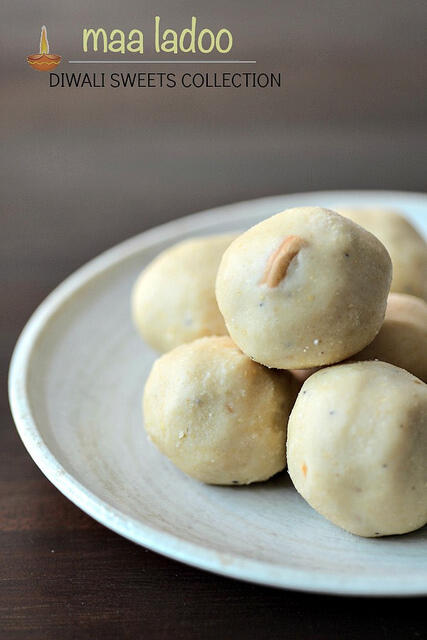 Now, TH is not a sweet-lover beyond a few favourites like rasmalai, or rasgulla, or his all-time favourite kaju katli so I don't make maa ladoo at home often. Diwali is a special time though and we need to look beyond the calories and effort and indulge, right? Right! So that's why I made around 20 of these ladoos and gave them away last month which was a practice run for Diwali coming up soon 😀
As I mentioned, there are so many ladoo varieties in India but from among the traditional kind, maa ladoo are surely one of the easiest. The roasted gram we use is already, well, roasted and there's no cooking and mixing needed which makes it super easy to get the right consistency before you shape the ladoo.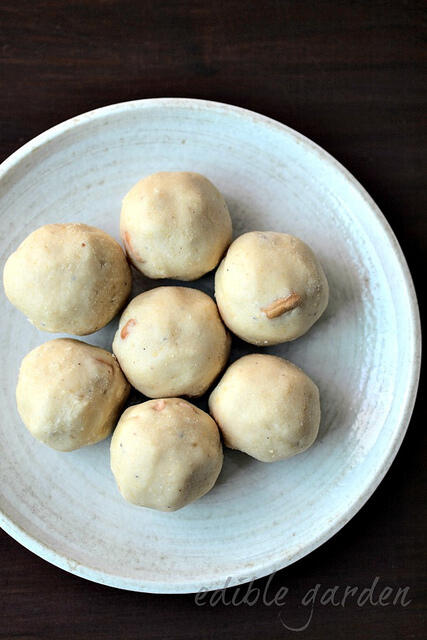 A quick word on the type of dal we use in this ladoo recipe. It's roasted Bengal gram and is known as pottukadali in Tamil, bhuna chana in Hindi (skinned variety), pori kadala in Malayalam. It's the same stuff you add to Tamil-style coconut chutney recipe. I have a picture below, in case you are still a bit confused.
I have a bunch of super easy sweet recipe ideas for Diwali. If you just want a list from me, here you go:
Date and nut ladoo
Coconut ladoo in 15 minutes
Coconut sesame ladoos
Rava ladoo (another super easy ladoo recipe)
Besan ladoo

Maa ladoo recipe
Maa ladoo or maladu recipe is an easy ladoo recipe perfect for Diwali season.
Ingredients
1 cup of roasted gram (pottukadalai)
¾ cup of powdered sugar (more or less)
2-3 green cardamom pods
½ cup of ghee (more or less)
2 tbsp of chopped raw cashew nuts
Instructions
Measure out your roasted gram.
Powder it finely in a spice grinder or mixer. Make sure the powder is smooth when you rub it between your fingers.
Tip this into a bowl and in the same grinder, powder the sugar along with the cardamom pods
Add this to the roasted gram powder and mix well
Heat the ghee in a pan and add the cashew nuts
When the cashew nuts turn golden brown, add the ghee and cashews to the bowl with the powders
Stir immediately with a spoon (it will be very hot so be careful) until the mixture comes together. It will be fairly thick at this stage
Let the mixture cool down just enough to handle with your fingers
Pull out enough of the ladoo mixture to make a lime-sized ball
Shape into a smooth ball on your palm and set aside on a plate
Repeat with the remaining mixture until you have shaped all the ladoos
You can dip your fingers in some warm ghee as you shape, if the mixture gets too dry
If it's too moist, let it sit for a bit and you should be able to shape the ladoos just fine
Work swiftly, while the mixture is still hot. If you are making a larger batch, divide the flour mixture into portions and add ghee only to a smaller portion which you can made ladoos with first and then move on to the remaining
The ladoos will harden as they sit.
Let cool completely before storing in an airtight container. Maladu will keep well for up to 5 days
Step by Step Maa Ladoo Recipe Instructions
1. Measure out the roasted gram (pottukadalai)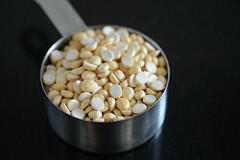 2. Transfer to a clean, dry spice grinder or mixer grinder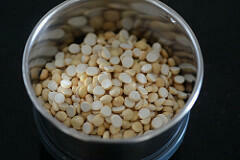 3. Grind to a fine powder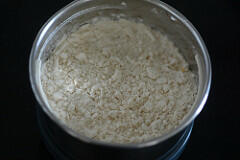 4. Transfer the roasted gram powder into a clean, dry bowl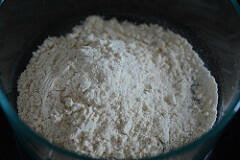 5. In the same grinder, add the sugar and cardamom pods.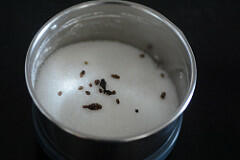 6. Grind to a fine powder.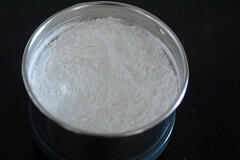 7. Add to the powdered roasted gram and mix thoroughly. Keep aside.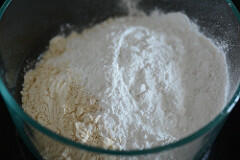 8. Heat a pan and add the ghee to it.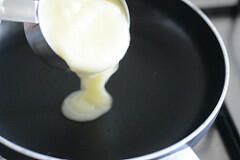 9. Heat it until you start seeing bubbles on the surface and then add the cashew nuts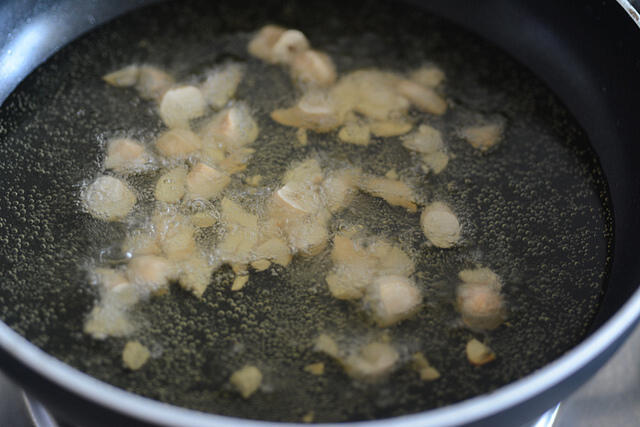 10. Fry the cashew nuts until golden brown. The ghee should also be very hot by now. Add this to the roasted gram-sugar mixture.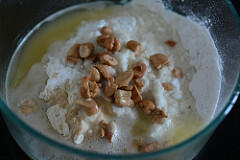 11. Start mixing immediately with a spoon. You will find the mixture quite thick and that's the way it's meant to be.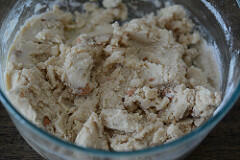 12. You should get a thick ladoo mixture that looks more or less like the below picture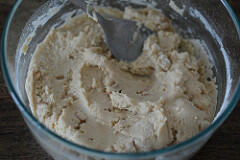 13. When the ladoo mix is warm enough to handle, pull off lime-sized amounts and make smooth ladoo balls between your palms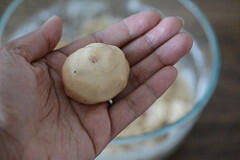 14. Lay them on a plate without touching and proceed with the remaining until you are all done.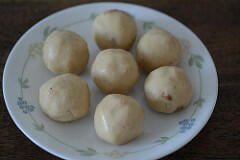 That's it! Gorgeous maladu is ready for Diwali. The ladoos will harden as they cool so you can pack them away or store then in airtight containers as soon as they are completely cool.
Recipe Notes:
– the quantity of ghee and sugar will depend a lot on many factors like quality of roasted gram, moisture levels in sugar, etc
– the quantities and proportions mentioned here worked perfect for me. If you want to be cautious, add only half the ghee, mix, and then keep adding as needed
– you can roast the cashew nuts separately in 2 tbsp of ghee and mix it in and add the melted ghee separately before shaping, I just found this method to be easier (it may be a bit unconventional to some)
– if the mixture is too moist because you added too much ghee, just top up with some powdered roasted gram, it should absorb any excess moisture fairly quickly
– the number of maladu you get will depend on the size of your ladoos. The numbers I have given are approximate
For Maa Ladoo recipe in Tamil, Telugu, Kannada, Marathi, Hindi, Urdu, etc please use the Google Translate button in the sidebar.