Karnataka-Style Sambar Powder recipe (also called Saarina Pudi) is a bit different from the tamil style
instant sambar powder
or the
South Indian sambar powder
my family makes just before making
Kerala veg sambar
. I tried this for the first time back when I used to live in Hyderabad and have loved the flavour since then. However, I do default to my family recipe more often now due to lots of practice making that recipe over and over again.
Saarina Pudi (Sambar Powder, Karnataka Style)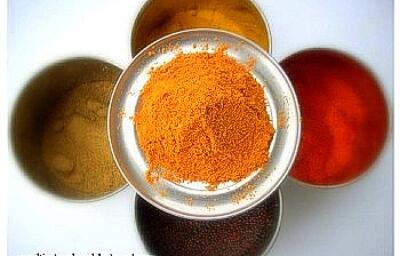 Ingredients:
Dhaniya seeds (coriander seeds) – 250 gms.
Red chillies – 100 gms
Jeera seeds – 50 gms
Fenugreek seeds – 25 gms
Mustard – 25 gms
Pepper – 25 gms
Hing – 1/2 tsp
Instructions:
Roast dhaniya and red chillies in very little oil till it emits a nice smell.
Dry roast all other ingredients till well done and add hing at the end.
Grind all together and store in airtight container. Use up sambar powder within 3 months and make a fresh batch after that. If you plan to store longer, either refrigerate or store in the freezer to keep it fresher for longer.