Avial or Aviyal
is one of the first recipes I shared on Edible Garden. Since Onam 2013 is fast approaching, I wanted to revisit this
Onam Sadya
essential. Avial has many variations since it's a South Indian recipe and even within Kerala, it's made in a few different ways. Personally, I prefer the semi-dry avial that amma makes without adding curd. We add sour raw mangoes for tartness and that works perfectly without making the avial too dilute or watery. This is probably the South Kerala style of making avial.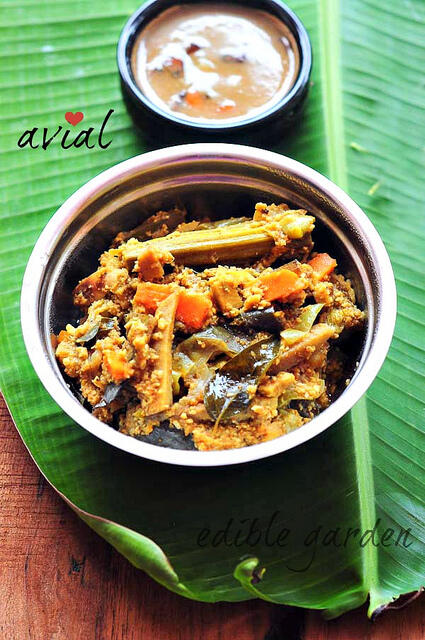 Like many many dishes around the world, avial was born out of the need to use up leftover vegetables, I am sure. There are many different variations to avial like this raw cashew avial, tomato avial, and the more popular mixed vegetable aviyal. We generally use the same list of vegetables but it's ok if one or two of them is missing due to seasonality or non availability.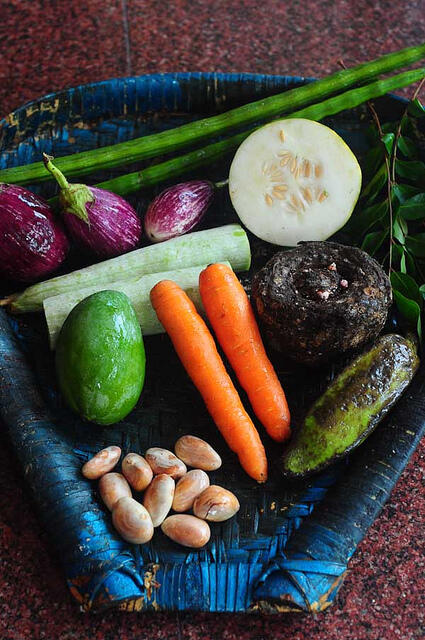 Vegetables for Kerala Avial
I must, however, that the fresher the vegetables, the better. I once made aviyal with a frozen bag of vegetables and it was just average-tasting although my coconut was fresh. Using a mix of frozen and fresh vegetables, whatever is available where you live, is better than using just a bag of frozen ingredients for this dish.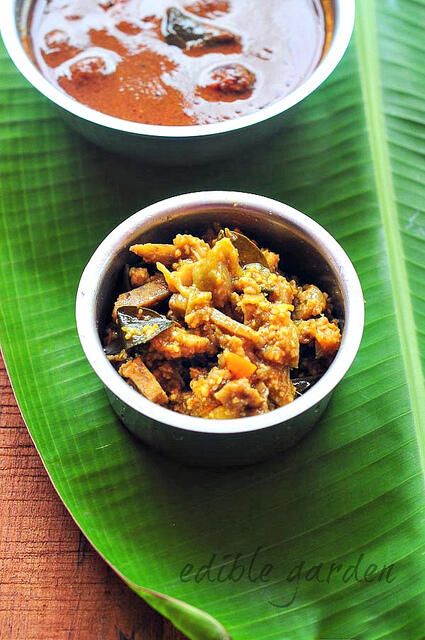 Here's an almost-complete list of Onam Sadya Recipes. I will add on more as we come closer to Onam 2013. Excited!
Preparation notes: It's important to cut the vegetables the same way for even cooking. Generally, the vegetables are cut into 3″long 1/2″ wide strips and cooked in a staggered manner, clubbing the ones that have same cooking time together. I have referred to them as "strips" in the ingredients list. have also added more details on cooking time in the instructions below.
KERALA-STYLE AVIAL RECIPE
Preparation time: 15 minutes
Cooking time: 20 minutes
Serves 4-6
Recipe source: Suma, our cook
INGREDIENTS:
1/2 cup of carrots strips
1/2 cup of snake gourd strips
1/2 cup of brinjal strips
1/2 cup of raw banana strips
1/2 cup of jackfruit seeds, quartered lengthwise
1/2 cup of elephant yam strips
1/2 cup of old cucumber strips
6 3″ long drumstick pieces
1/2 cup of raw mango strips
2 cups of grated coconut
1 tsp of powdered jeera (cumin, jeerakam)
1 tsp of red chilli powder
2-3 green chillies
1/2 tsp of turmeric pwoder
2 tbsp of coconut oil
A few curry leaves
INSTRUCTIONS:
1. Add all the cut vegetables except mangoes to a large cooking pot (we use the traditional kal chatti or stone pot to make aviyal at home). Top off with half the turmeric powder, jeera, curry leaves, and chilli powder. Add about 1/2 to 3/4 cup water and mix well.
The vegetables we used have more less less the same cooking time except mangoes which cook much quicker. So we add them later when adding the coconut mixture.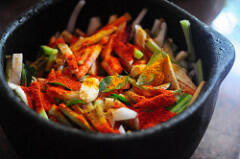 2. Cook covered on a low flame for about 10-12 mins or until the vegetables are cooked yet hold their shape. Take care not to cook them to a mush, I would suggest checking every 5 mins to confirm this.
3. Meanwhile, grind together – coconut+green chillies+ remaining turmeric+some more curry leaves to a coarse paste without adding water.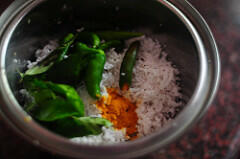 4. Check that your vegetables are almost cooked through. They would have let out a fair amount of water while cooking and this is good.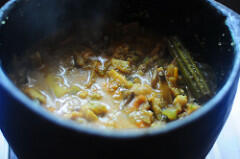 5. Add the ground coconut mixture on top along with requirement amount of salt and the mango strips. Without mixing, cook covered for another 3-4 mins.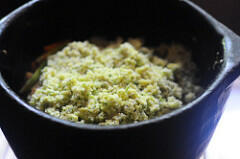 6. That's it! Mix the coconut mixture in gently and remove from flame. The avial will be a bit watery still but it will dry up as the vegetables absord it as they sit. Drizzle the coconut oil on top and mix gently. Set aside covered loosely for an hour before serving.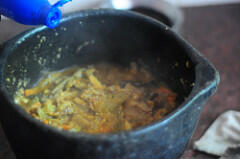 Notes:
If you don't have raw mangoes in hand or they are not sour enough, you can add 1 tbsp tamarind water or sour curd. Mangoes lend a much better flavour to aviyal though
Note that avial is not tempered so it's important to add the oil at the end
It's important to cook the vegetables in a low flame so as to retain the moisture level and so that it doesn't start burning from the bottom
You can adjust the amount of coconut to your preference
Our version of Aviyal is a no-onion no-garlic recipe